The world of fiction can be a dangerous place, and it's not unusual to see characters losing limbs and other vital pieces along their journeys. Occasionally they'll have the missing parts replaced with something much deadlier than your everyday artificial parts. That's when things tend to get really weirdly interesting. Here's a look at the ten deadliest prosthetic attachments in fiction.
10. Captain Hook's Hand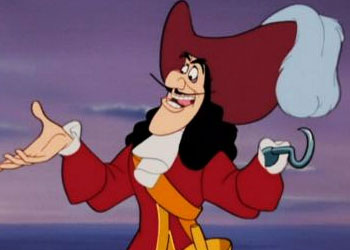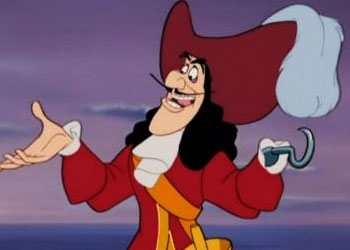 Seen in: Peter Pan
Captain Hook is a portrait of unrealized potential. He loses his hand to a crocodile and has it replaced with a menacing hook. But does he go mad, slashing and stabbing willy nilly? No. He doesn't even stalk random couples on Lover's Lane. Rather, he concocts insane plots involving unspeakable crimes towards children and never finds much use for the hook beyond backscratching.
9. Jaws' Cobalt Teeth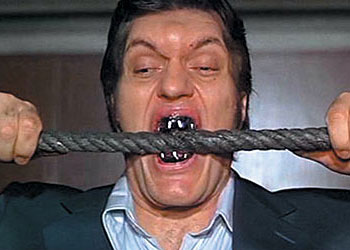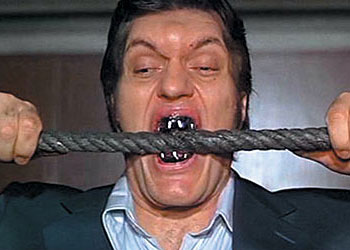 Seen in: The Spy Who Loved Me and Moonraker
The first henchman to appear in multiple James Bond films, Jaws gets his name from his signature chompers, made from cobalt. He's an assassin who likes gnawing on his victims' necks, Hungry Hungry Hippos style. While most definitely deadly, Jaws's prosthetic teeth are a little too ridiculous to land him higher on this list than the nine spot.
8. Trap-Jaw's Jaw and Arm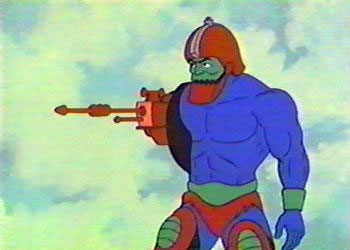 Seen in: He-Man and the Masters of the Universe
Combining the best of the previous two entries, Trap-Jaw's signature metal mouth and interchangeable arm accessories land him firmly at number nine. With a head that looks like a Saw contraption gone wrong, Trap-Jaw is able to chew through nearly anything. At the same time, his prosthetic arms is swappable between hooks, blades, and even a laser gun.
7. Barret Wallace's Gimmick Arm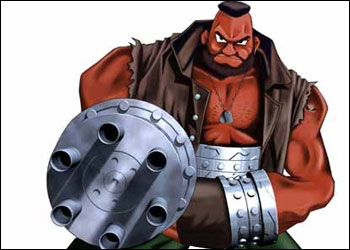 Seen in: Final Fantasy VII and Final Fantasy Advent Children
A terrorist in the midst of reforming, Barret is a big, dominating man with a giant Gatling gun grafted onto his arm. Throughout his adventures, we see him blowing away many an evildoer and eventually transitioning his weapon into a prosthetic, transforming hand.
6. Cherry Darling's Machine Gun Leg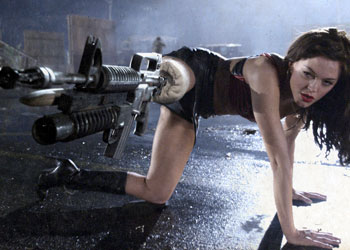 Seen in: Grindhouse: Planet Terror
In one night, Cherry Darling goes from unsuspecting go-go dancer to an amputee with a grudge to settle. After her right leg is torn off by infected zombie-like "Sickos," she has it replaced with a high-powered machine gun and goes on to blast her way through waves of bad guys.
5. Edward Scissorhands's Hands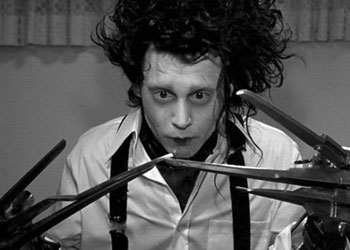 Seen in: Edward Scissorhands
Though technically an artificial lifeform, Edward possesses enough sadness and humanity to qualify his place on this list. The invention of a creator who died before finishing his work, Edward has to live with an assortment of scissors and blades to replace his uncompleted hands. His gentle nature prevents him from wreaking too much havoc, but just look at those hands!
4. Ami Hyuga's Gun Arm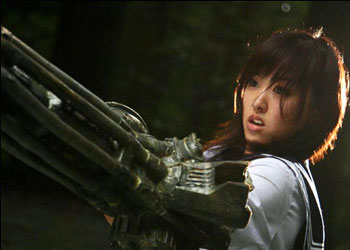 Seen in: The Machine Girl
The title character in the wildly over the top Japanese action flick The Machine Girl, high school girl Ami Hyuga loses her left arm to a pack of ninjas associated with bullies against whom she's sworn revenge for killing her brother (yeah, just go with it). Two mechanics rebuild her missing arm as a suitably insane machine gun, which she then uses to paint the rest of the movie with copious amounts of blood.
3. Edward Elric's Automail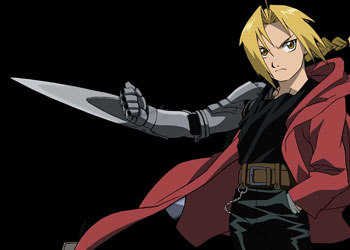 Seen in: Fullmetal Alchemist
When Edward Elric loses his left leg and right arm in a resurrection ritual gone bad (do those ever end well?), he finds them magically replaced with metallic automail prosthetics. Thus endowed, Ed becomes a powerful alchemist who is able to surpass the abilities of others who dabble in alchemy by using his own body as a circle for conducting magical and transmutative abilities. Translation: He can turn his arm into some pretty badass weapons at will.
2. Ashley Williams's Chainsaw Arm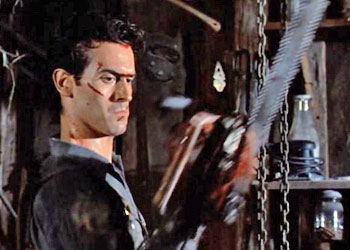 Seen in: Evil Dead 2 and Army of Darkness
When Ash's hand is possessed by evil spirits, he does the only sensible thing: He lops it off and replaces it with a chainsaw! Armed with his "boomstick" (a 12-gauge sawed off shotgun) and his new appendage, Ash slaughters his way through legions of the undead in the sloppiest and most satisfyingly brutal of ways.
1. Jaime Sommers's Bionic Legs, Arm, Eye, and Ear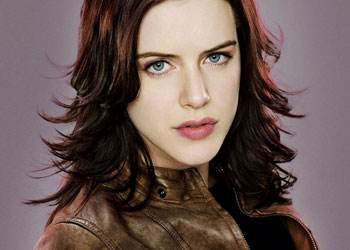 Seen in: Bionic Woman
After a nearly fatal car crash, Jaime Sommers becomes the unwilling recipient of superpowered mechanical legs, a superstrong arm, and an artificial eye and ear to help her land her kicks and punches with brutal accuracy. She takes the number one spot on this list for having at least three deadly weapons grafted onto her body, as well as for her capability to kill everything in her path, including her own TV show. And if you're wondering why we're featuring the Michelle Ryan version instead of Lindsay Wagner, it's simple: Michelle got one more deadly prosthetic than Lindsay.
Honorable Mention: RoboCop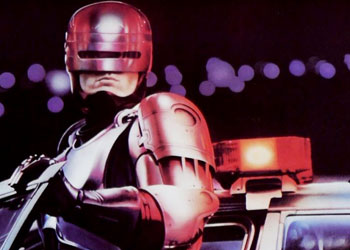 Seen in: RoboCop series
RoboCop undeniably is a killing machine worthy of a spot on any list of deadly cyborgs. He's not included on this list, however, because Officer Alex Murphy's transition from policeman to RoboCop goes far beyond attaching some weaponry to his otherwise human body. He essentially becomes the weapon and lacks most of his connections to humanity until certain key scenes. RoboCop most definitely is awesome, but he's not simply the recipient of a few prosthetics.