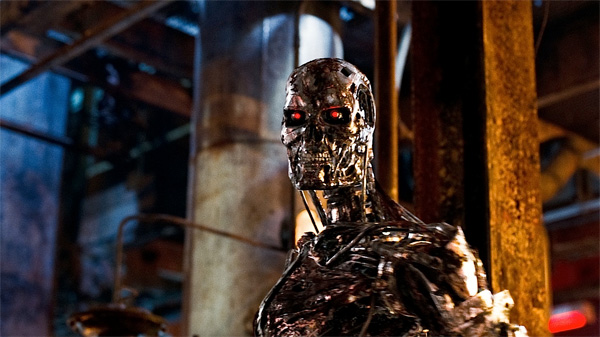 Today, Skydance Productions, Annapurna Pictures, and Paramount Pictures announced via press release that they have a new Terminator moving coming. What's more, it's the first movie in a "stand-alone trilogy." And, wait for it… it's a reboot. Presumably that means it'll take the basic elements of the Terminator mythology as established in the previous movies, games, and TV show and then do its own thing, disregarding the established mythos of everything from James Cameron's 1984 The Terminator up through The Sarah Connor Chronicles and Terminator Salvation. Here's the full text of the release:
Skydance Productions, Annapurna Pictures and Paramount Pictures have jointly announced they will partner on a rebooted "TERMINATOR" movie, to be released by Paramount Pictures on June 26, 2015.

The first in a stand-alone trilogy, "TERMINATOR" will be produced by Megan Ellison of Annapurna and David Ellison of Skydance. Dana Goldberg and Paul Schwake of Skydance will serve as executive producers. Laeta Kalorgridis ("Avatar," "Shutter Island") and Patrick Lussier ("Drive Angry") are attached to write the screenplay.

Launched in 1984 with star Arnold Schwarzenegger as the title character, "TERMINATOR" spanned 3 subsequent films, which have earned over $1 billion at the worldwide box office.

David Ellison most recently executive produced, along with his partners at Paramount, "World War Z," "Star Trek Into Darkness," "G.I. Joe: Retaliation" and "Mission: Impossible – Ghost Protocol". A 5th installment of in the "Mission: Impossible" franchise is in active development, along with a 3rd film in the "G.I. Joe" franchise, among other films.

Megan Ellison most recently produced the Academy Award®-nominated "Zero Dark Thirty," "The Master" and executive produced "Spring Breakers" via her Annapurna Pictures banner and has David O. Russell's "American Hustle," Spike Jonze's "Her," and Bennett Miller's "Foxcatcher" set for release later this year.
If Terminator sticks to its June 2015 release date, it might be landing in theaters right around the same time as a little indie project J.J. Abrams is calling Star Wars.