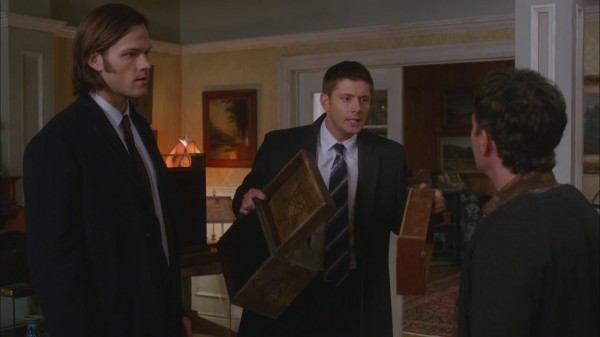 Episode: Supernatural 7.16 – "Out With The Old"
Original Air Date: March 16, 2012
Screencaps by spn-caps.
With the promise of cursed objects as the case of the week, this week's episode proved that appearances can be deceiving. Though we didn't get a lot of progress on answering questions of the overarching plot, we did get a ton of build-up to the inevitable crash that Dean and Sam are going to have. What is the Leviathans' plan? How long can Sam keep Lucifer at bay? And how many people are the boys going to lose before they just give up? Many questions this week, but no answers.
I feel like I can start every Supernatural review lately with the same sentence. "You thought it was bad before, but now it's worse." Dean and Sam's lives are far from uncomplicated. Dean was on a depressive alcoholic streak for so long that it seemed like his life was headed for ruin at a fast pace. Now his brother's ongoing problems have seemed to eclipse his. Sam's got Lucifer in his head and, for a while, he could control him. But now he's let the Devil in and there's no getting rid of him. A mentally unstable man who is forcing sleep deprivation is not a good combination. Though, if the Winchesters' lives were easy, we wouldn't have a show.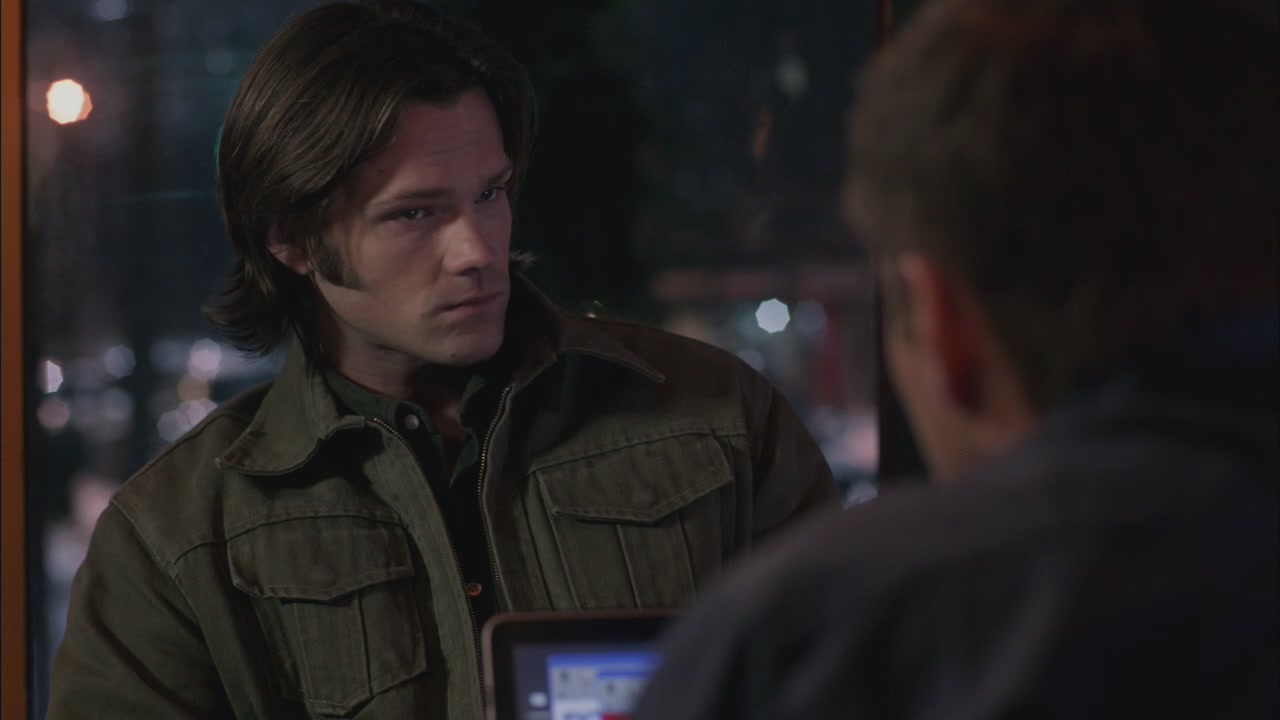 We start off with a cursed objects case. I love those, remember them well. Sammy's cursed rabbit's foot of good luck was all fun and games until people started dying. Now we have a case involving cursed ballet slippers, where a dancer literally danced her feet off. I'm always welcoming of an episode that starts off with a bloody death. And it's a nice, simple case that the boys can take on while dealing with the massive pressures building from the Leviathan situation. It's also a good distraction for Sammy, who is keeping Lucifer controlled by staying awake. Yes, wakefulness is his solution for delaying his inevitable madness. Good job, Sam. My problems with this are two-fold. First of all, you can't stay awake forever because you'll die. And the longer you stay awake, the more paranoid and messed up you become. Secondly, Lucifer is always there, annoying Sam with music or images or anything else that will drive him mad. This happens whether he's awake or asleep, so choosing a marathon of consciousness is not the best solution. However, in Sam's mind, I guess it is. We'll go along with it for now.
Back to the case, we have the dead ballet dancer with cursed shoes. They become evidence and a police officer's child gets her hands on them. Of course she puts them on, but thankfully Dean and Sam get to her in time and remove them before she loses her feet in a dance-off. Downside is that Dean touched them. The lure of the shoes kept calling to him, but we didn't get to see the dream of Ballet!Dean realized because we're not that lucky and it happened way too early in the episode. That should have been your first clue that something wasn't quite right. The boys can't tell the future, so they just continued on with the case and gathered up the other cursed objects that got out: an old tea kettle, a gramophone, and some cursed porn. We got to see a lady boiling herself from the inside out with the cursed tea kettle and a little boy attempting to stab his mom because the cursed gramophone told him to. Dean, meanwhile, was off to collect the cursed porn. We never got to see how cursed porn could kill you, but you can let your imagination go wild on that one.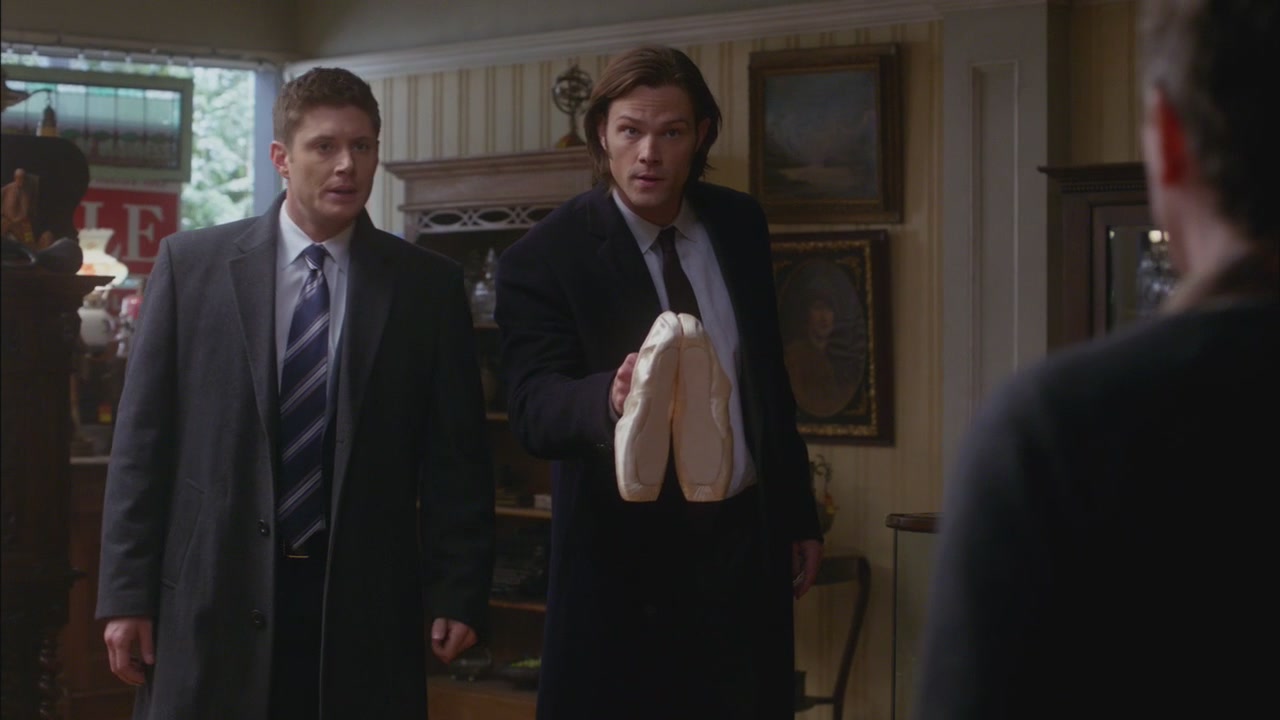 That's it? Thirty minutes in we've wrapped up the case, dust off our hands, and leave town? No one's that lucky. That whole cursed objects thing was a distraction. It's all about the real estate. One company is buying up all the lots in town, but for what purpose? And who is behind it? Dean can't dig deep enough, but Frank can. He's got his fingers in everything. I love a good hacker. What he uncovers is what we could have suspected. The Leviathans are to blame. Why they're getting all this property is still a mystery, but Dean's natural reaction is to kill them regardless. So, that's what he tries to do, dragging his sleep-deprived brother along for the fight. Let me say this again, sleep deprivation is not the solution to Sam's insanity issues. At some point I would have liked Dean to attempt to make him sleep, even if it would have failed. Instead, Sam's buying stock in Starbucks and Dean's just looking on with concern. I do like that they're more open and honest now, though. They're not keeping secrets, they're just being miserable together.
And if all those problems weren't bad enough, we had to amp up the despair by killing off Frank, the only person they had left. Every single person these boys have cared about in their lives has died: John, Ellen, Jo, Rufus, Cas, Bobby, the list goes on. You come into contact with a Winchester, you've pretty much signed your death certificate. And I'm not saying Frank was their best friend, but they did care about him in between using him for information. Now they have no car, no information, no one to turn to, and only able to rely on each other to make it through this uphill battle they're waging. Oh, but wait, they're not stable either. The lives of the Winchester brothers suck so bad and you can't fathom how it could possibly get worse until it does, week after week. Remember when their biggest problem was how to kill a Wendigo? I bet they're longing for those days of simplicity now. But their lives of drama make for wonderful television, and I'm happy to go along for the ride.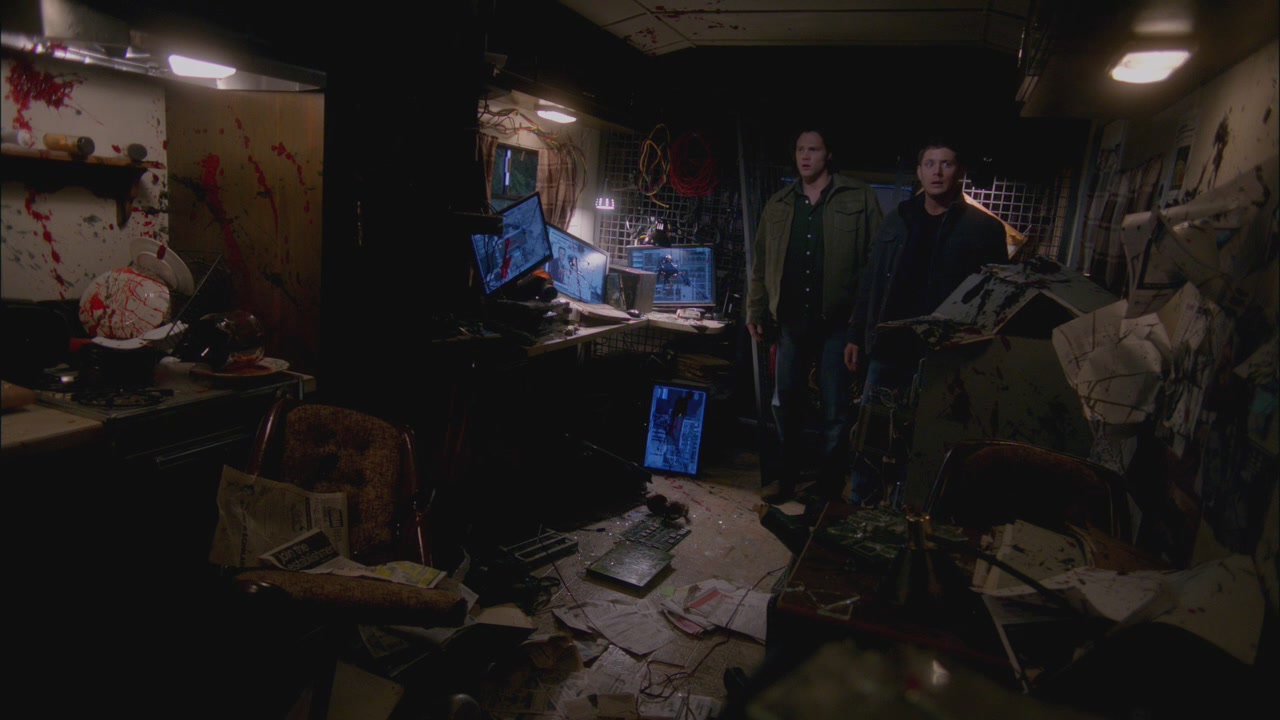 Rating: 4 / 5 Stars