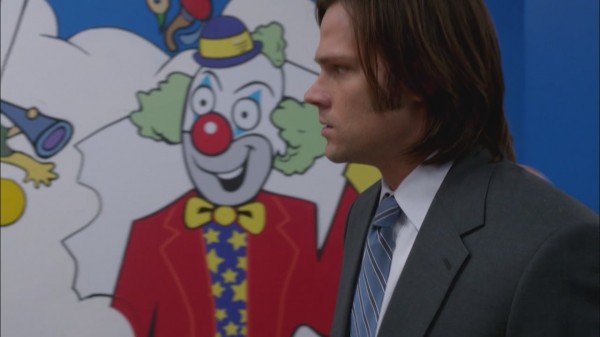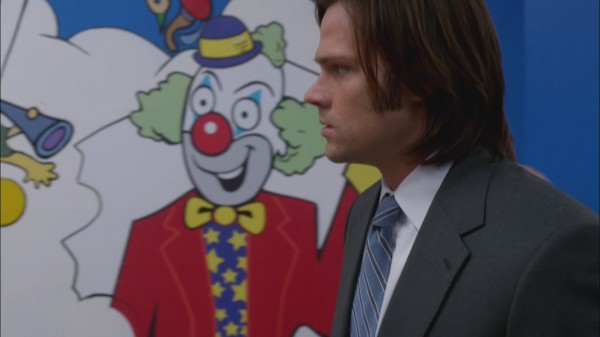 Episode: Supernatural 7.14 – "Plucky Pennywhistle's Magic Menagerie"
Original Air Date: February 10, 2012
Screencaps by spn-caps.
Clowns are evil. Sam's always known it and Supernatural is once again proving it true. While there were minor continuity errors in the episode, such as their ability to secure a motel room again, it was easy to overlook because of how much brotherly love we got to explore. Plus, after five years of secrecy, the reason for Sam's clown-phobia was finally explained. With all the depression of the season, it was nice to take a breath and return to old-school hunting.
During the "Then" montage, not only did we get caught up on this season so far, we also got a reminder of Sammy's clown problem from "Everybody Loves A Clown." He was so young back then! Ah, the olden days, when all they had to worry about was fighting ghosts and finding their absent father. Sam has changed so much since then. But, despite the fact that this is a man who went through expanding supernatural powers, dying, coming back to life, becoming addicted to demon's blood, starting the apocalypse, housing Lucifer, and suffering through Hell's torture for over 150 years, his fear of clowns is still in full force. Way back when, we never got the explanation of why clowns caused so strong a reaction in the younger Winchester, but patience is a virtue. Sam finally revealed just where the mental scarring of youth originated, and it was Dean's fault. When Dean was forced to play babysitter to little Sammy, he often dropped his brother off at Plucky Pennywhistle's Magic Menagerie so Dean could spend quality alone time picking up chicks. A scared and alone kid put in the middle of a world of noises and painted men was bound to mess Sammy up. But, like everything else in their lives, they can't stop just because of their own issues. People are dying in Kansas, and they've got to stop the murders.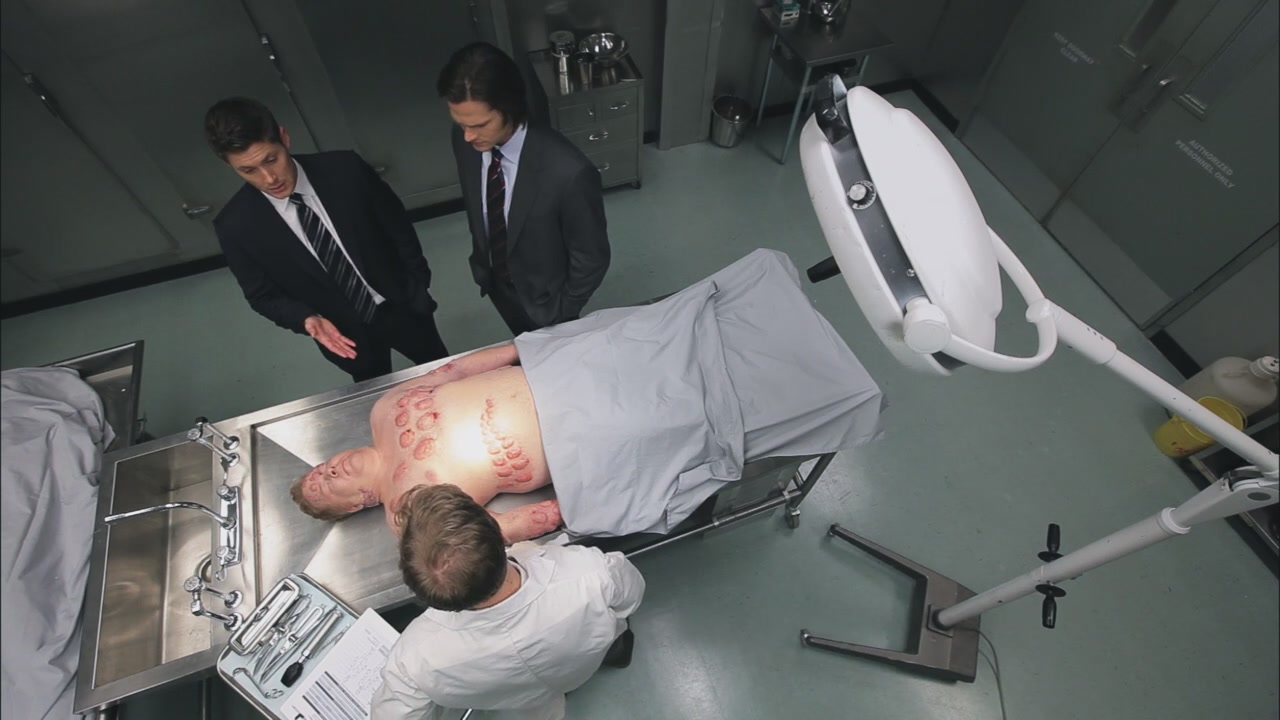 One of the things I've always loved about the show is that they utilize a good sense of humor, even when it comes to monsters. This episode was no exception. The premise was that the kids at the pizza place had to draw their worst fears, and then their drawings were featured on the wall. By bringing them out into the open, Plucky could banish them and the kids would be more well-adjusted. In a real-world setting, the psychological benefits of that could have paid off, but add a little supernatural element to that and of course the kids' fears come to life. First we get a father who was killed by an octopus, then we get another father who was attacked by the unicorn with rainbows shining out of its butt. Yes, they went there. Guess Dean's jokes about the lore were right all along. With a brief stop for a shark attack in the ball pit, taking down a janitor who was about to spill the beans, the next promised attack was going to be a giant robot with laser eyes, possibly going after Sam. Thankfully, that was circumvented before it could come to fruition, but it didn't matter because there were plenty of other fun and dangerous times for Sam and Dean. Namely, some evil clowns that were gunning for Sam.
The episode was framed in time jumps so that we got the battle of Sam versus clowns mixed with a countdown clock of scenes leading up to the event. I wasn't too sure about the time jumps when it started, especially with the feeling that we were in a 24 situation, but everything came together so well in the end. When we aligned with the current timeline, the title card of "Right Friggin' Now" added just the right touch of humor to the absurdity of their situation. Jared had mentioned in interviews that the clown battle scene was strenuous and that he was sore for two days afterword. After seeing it all play out, I can understand why. Those clowns not only psychologically tortured Sam, they gave him a beat-down. Who knew clowns were so agile?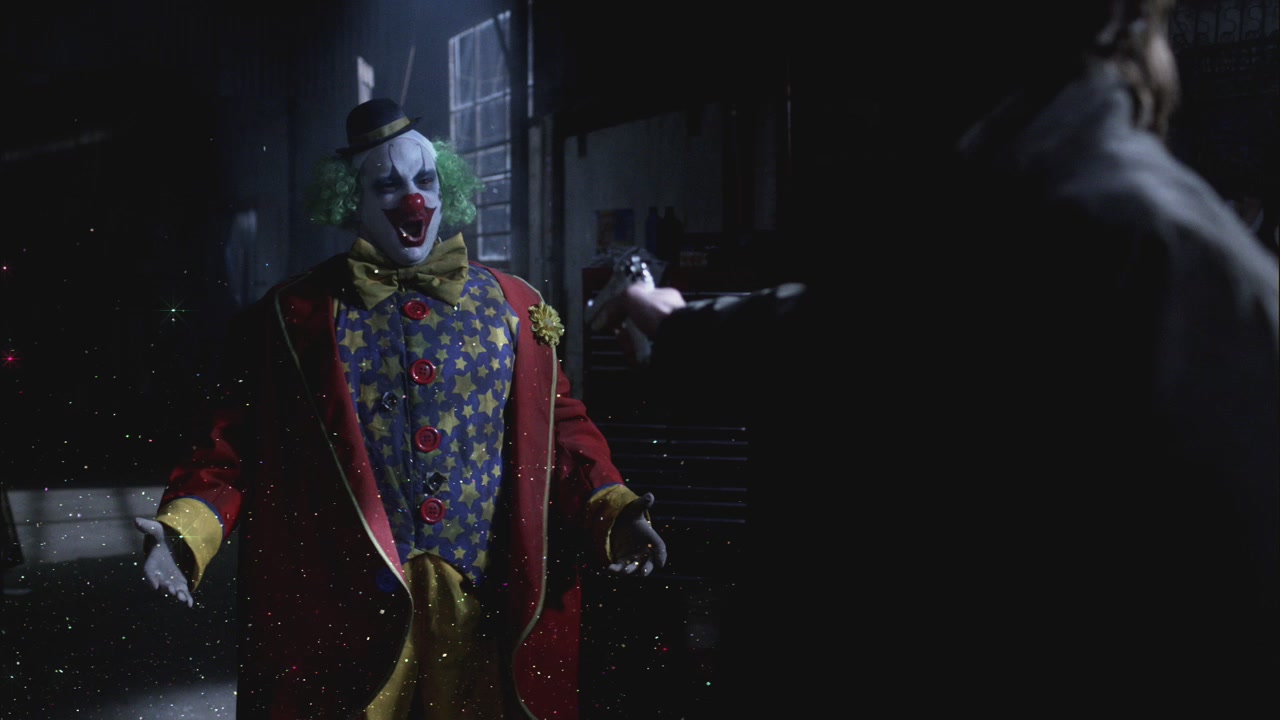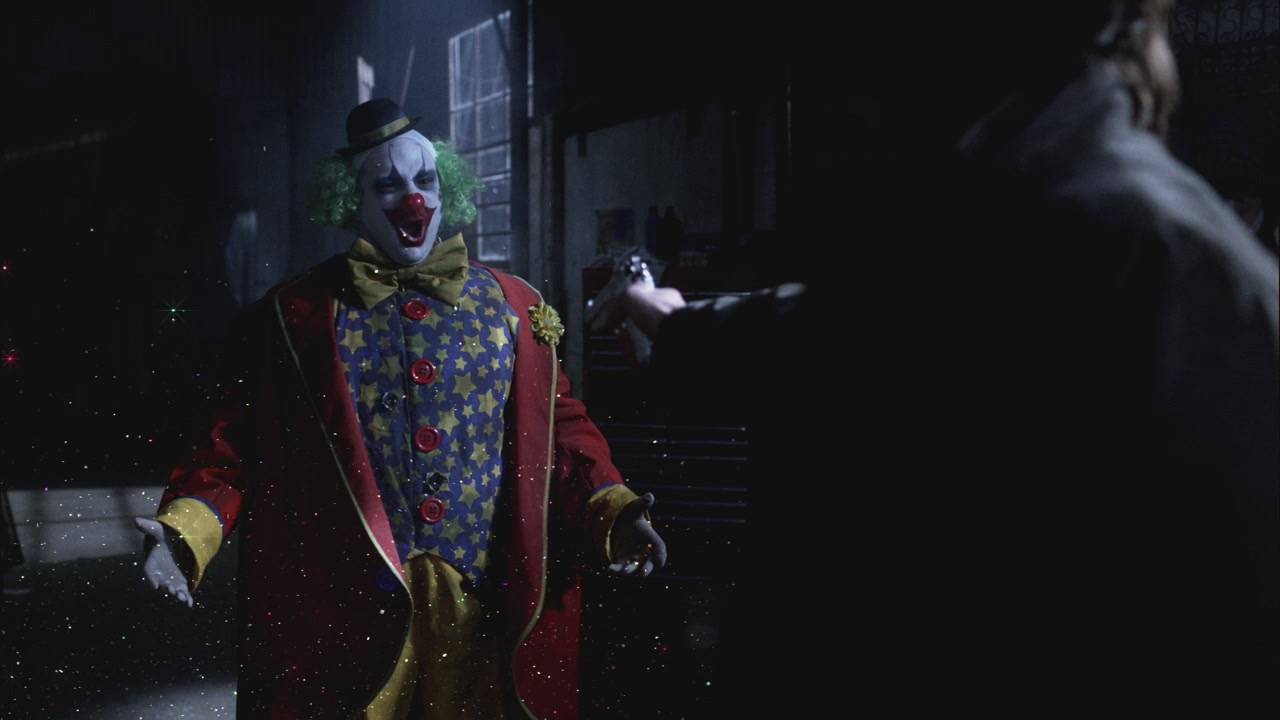 To get him through the confrontation of his fears, Sam kept repeating the mantra of "if it bleeds, you can kill it." Too bad it didn't apply in this situation since clowns don't bleed, they sparkle. However, the mantra didn't make much sense at the very beginning. Aside from being a take-off of a Predator line, it sounded more like something that Sam was saying to psych himself up in order to work through his fear rather than a hunter lesson. But as the two timelines aligned we learned that the line was what Dean had told Sam prior in order to protect his brother from afar. Yes, Dean takes life lessons from movies, but the intent was the same. I adored that touching gesture, just as I adored all the brotherly bonding that we got in the episode.
Not only did we get the brothers consulting their dad's journal again, which I've missed, they also got to banter in ways that we haven't been witness to much lately. Dean got to mock Sam's childhood fear, Sam got to mock Dean's personality, and then we got one of the best endings that we've had in a while. Dean got to laugh in the first time in forever, Sam got to partially work through his fear of clowns, Dean apologized for mentally scarring his little brother, and Sam got Dean the giant Slinky he'd had his eye on for a while. The bonding, the love, the Winchesters.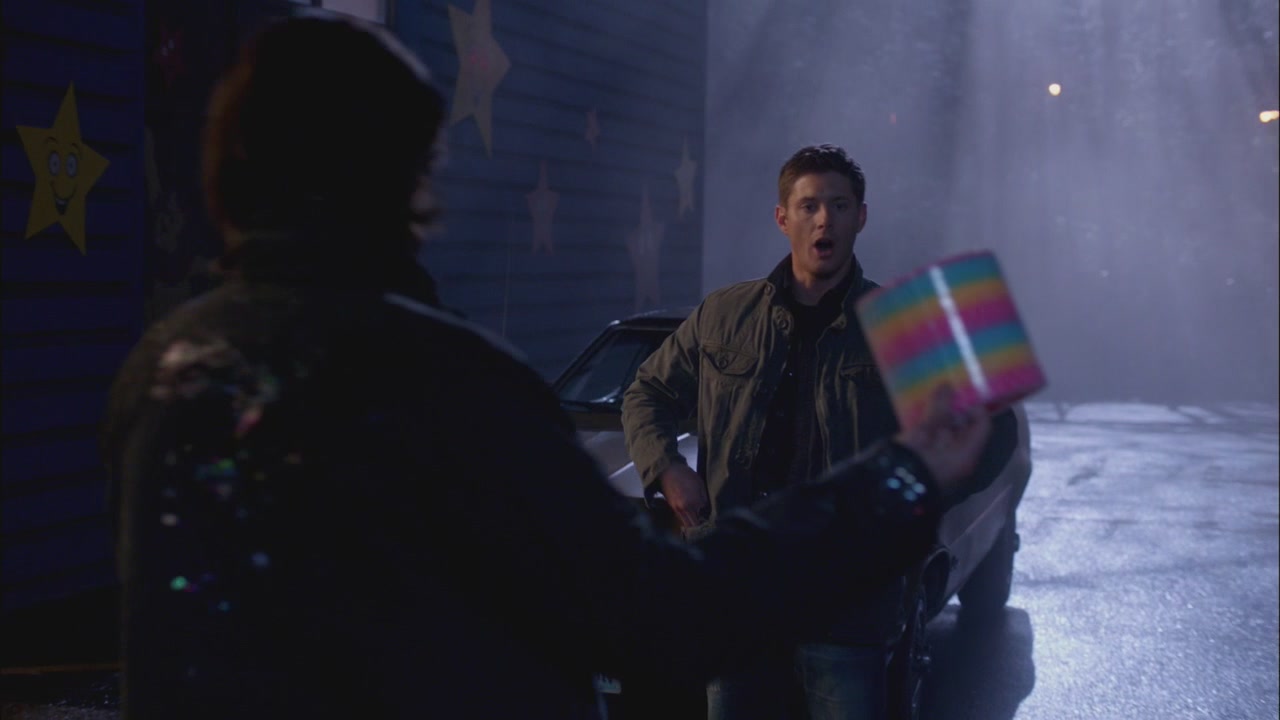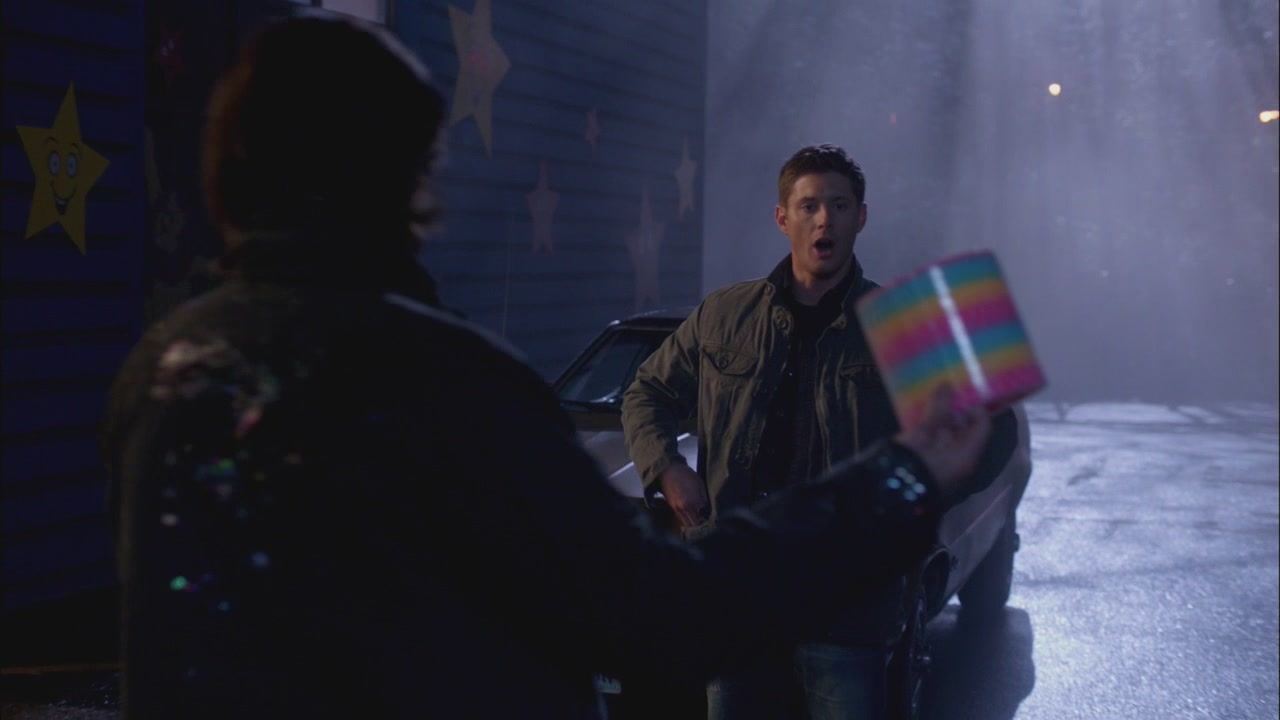 Rating: 3 / 5 Stars