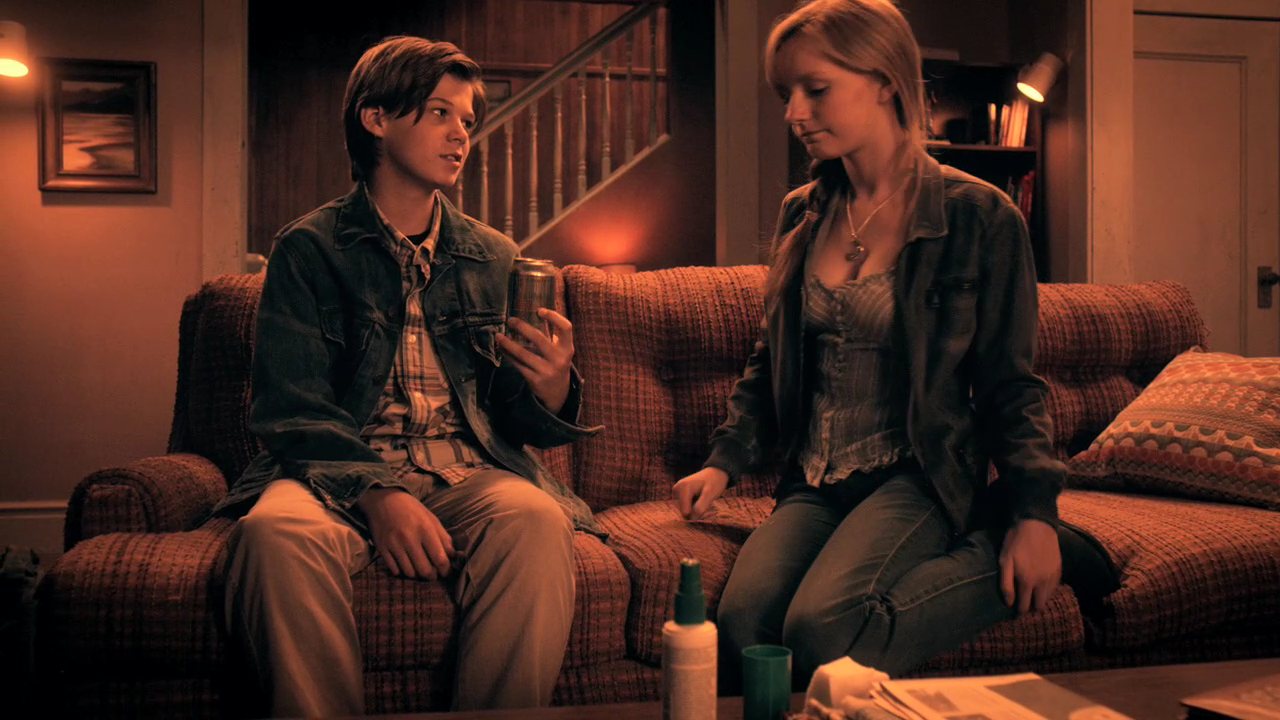 Episode: Supernatural 7.03 – "The Girl Next Door"
Original Air Date: October 7, 2011
The seventh season of Supernatural started with a bang, so it's to be expected that some minor falters might come along once or twice. Considering the high standards the writers have set, even the lesser-than-awesome episodes are still high quality, such as "The Girl Next Door." I would have enjoyed this episode anyway because it was the second time Jensen Ackles got a chance to direct the show. Hidden in the episode were a few references to other projects that Ackles has worked on. There was the ad on television for My Bloody Valentine 3-D, which he starred in, and the cashier at the store was wearing an Under the Red Hood shirt, which starred Ackles as Jason Todd aka Red Hood. I like those little nods to the fans that Supernatural often does.
Ackles has more than proven what a talented director he is. With Supernatural as his training ground, having the support system of all the creative members of the crew to help him learn, he's grown into the role. I'm interested to see if he will continue to pursue this outlet once he moves from the show, but for now we get the benefit of his talent and for that I am grateful. He was charged with dealing with a ton of flashbacks for "The Girl Next Door" and he handled them beautifully. He managed to maintain a duality between the scenes in set-up and framing, which benefited the episode tremendously. And his manner of framing entire scenes shows what a developed eye he has. I especially loved the library shot where he starts above Little Sammy, then sweeps down and around him. A great effort by an emerging director! And from an acting standpoint, unlike last year, Dean had much more to do in the episode. If Ackles thought he would be getting off easy just because he was the director, he was mistaken. He had to pull double-duty this year, framing the shots and then putting himself into an actor mindset to actually participate in them.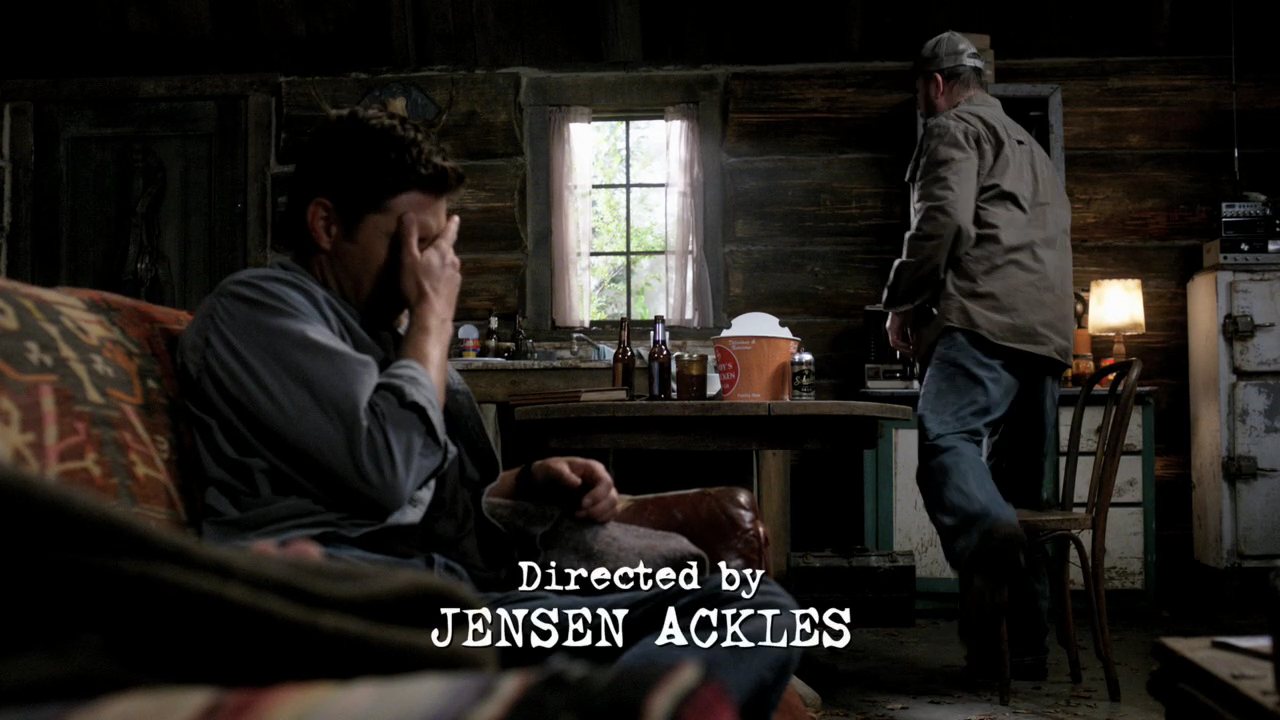 As for plotline, this was pretty much a Sam-focused episode. It was his old friend who was killing again, so it was Sam's desire to get to her before any other hunters could. Perhaps it wasn't the best way of approaching the situation, but he was determined to do the case on his own. If she had to die, he'd rather be the one to do it, but saving her was a preferable option. Prior to him ditching Dean, though, he phased out with a hallucination. I'm concerned that he's still using pain as a touchstone to reality. That injury is going to eventually heal and then what? He's going to cut again to cause another wound? Not a healthy coping mechanism.
The episode was filled with a dual storyline, flashing back to the past to show how Sam and Amy met and their relationship, then forward to the present to show where they are in their lives now. I am always happy to see little Sammy pop up, so it was a nice way to tell the story. We got a bit more background on where Sam was in his life, at that age, and the man that he would eventually become. He's always been the researcher in the family, to the point that Dean and John would leave him behind to take care of the hunts. Whether that was because John wanted to keep his son safe or the fact that Sammy kept trying to have some semblance of normal, his identity was shaped by situations such as this. Sadly, we also got to see that his life was never going to be normal. He goes from telling Dean to stab a Kitsune in the heart to kill it to asking his big brother advice on girls. It's just the way Sam's life has always been and will continue to be. He can keep trying to achieve the normal, but he's never going to have it. Finally, when he's approaching 30, he finally admits that to himself. He's a freak and always will be, but he's dealing with it the best way he can.
And speaking of dealing, Dean's not doing a very good job of it. Sure, he's got his fill of Mexican soap operas to make up for the lack of Dr. Sexy, and he's got cake to make up for the lack of pie, but he's also got to deal with watching his mentally unstable brother ticking away like a time bomb and then disappearing. And he's not going to just sit around and hope that Sam's safe wherever he is. No, he's going to take control, like usual, and deal with the situation. A cast is no match for Dean Winchester when he has power tools within easy reach. But the lead-up investigation in finding Sammy pales in comparison to what happens when he does track his brother down.
I understand why he would want to punch Sam for what he did. Sam left a note, sure, but he sneaked off in the middle of the night, didn't say exactly where he was going, took the Impala, and left Dean to worry and wonder if maybe Sam had gone off the deep end and fallen into a hallucinatory state where self-harm was always a possibility. So, the worry and the anger came through in the punch, but that was some punch. He didn't just swing at him and push Sam's head to the side. He laid his brother out cold. This was not just about Sam, this was about all the stuff that has been piling up on Dean one after the other. Dean's lost the ability to trust people, the scales tipping strongly as a result of Castiel. He's also losing people to rely on, since it's down to Bobby and Sam, and I'm not as sure about Bobby anymore. Dean has to trust his brother, he can't afford not to, so he has to make Sam understand that. It wasn't the best way to express it, but it got his point across.
It also shed light on a larger problem, namely the fact that Dean is shutting down and reverting to his old mindset. He's keeping secrets from Sam in order to go finish the case that Sam wouldn't. Whereas his brother still has the ability to see the gray areas, Dean's back to black and white, good and evil, kill the monsters and be done with it. He's no longer able to trust that they'll do the right thing because it's been proven to him repeatedly that trust gets broken and then he's screwed. Dean's cutting off the possibilities now and he's just going to kill everything he thinks needs killing, even if that includes Sammy's first crush. This is not going to bode well for him in the long-term and he's likely to crack soon, but it's perfectly in line with where his mind is right now. This is a hard situation to witness, but both he and Sam are working through a ton of issues that are not going to be fixed with a hunt well-done.
Finally, I'm throwing out a theory. It's probably not going to prove true, but it's my explanation for now. Bobby was acting really weird at the beginning of this episode. He was working undercover in the hospital, supposedly to break out Dean and Sam, but I had a hard time with that because they're in the local hospital. I understand that everyone might not recognize him, but Bobby runs the risk of someone knowing who he is. But that was less of an issue than the conversation he and Dean had. Dean's on the floor, he's under the effects of morphine, so I get that he's out of it. However, Dean thought that Bobby was dead and tries to engage him on how he got out, but Bobby avoided the entire situation. That can't be laid solely to the fact that Bobby was trying to be comforting to Dean during this trying time. He never gave an explanation as to how he got out or whether he was there in the first place. It's leading me to wonder whether it's really Bobby. Perhaps the writing was just odd during that scene, but it's also possible that Bobby might be dead or kidnapped and a Leviathan is there in his place. The rest of the interactions he has with the boys seemed to be more normal, so I'm not sure what to think yet.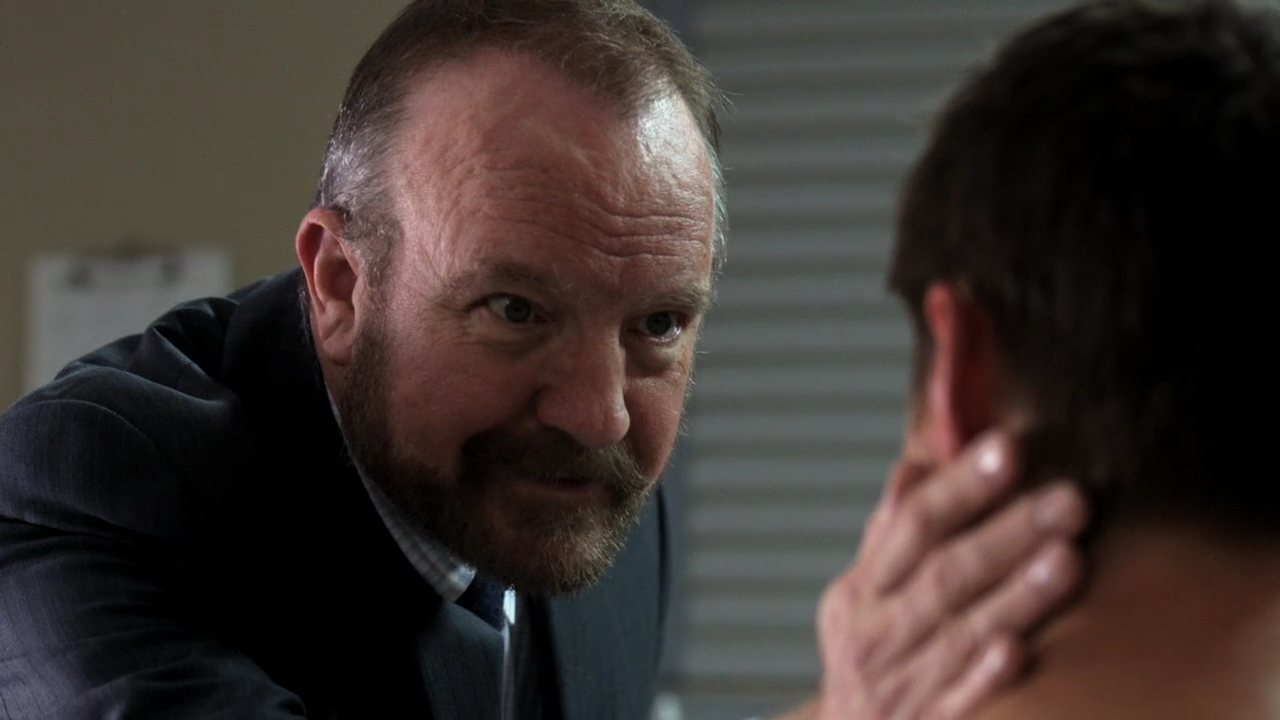 As we end the episode, we have a set-up for our "season on the run." The Leviathans are tracking their credit cards, their aliases, and their movements. Where can Sam and Dean go? They'll have to hit the road and stay one step ahead of the bad guys if they want to stay alive. I look forward to their journey.
Rating: 4 / 5 Stars