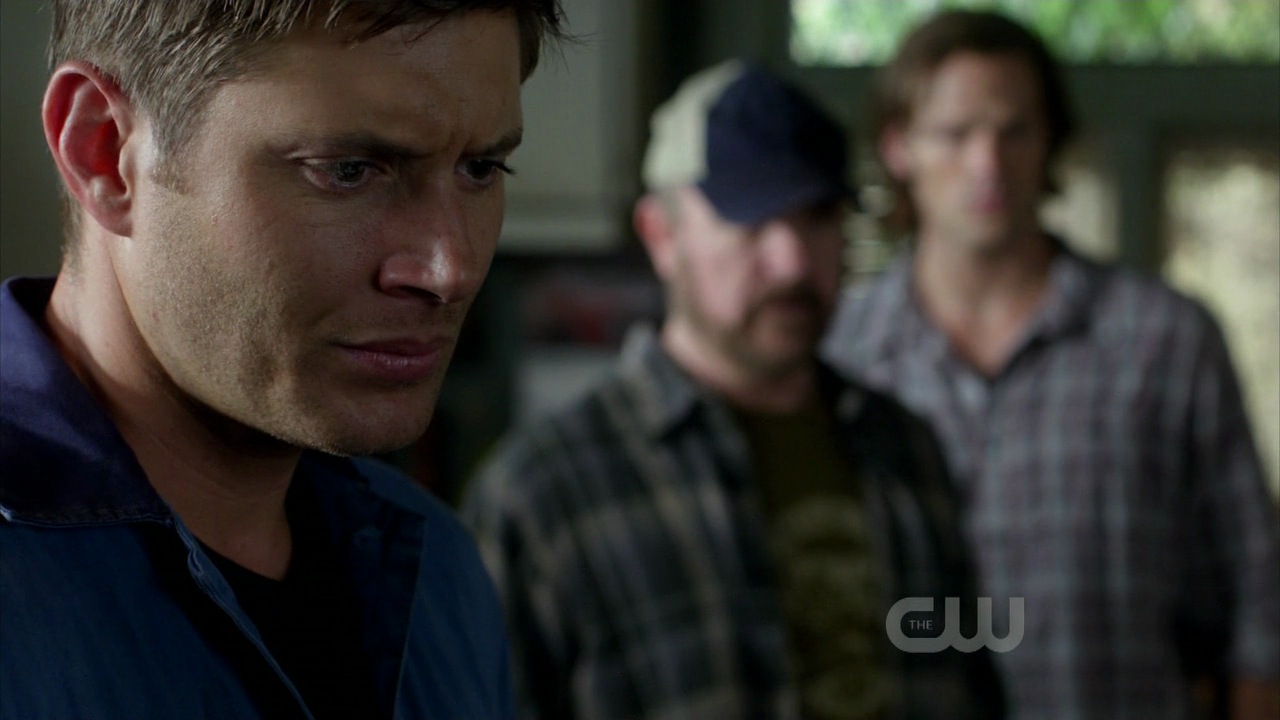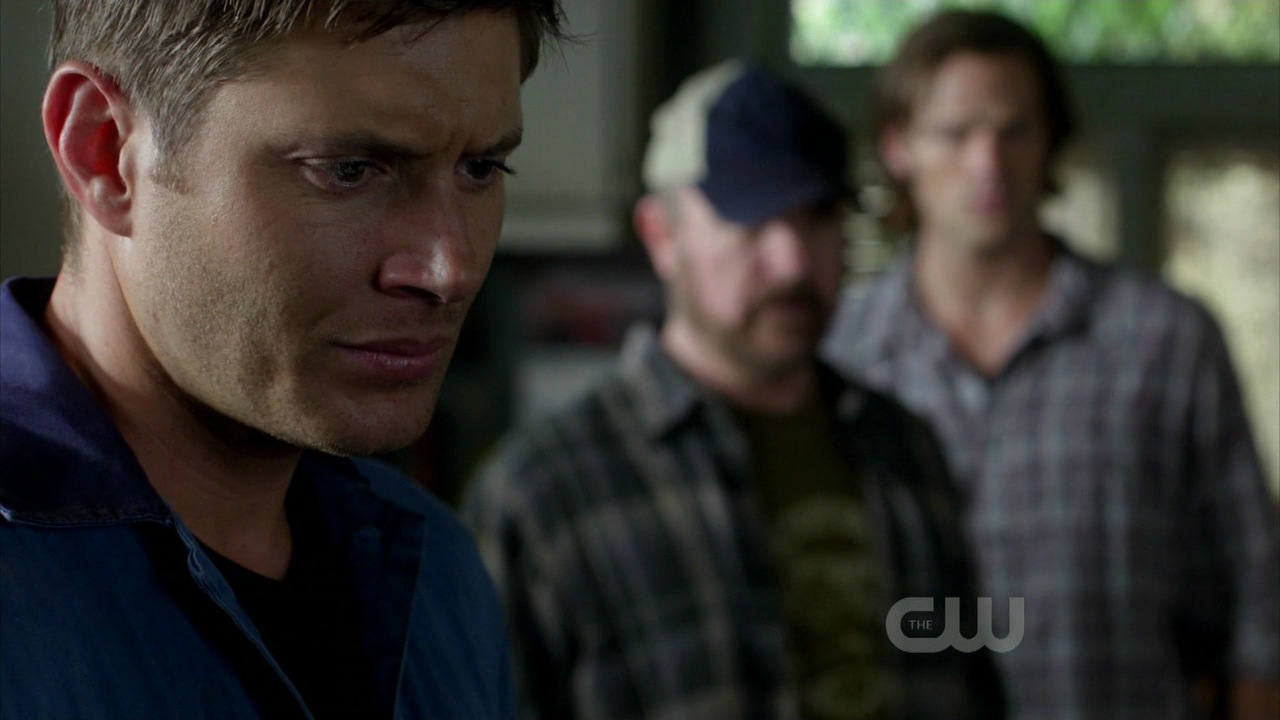 Episode: Supernatural 7.01 – "Meet the New Boss"
Original Air Date: September 23, 2011
Screencaps by rawr_caps.
After a summer hiatus that left fans pondering what was to become of their favorite characters, Supernatural is back for its seventh season. And to say it came back with a bang would be an understatement. Old characters returned, some characters transformed, and the plot was left wide open for what is sure to be a great season. Big congratulations to Sera Gamble for giving us a solid premiere with lots of potential.
When last we left our beloved group, Castiel had killed Raphael, let Crowley escape to be dealt with later, and proclaimed himself God after having consumed all the souls of Purgatory. Yeah, that wasn't a good plan, but it was enough to put the fear of death into Dean, Bobby, and a mentally fragmented Sam. And we pick up with the seventh season right where we left them, still in the lab and still in the tense showdown that no one thought would end without more bloodshed. But Cas is a magnanimous God and deemed the guys not worthy of his time or attention at the moment. They were once his favorite pets, but they betrayed him and now they're nothing more than pests that should stay out of his way else they get killed. And with that, he disappears to dispense vengeance to those he deems worthy. First up, all the angels who stood against him. That shot, pulling back to show the multitude of dead angels with burned wings laid out in heaven, was astounding. God!Cas is in the building and he's not going to go away easily.
And at the heart of his wrath is the fact that he's just trying to clean up the messes his father left undone and bring some good into the world. I adored the church scene where Cas struck down the preacher whose own life did not reflect the word he was teaching. The burn mark upon the pew, where Cas grabbed it, and the changing of the stained glass to reflect the new status of Cas as God was a nice touch. So, too, were the other acts he laid upon the world. The striking down of 200 religious leaders who were not living the righteous life, the disbanding of the KKK, and the healing of the lepers were just a few changes that God!Cas wanted to bring upon the world. And as he tried to contain the power that was inside him, his vessel disintegrating under the strain, he was just looking for others to love him and recognize the good that he could bring to this world.
I like that they're dealing with Dean's depression and alcoholism in subtle, yet definite ways. The threat of Cas was too big and overwhelming, so Dean goes inward and focuses on what he can control, which would be fixing the car. I like the callback they had to John's death because then it was the Yellow-Eyed Demon, who destroyed their lives and took away their loved one, so Dean had to rebuild himself while rebuilding the Impala. He's doing the same thing now. If he can put the pieces of the car back together, maybe he can put the pieces of himself back together. It at least gives him something to focus on. And when that concentrated effort is done and there's still no real solution to the world threat, he says screw it all because he's just going to drink himself into oblivion and watch Asian cartoon porn until everyone dies. It's too big, he can't handle it, the cycle of his depression continues onward.
It was very nice to see Crowley again, even moreso the fact that he's been hiding out in Tennessee trying to stay one step ahead of Cas because he knows his death is imminent. What Crowley doesn't realize is that Cas knew he was there all along, he was just biding his time until he was ready to deal with him. I think this is the first time we've ever seen Crowley honestly scared and backed into a corner with no way out. When Cas gives him the order to go back and resume his post as King of Hell and be happy with whatever souls Cas deems to give him, of course he's going to oblige when the alternative is death. He's got a new boss now and he better listen to him.
But the guys have some use for Crowley as well. Their plan to get the spell to bind Death was risky, but in the end Crowley came through for them. It's very telling that, despite Cas putting the fear of death into him, Crowley would wager on success with the Winchesters. However, the plan was foolish. Remember last time Death was bound, when Lucifer was pulling his strings? Yeah, that didn't end so well. Death does not like to be bound and they know that. An offer of tasty pickle chips is not going to soothe the Horsemen who will reap God. And what if their plan had worked? Say he reaped God!Cas, then what? He finishes the job, eventually he gets unbound, he's going to go straight after the guys. They didn't think this through very well. But, drastic times call for drastic measures, so they do it anyway. Thankfully Death was forgiving, this time, and told them how to put the puppet back into the box. All they had to do was get Cas to agree to it. Not an easy task, but Death warned them prior about this, so it's up to them to clean up their own messes.
Meanwhile, Sammy's barely hanging on. Dean has to find out his brother's suffering hallucinations from Death, but you can understand why Sam kept it a secret. His sanity was the one thing Dean could hold onto as going right, so Sam didn't want to disappoint him. Instead, he suffered through not knowing reality from nightmares and tried to appear strong regardless. His flashbacks were vivid and terrifying and you could just feel the desperation that he felt. However, the cruelest twist was Lucifer's return. As much as Sam tried to convince himself it wasn't real, Lucifer can get into his mind. And when it's a strong possibility that the world around him isn't real and instead he's still in the cage suffering through Lucifer's greatest hoax? It's frightening. No wonder he had a mental break and split when the big event was going down. We get to see more exploration of his mental state next week, but for now we're assured that Sammy is very, very broken.
So how do I feel about the twists with Cas? Well, he was vengeful and then was was regretful and he did try to do the right thing in the end. We saw that Dean still cared for him and didn't want to see him die, so that was good. It's too bad the Leviathans hung on inside him because now I'm pretty sure the real Cas is gone and insane Leviathan!Cas is all that's left. I like that he gets to play an insane, evil character. It's interesting to me. This fate is much better than my prior thought that something was going to burst out of his chest like Alien. That's not to say it won't still happen, but the potential for his body sticking around might be a little stronger now. Until then, the possibilities are endless.
Rating: 5 / 5 Stars