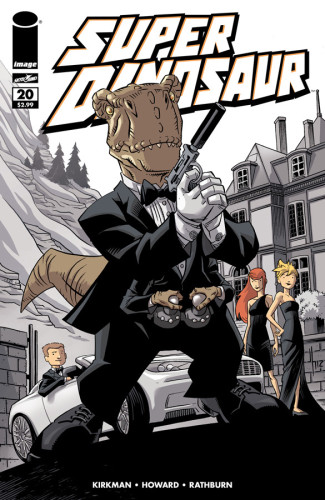 I've never heard of Super Dinosaur before, but with a name like that, I couldn't pass up this comic. This is issue 20, so it's right in the middle of the action, but don't worry, there is a quick summary of things that have happened pretty early on.
Note: This recap may contain spoilers!
The issue starts off with a bang as Derek, a young boy, busts into a complex called Life-Tech to steal some isotopes. It seems that Derek's mom is in a coma and only some isotopes made by Max Maximus can help her. Maximus is one of the villains of the comic, but not seen in this issue. After meeting some more characters, Derek and Super Dinosaur are off to Oliver Manchester's in the hope he has what they need to save Derek's mom. Derek and Super Dinosaur crash a party and start a fight, but Oliver doesn't seem as bad as Derek's father made him out to be. He seems lonely more than anything. Oliver gives Derek what he needs and they leave.
Meanwhile, other Dino-Men lead by Tyrannosaurus X are breaking out of Earthcore Headquarters. He wants to unite the Dino-Men as one and presumably fight against non Dino-Men. The government want Derek and Super Dinosaur to contain them, but they are busy at the moment. The Dino-Men are trampling the guards and take supplies and weaponry. However, before they leave Tyrannosaurus X's lover shows him something that could be potentially dangerous.
I really enjoyed Super Dinosaur. It was funny and well written. All the characters have unique personalities, which makes them stand out. Plus, some of the names are great — Max Maximus and Tyrannosaurus X, to name two. The comic has plenty of action and mystery that leaves you guessing. I can't wait to see what happens next.