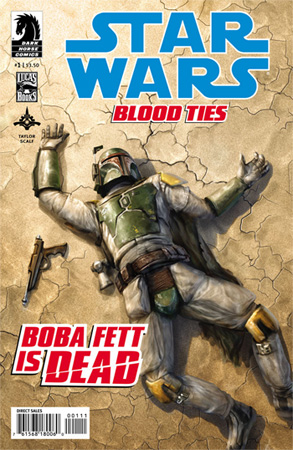 Issue: Star Wars: Blood Ties #1
Script: Tom Taylor
Art: Chris Scalf
Lettering: Michael Heisler
Cover Art: Chris Scalf
Alternate Cover Art: David Palumbo
Publisher: Dark Horse Comics
The issues starts off, as the subtitle says, with Boba Fett dead. It seems that some mysterious man wanted him dead and assembled a team to kill him. Somewhere across the galaxy on a planet called Atzerri, a young man named Connor Freeman hears the news of Boba's death and is upset by it. Connor runs a cantina and knows Boba; the bounty hunter had saved Connor's life and helped him with ownership of the cantina. Connor's friend, Quinny, doesn't hold the same sorrow and tells Connor not to do anything stupid.
The comic jumps forward three weeks on the Zabrak home world, where a hooded man stops one of the killers of Boba Fett. He demands to know who arranged the hit on Boba. The killer doesn't know anything, but he does tell the mystery man where who hired him. Our mystery man then comes to Sathiemon and is identified as Connor Freeman, but we never see his face so we can't be sure.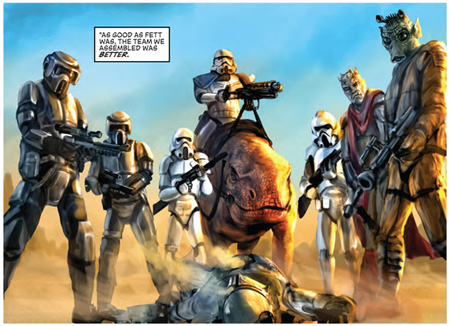 "Connor" then finds the Stormtrooper responsible for hiring the Zabrakian we met earlier. But even that Stormtrooper was ignorant of what was happening. "Connor'" does get another lead and starts to leave the planet, but is stopped by an official. "Connor" uses something like a Jedi Mind Trick to pass by and is able to leave.
The man who had Boba killed is informed that the people he hired are being killed. At first, he thinks it has nothing to do with Boba's death, but becomes suspicious. Later, he and his second in command talk about wiping out every trace of Boba Fett, including anyone who's helped him in the past. Which, unfortunately, leads right back to Connor, who is at his cantina and surprised to be wanted by the Empire for murders. A trooper comes to collect him and drags him outside. Quinny tries to stop them, but all three of them are soon caught up in an explosion as the cantina blows up.

I liked this comic, as it shows more of the universe and shows more about Boba's past. It's interesting to see that he isn't just some mindless bounty hunter, but someone who has helped others. It'll be interesting to see why someone wanted Boba killed and what part Boba's past has to play in his death. I also liked the introduction of Connor as someone who cares if Boba was dead or not. I want to know if it really was Connor killing those people or not. I want to know what kind of powers "Connor" has and I want to know if Boba Fett is really dead or not. If you like Star Wars, then I think you will like this comic. It expands on a well-liked character, but manages to fit into the created universe already established.