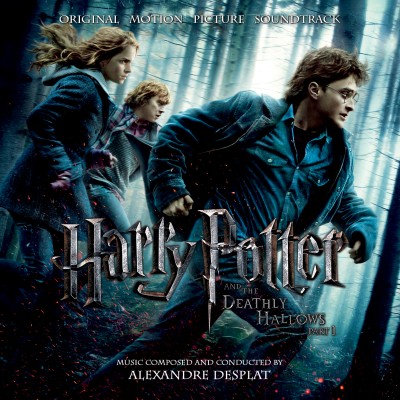 Soundtrack: Harry Potter and the Deathly Hallows, Part 1
Composer: Alexandre Desplat
Label: WaterTower Music
Release Date: November 16, 2010
"Dark" is the word that comes to mind to describe the soundtrack for the first movie installment of the end of the Harry Potter saga. Throughout the series of stories, both on paper and on film, we have followed Harry's growing up and growing ever closer to a final showdown with Voldemort and his forces of evil, so it is entirely fitting that the music for Harry Potter and the Deathly Hallows, Part 1 is more serious, sad, and suspenseful as well.
Don't expect to hear the iconic "Hedwig's Theme" composed by John Williams and so prevalent in earlier films, at least not in the same light-hearted, whimsical orchestration that you're used to. Harry isn't playing Quidditch and hanging out with Ron and Hermione anymore; he's facing his most dangerous challenge yet and the stakes are much, much higher. In charge of setting this scene aurally is French composer Alexandre Desplat, the fourth composer to work on the Harry Potter movies. Desplat is no stranger to scoring for fantasy movies, with New Moon and The Golden Compass on his resume also, along with a variety of other films ranging from Girl With a Pearl Earring to The Curious Case of Benjamin Button, for which he was nominated for a Grammy and an Oscar.
Although it is not really fair to Desplat, I can't help but compare him to John Williams, especially since Williams set the bar so high for the Harry Potter franchise — he composed the soundtracks to the first three Harry Potter movies and added "Hedwig's Theme" to the long list of memorable (and hummable) movie themes that he has given us. One of the first things I missed on this soundtrack was the lilting glockenspiel melody that I have come to associate so strongly with the beginning of a Harry Potter movie. But, as my brother reminded me when I commented on the absence of Nearly-Headless Nick from Harry Potter and the Half-Blood Prince, these are evil times for the wizarding world, and keeping that in mind, I do realize the appropriateness of Desplat's score.
As it turns out, we are not entirely without "Hedwig's Theme," either — it can be heard in three tracks on the album, but by altering the instruments that play the melody, the harmonization of the accompanying instruments, and by slowing it down, Desplat has made it fit with the overall feeling of drama and suspense. He gives us some recurring themes of his own as well, including a rising melodic motive in several tracks associated with Harry, Ron, and Hermione and a sinister theme with descending pitches that appears first in the second track, "Snape to Malfoy Manor," and returns in at least four other tracks associated with evil goings-on, including "Death Eaters" (track 8) and "The Locket" (track 12), which refers to one of the Horcruxes in which Voldemort has stashed a piece of his soul.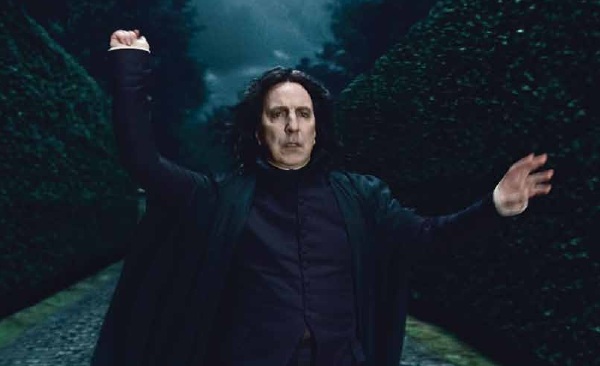 Desplat is at his best on this album in the tracks featuring emotional, heart-wrenching music, and there are certainly many occasions for that mood in this story. My favorite tracks are among those with slow, tender, and poignant melodies. "Harry and Ginny" (track 6) is one, beginning with a beautiful piano melody before switching to strings whose playing almost sounds like sobbing. Within this short track you can't help but feel sad for Harry as he gives up the one he loves for her safety. Other similarly sad but beautiful tracks are "Ron Leaves" (track 13), "Godric's Hollow Graveyard" (track 16), and "Farewell to Dobby" (track 25).
Two other tracks are notable not only for their melodies but also for the rare sense of hope one gets from the brief appearance of major harmonies instead of the minor chords that prevail most of the time. In "Ron's Speech" (track 20), a harp accompanies the melody played by the violins and contributes to a much lighter atmosphere than we have experienced previously. "Hermione's Parents" (track 18) is the longest track on the album, at almost six minutes long. Although it is sad and sentimental at the beginning, Desplat conveys a sense of hope by using major chords at the end. I can't help but think that we are meant to sense both Hermione's sadness that she must cast spells on her parents to make them forget her existence and her relief that they will be safe as a result.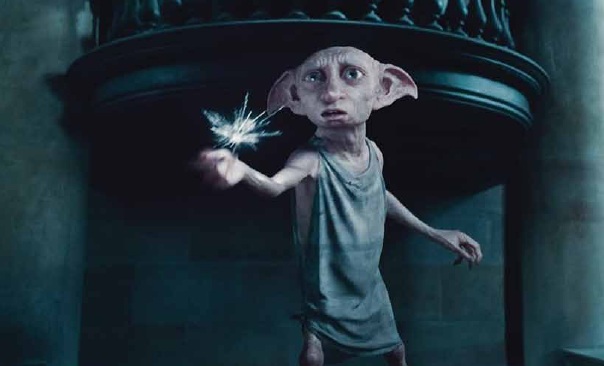 Two other tracks worth mentioning for their uniqueness are "Lovegood" (track 21) and "Captured and Tortured" (track 23). In "Lovegood," I think Desplat does a good job of capturing the eccentric personality of the tabloid newspaper publisher through his use of foreign-sounding repetitive rhythms played by instruments such as cymbals, shakers, and Middle Eastern-sounding stringed instruments. The first half of "Captured and Tortured" sounds cool, albeit sinister, using mainly drums played to sound like a Japanese Taiko ensemble with its driving steady beat and uneven accents and meters.
As I have already said, Desplat is not to be ranked with the likes of John Williams, and you won't leave the theater immediately humming an incredible new theme melody. However, this is still a good soundtrack that fits very well with the mood of the story as I remember it from reading the book. I can't say that I had been anticipating going to see Harry Potter and the Deathly Hallows — I would have been perfectly content to wait and see it on video — but hearing the soundtrack has made me more eager to see it sooner rather than later. I won't know for sure until I have seen the movie, but it seems to me that Desplat has done a very credible job with this soundtrack, really setting the scene for a great deal of action, drama, and suspense.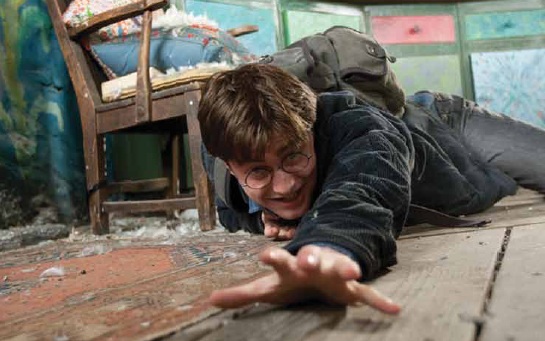 Track Listing:
"Obliviate" (3:02)
"Snape to Malfoy Manor" (1:58)
"Polyjuice Potion" (3:32)
"Sky Battle" (3:48)
"At The Burrow" (2:35)
"Harry and Ginny" (1:43)
"The Will" (3:39)
"Death Eaters" (3:14)
"Dobby" (3:49)
"Ministry of Magic" (1:46)
"Detonators" (2:23)
"The Locket" (1:52)
"Fireplaces Escape" (2:54)
"Ron Leaves" (2:35)
"The Exodus" (1:37)
"Godric's Hollow Graveyard" (3:15)
"Bathilda Bagshot" (3:54)
"Hermione's Parents" (5:50)
"Destroying the Locket" (1:11)
"Ron's Speech" (2:16)
"Lovegood" (3:27)
"The Deathly Hallows" (3:17)
"Captured and Tortured" (2:56)
"Rescuing Hermione" (1:50)
"Farewell to Dobby" (3:43)
"The Elder Wand" (1:36)
Rating: 4 / 5 Stars