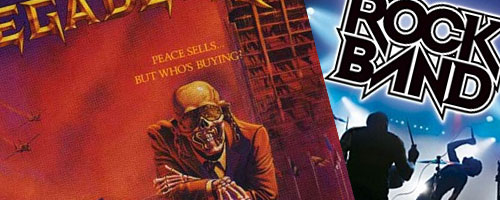 Rock Band 2 launched this past weekend, and I'm sure a large number of you are now rocking out to your 84 new songs. If you've already gotten through all of them, or if you're still playing the original Rock Band, there are a bunch of new songs up for download this week. Downloadable today on the XBox 360 and on Thursday on the Playstation 3 are the following:
Megadeth full album: Peace Sells… But Who's Buying? – 880 Microsoft Points ($11)
You also can buy each track from the album individually for 160 MS Points ($2) a piece:
Wake Up Dead
The Conjuring
Devil's Island
Good Mourning / Black Friday
Bad Omen
I Ain't Superstitious
My Last Words
But wait, there's more! There's also a pack of four songs from bands that will be on this year's Rock Band Tour that starts in October. The Rock Band Tour 4-Pack is downloadable for 320 MS Points ($4), and each song is available individually for 80 MS Points ($1) a piece:
One of Those Nights by The Cab
Hands Down by Dashboard Confessional
She's a Handsome Woman by Panic! at the Disco
Natural Disaster by Plain White T's
The week of October 14, this tour pack will increase to 560 MS Points ($7), and the individual tracks will go up to 160 MS Points ($2).