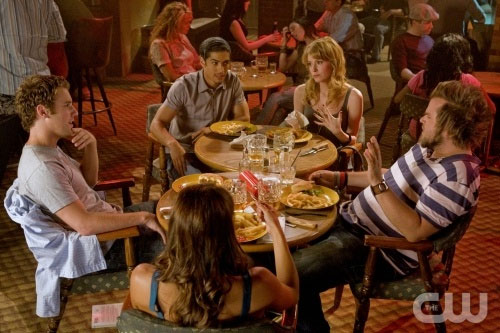 Reaper's second season has been consistent in delivering the funny, and this week's episode is no exception. "The Sweet Science" finds Sam on the trail of a boxing demon, Ben with some supernaturally strange girl problems, and the Work Bench with a new manager.
The demon of the week is a prizefighter who sold his soul by taking a dive and collecting a fat paycheck in his last boxing match before being shuffled off to Hell. Sam is tasked with bringing this guy back by landing a punch on his chin with Satan-gifted boxing gloves. Sam has no boxing experience, so the process of attempting to nab this one is an exercise in hilarity. The boxing demon is played by Erik Palladino, who apparently is well known from ER, but to me he'll always be Amanda Beckett's shady cousin Ron from Can't Hardly Wait. The soul catching part of the episode has some interesting and clever twists and turns, and it's always fun to see the Devil surprised by something.
Ray Wise is always fantastically devious as Satan. This week found him leading several support groups, most notably an Alcoholics Anonymous chapter that he tasked with going to a bar, ordering their favorite drinks, and then walking away. Maybe it makes me a bad person, but Reaper's Devil always seems like he'd be a fun guy to hang out with, if you could get past all the morally reprehensible things he causes to happen.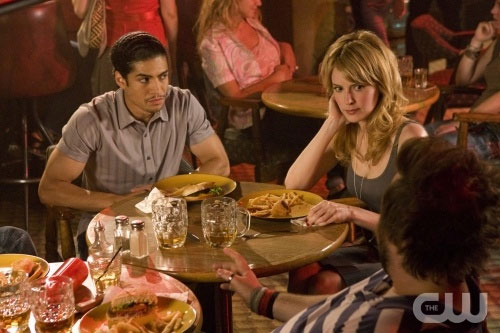 Meanwhile, back at the Work Bench, there's a managerial vacancy after a secret shopper got Ted fired for sexual harassment last week. The new manager is a surprising pick that opens the door for a lot of new and awkward workplace situations. Sock starts on the wrong foor with the new boss when his alter ego Les Nessman (fabricated so that Sock could draw double paychecks) comes under scrutiny.
The third story in this one is all about Ben's new demonic girlfriend Nina, played by Jenny Wade (whom sharp eyed viewers will remember as one of Harold Hundin's four wives from the dog breeding episode of Pushing Daisies). Ben and Nina seem smitten with each other, but Ben just can't shake the fear that Nina's dating him just to get a shot at killing Sam. Deciding to give her the benefit of the doubt, Ben hides Nina's demonic nature from his friends, and we're treated to an awesomely funny meet-the-pals dinner scene.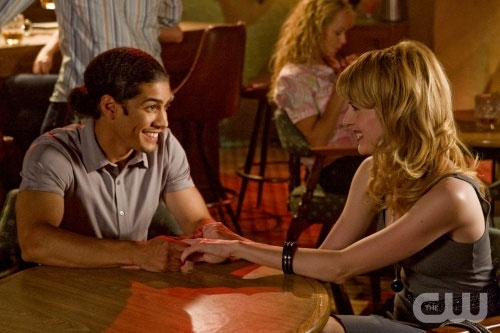 Reaper has been consistently great since the beginning, and I have no qualms with putting it into my top five current series, and possibly even into my top three (the other two would be Fringe and Lost, if you're keeping score). I'm not sure where I stand on the Nina issue, but I want to believe that she's on the side of good. Or, well, on Sam's side, at least, wherever that falls on the spectrum of moral ambiguity. Ben needs something good after his time in the pokey last season and his friends' refusal to accept poor King Charlie into the household. Sock's sister didn't show up this week, and we still haven't heard anything from Sam's fake parents this season. The pacing has been good so far, though, and Reaper continues to fill some of the void left by Buffy, Angel, and their ilk.