I haven't been to any convention, much less Dragon Con, since I think 2008. College, money, and time spent abroad just didn't add up to convention time. Also, I felt like many of my usual conventions were fraught with drama. But this year, I felt like I should return to Dragon Con. Not only were some amazing guests going to be there, but it was a chance to reconnect with friends and meet new ones. It also spurred my decision to create a costume for the first time in many years.
Dragon Con overwhelmed me. I hadn't been in a crowd that large since the Summer Sonic music festival in Osaka, Japan. The crowds were astounding. It was also fun to see so many people in costume. I was happy that I chose to dress up. Making a costume helped me realize what I hate and love about the process. The actual construction part is a lesson in patience and not throwing things too much. The end result is fun. The familiar sweat of being overheated was like homecoming in the costume world.
I'm glad I didn't go to DragonCon alone. After a summer-long campaign of persuasion, my friend Emily agreed to come with me. It was her first Dragon Con, period. It was nice to have a fresh perspective. My number one Dragon Con goal was to get a photo-op ticket. I was determined to get my photo taken with Stephen Amell and John Barrowman. Froggy's Photos has a good system and I didn't have to worry about getting a photo or ticket. One of my most embarassing but happiest fangirl moments took place. I'm not a "cool" fan. Honestly, they probably thought I was a young teenager whose parents let her go to Dragon Con. It doesn't matter that Stephen Amell is just four years old than me. As for the photo… yeah, not my coolest moment. But so worth it.
My return to DragonCon helped me remember how fun conventions can be. I enjoyed the guest panels and just people-watching. Most of all, conventions had always been a place for me to see friends I don't see very often. I loved having lunch with Fandomania's Jason and Celeste. I first met Jason at Anime Weekend Atlanta 8. That was… fourteen years ago. It was my first time meeting Celeste and it was awesome. I also met some new folks and hung out with some buddies from high school and middle school. It was one big social event. I think this is what DragonCon was really about for me: seeing people and hanging out with like minded nerds.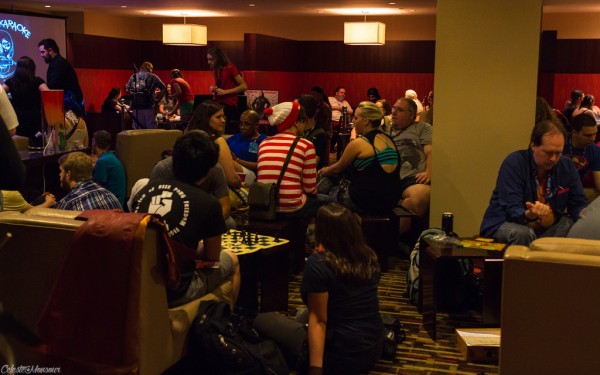 Convention-going used to be a big part of my existence. I just stopped going for the reasons listed above. But I learned it's not good to stray from hobbies you love. Overall, I enjoyed my return to Dragon Con. Honestly, it was one of the best convention-going experiences I've had. I may have tried to regain those wasted hours in the Arrow panel line, but I don't regret my experience. Dragon Con certainly has grown from the last time I went. I took a photo of a banner someone had hung up at the Pulse Loft. It read, "Geeks Gone Wild". To me, that sums up Dragon Con perfectly.