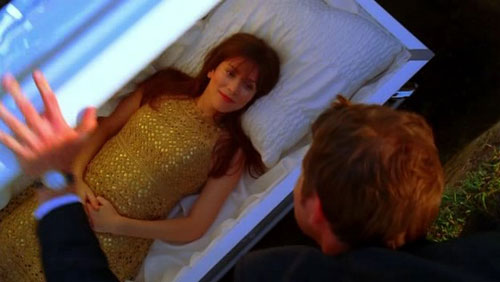 Picking up where the first season abruptly ended, Ned, The Piemaker (Lee Pace), Emerson, the Private Eye (Chi McBride), and Chuck, The Living Dead Girl (Anna Friel), investigate the death of a spokesmodel for a company that works with bees. Meanwhile Olive (Kristin Chenoweth) struggles with the newest secret to add to her collection.
ANALYSIS: Heroes wasn't the only victim of the writer's strike. Bryan Fuller's morbidly endearing urban fantasy/comedy series is back, and thank God, because I missed it. The great thing about Pushing Daisies is that despite having a continuing story thread, the show allows for the audience to come in at later episodes. I jumped in with the first season in the latter half and I was swept up by it regardless of my not being abreast of the previous episodes. The show defies television conventions by approaching its grim subject matter with a sort of innocence and whimsy which is warm, inviting, and totally absent from most TV shows today. Fuller's Dead Like Me approaches the subject of death in a manner that gives you a front row seat to the hardships of moving on, and he does it on both sides of the spectrum–the living side, and the dead side. With Daisies, Fuller approaches death with an almost childlike curiosity like the child dared to ask "what if?" With this show, Fuller dares to ask "what if," and he goes beyond it.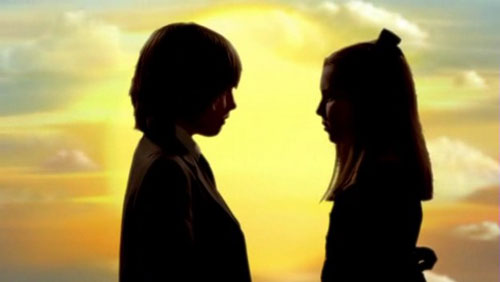 Fortunately, the first season was only nine episodes, and we just picked up the boxed set (get it on Blu Ray, trust me) so I could get up to speed real quick. Combine that with the show's return, and suffice to say I'm in heaven. Bryan Fuller is truly an underrated creative mind. His first series, Wonderfalls, was axed in the first season on FOX (because FOX hates good shows). His next series, the strikingly original Dead Like Me, was cut off after the second season ended. So, naturally I was worried that his latest effort would be cut short barely halfway into its maiden voyage without being given a second chance. Fortunately, ABC isn't FOX and now The Piemaker is back and raising more than just pie crusts.
This episode is, for all intents and purposes, what should have been episode ten of the first season, so it doesn't feel as monumental as a season premiere. That's okay because I would have been disappointed if they decided to start with a brand new story arc. Instead we hit the ground running with a new murder mystery and the consequences of old revelations. That's what works about this series… the fact that if you're not interested in the characters' stories you can immerse yourself in the immensely clever plots of the mysteries. Mysteries to which we are given a sort god-like point of view as we see things from the perspective of the pleasantly voiced narrator (Jim Dale) as he explains the details of each murder as if he were telling a Grimm Fairy Tale. For me, the mystery would totally lose its flavor were it not for the three leads. Lee Pace and Anna Friel are definitely an ideal couple for this modern day fairy tale, and this episode continues to tell the story of their difficult relationship. The premise for this relationship is as sad as it is beautiful. Ned will devote the rest of his life to Chuck, but he can't even touch her for fear of her dying permanently. Sheesh, and you thought Gambit and Rogue had problems.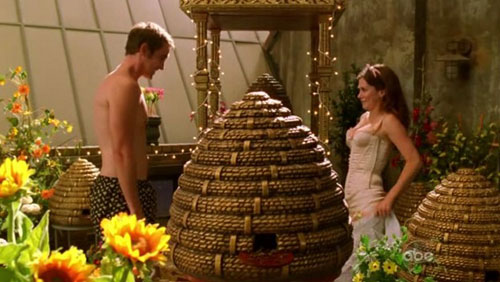 As for Emerson Cod, aside from his being a fantastic detective character, he feels like the only normal person in this strange world that Bryan Fuller created. Emerson is the one character who remains static as everyone around him changes and evolves, and frankly I hope he stays that way. Sometimes it just works to have a character who actually has the good sense to stay out of everyone else's problems, and who tries to avoid talking about it whenever he can. He essentially is there to keep the surface story moving along at the brisk pace that it does.
This week's episode, "Bzzzzzzzzzzzz," is definitely no exception to that point. This time the trio get in a bit too deep when Chuck goes undercover at Betty's Bees, and with that comes another intriguing murder case packed with red herrings and bizarre suspects. Seriously, name for me another show that has the antagonist characters stealing bees. This episode's antagonists are played by French Stewart and the multifaceted Missi Pyle, and both of them fit perfectly into this surreal world of death and pies as murder suspects that would be very welcome at a Scooby Doo villains convention.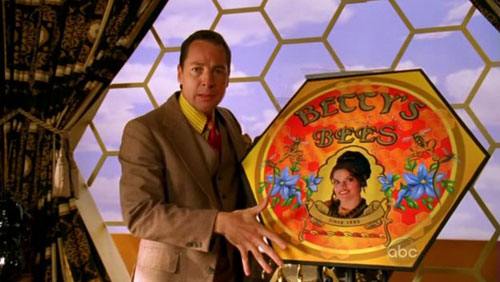 I think that because the world that this show takes place in is so fantastic, the mysteries are allowed to be a bit more macabre, as it allows the circumstances surrounding the deaths to be a bit more humorous. It's clear that Bryan Fuller was totally aware that since this show was going to delve into potentially downbeat territory, he needed to make the world surrounding it a bit brighter. As a result we aren't mortified that this is a show which is making light of a sordid event in every episode.
In the end another murder is solved, but this time the narrator has left us with a surprise development which could warrant my dropping everything next Wednesday to see where it goes. So unless you're dying or dead and waiting for Ned to reawaken you, I think you need to catch Pushing Daisies on Wednesday nights. While you're at it, go buy the first season. It won't cost much, as it's only nine episodes.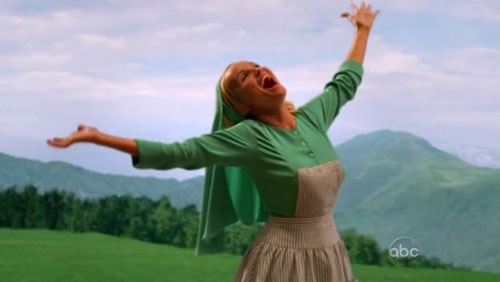 ESSENTIALLY: A very strong episode to bring us back to The Pie Hole after a long absence, just not one that was meant to be a season premiere.
FINAL GRADE: A-