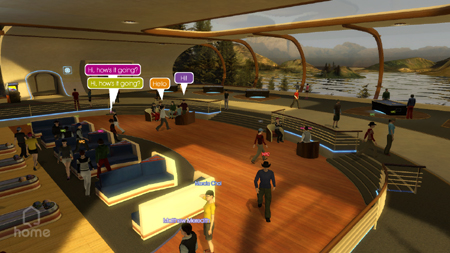 Home, the Playstation 3 Second Life-like game / community system, has been pushed back to a fall 2008 release. Here's the official word from Sony:
"Sony Computer Entertainment Inc. (SCEI) announced today that it will expand the Closed Beta testing for PLAYSTATION®Home in Summer 2008, inviting a further number of registrants from the PLAYSTATION®3 (PS3®) users. Following completion of the Expanded Closed Beta test, the PLAYSTATION Home Open Beta service will commence in Fall 2008.
"We understand that we are asking PS3 and prospective PS3 users to wait a bit longer, but we have come to the conclusion that we need more time to refine the service to ensure a more focused gaming entertainment experience than what it is today," said Kazuo Hirai, President and Group CEO, Sony Computer Entertainment Inc. "Our overarching objective is to provide users with new gaming experiences that are available only on PLAYSTATION Home. Spending more time on the development and on the Closed Beta testing reaffirms our commitment to bringing a quality service, maintaining the PlayStation® tradition."
The PLAYSTATION Home Open Beta service that will become available in Fall 2008 will be built around providing new and fun community gaming experiences."
I'm planning to finally pick up my own Playstation 3 when the Metal Gear Solid 4 bundle hits this summer, and I've been looking forward to building my own home and collecting trophies in Home (and yes, I'm an achievement junkie on the XBox 360). I guess we'll just have a bit longer wait now.