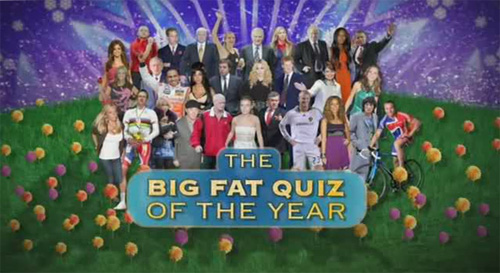 The Big Fat Quiz of the Year is a British program that is modeled after a pub quiz. It has British comedians, such as Russell Brand, David Mitchell, and Alan Carr and other British television personalities, like Carol Vorderman and Gordon Ramsey, broken up into three teams. Big Fat Quiz is shown on Channel 4 and hosted by Jimmy Carr. It began in 2004 and has aired every year since. There was a Big Fat Anniversary Quiz in 2007 and recently there were Big Fat Quizzes of the Decades, covering the '80s, '90s, and '00s. The quizzes cover big news stories, music, movies, books, and more.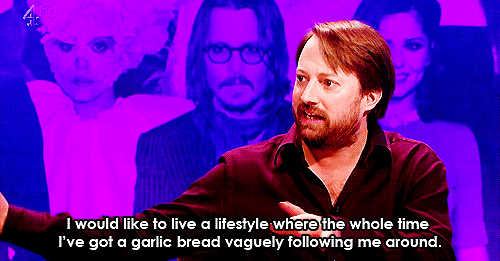 The best thing about the show is that it is hilarious. I've watched almost all of them and could not stop laughing. Not only that, I've learned the British perspective on numerous subjects.
Videos of The Big Fat Quiz of the Year can be found on their website and on this YouTube channel (there are other channels to find the show on, this one has all of them except the Decade quizzes) since the Big Fat Quizzes from 2004-2008 are not on the website. You don't have to watch from the beginning and they can be watched in any order.
The video above is the very first thing I saw of The Big Fat Quiz and it never gets old. There is swearing (some words are only allowed on Showtime or HBO over here in the states) in the show, so if that bothers you, you should skip this. If you have no qualms with swearing, give The Big Fat Quiz of the Year a try. I promise you won't regret it.