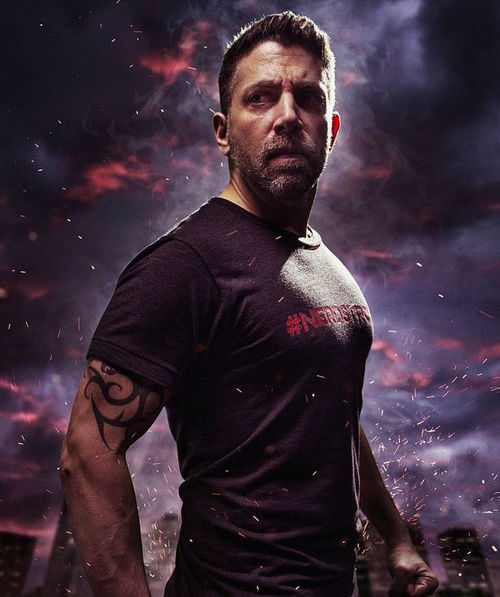 Not all, but a lot of nerds don't grow up being picked first in gym class. It's a stereotype TV and movies have placed heavily into our minds, but hey — it has some truth to it. Showcasing a nice height and a love for Michael Jordan thanks to Space Jam growing up, my dad thought I was destined for basketball greatness. Sadly, I could never get the hang of running and dribbling. To this day it's a science that escapes me. I'd rather stay inside and read Goosebumps anyways. Many could relate to this — many like Andrew Deutsch.
He carried a He-Man action figure around for too long and spent most of high school watching Star Trek: The Next Generation with his dad. A geek from the start, he got older and when the scales started to pass 200 lbs, he knew he had to do something. A dare from one of his brothers to do a triathlon caused him to drop some weight but in his late 30s they found their way back to him. That's when he took up Crossfit, became a certified trainer, and started his own workout that intertwines getting fit with his first love: nerd culture.
Thanks to the wonder that is Instagram, I saw some gals posting about this Nerdstrong gym in North Hollywood. It's all about workouts that revolve around things that fans of comics, pop culture, and gaming would appreciate. A couple of email exchanges later and I was talking with Andrew and learning all about where the idea came from, the ins and outs of Nerdstrong, and more. So keep on reading on to get to know a man who loves to help others get fit in a new and interesting way.
Kendra: How did the idea come about for Nerdstrong?
Andrew Deutsch: The idea for Nerdstrong was born from our love of fitness and gaming. We would gather at my garage on Sundays, I would program a workout, then, we'd game. Sometimes, it would be Pathfinder, sometimes X-Wing. Then, one day, I had the idea to merge the two and wondered if people would work out knowing that there was a game attached to it. Turns out, they do. The key was to remove all aspect of interpersonal competition between the members and have them battle the workout, or the game attached to the workout. I would be the dungeon master, tell them the rules and then, they'd attack the workout as a team. We eventually had about 10-11 people showing up and that's when we opened our first gym space.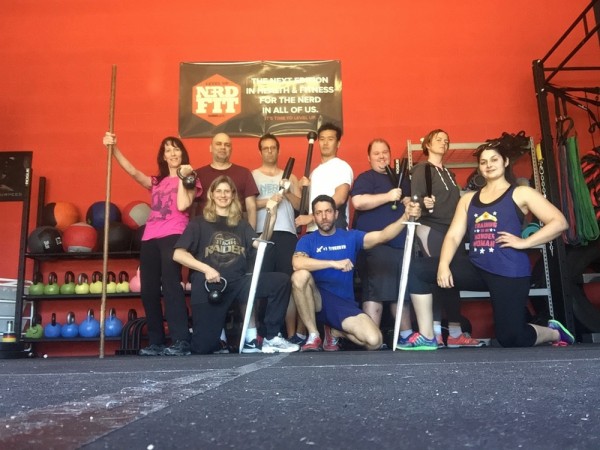 Kendra: Now looking at the monthly cost of Nerdstrong and comparing it to a regular old gym, it's pretty high. What makes people choose you over competitors in the end — what are you offering that, say, LA Fitness isn't?
Andrew: Our cost is actually lower compared to similar gyms that offer the types of classes we do. In fact, it's almost $100/month less than some Crossfit boxes out there. Also, big box gyms like LA Fitness don't really care who you are. You're a number to them and they bank on you not coming. No one knows your name and if you left, no one would notice. We're different. I know everyone's name. I'm friends with them online. We go to dinner together and, sometimes, have brunch after the Sunday classes. Our coaches make a true effort to know who you are, what your goals are, and why you're at the gym. The first 20 minutes of our intro class is just talking. I want you to feel confident that this is right for you. It's a big decision and we want to make sure that you're cared for and your goals are our goals. That's why it costs more than a big box gym.
Kendra: How often do you have classes? Can people head over for a late night session?
Andrew: Our classes are group classes. It's not like a gym where you can pop in and out when you please. We take pride in having our classes led by top-notch coaches with big brains full of knowledge. We teach specific skills with barbells, kettlebells, and other objects and those have specific breakdowns of the movement, so we want everyone doing the same things — otherwise, it'd be chaos in our small gym. People are more than happy to drop-in to a class or sign up for our free intro to find out what we're all about.
Kendra: Have you ever thought about holding a class at a convention?
Andrew: We think about it all the time, but insurance liability would be enormous, so, until we can secure the safety of those taking part, we'll have to just hold classes at the gym.
Kendra: Are there cliques within Nerdstrong — like are the Trekkies hating on the Star Wars fans ever?
Andrew: We don't have cliques but there have been some serious convos about which Mutant Turtle is the best (Donatello, of course) and script loop-holes in the Lord of the Rings films, who liked Ant-Man and who didn't (and why), and other topics during our workouts. By the end of the workout, though, everyone has forgotten their differences and they all pretty much hate me.
Kendra: Have you had any success stories so far?
Andrew: We have a lot of them. The testimonials page on our site breaks down some of more dramatic successes. But, every day, someone posts about needing new pants or a smaller dress size or just feeling better about how far they walked at Comic-Con without getting tired. Those are big wins in my book. The everyday, small victories are the ones that I focus on.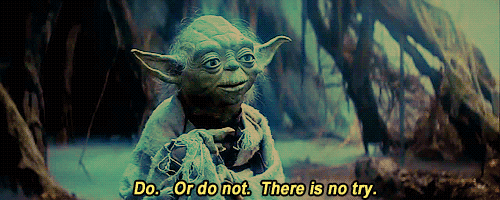 Kendra: If you could have any character join Nerdstrong for a class or two, who would it be and why?
Andrew: Pretty sure everyone needs some wisdom from Yoda. He can hang out, showing everyone how to do one-handed handstands while lifting rocks with their minds.
Kendra: Lastly, what advice do you have for those who want to hit the gym, but are having a difficult time finding the motivation to do so?
Andrew: I tell everyone that they need to change the dialogue that they have with themselves. It's not "I have to go to the gym." It's "I'm going to the gym." It's not "I'm on a diet." It's "That's how I eat." Own the language and the dialogue that you have with yourself and with others and everything else will fall into place. Remember, if you don't believe it, no one will.