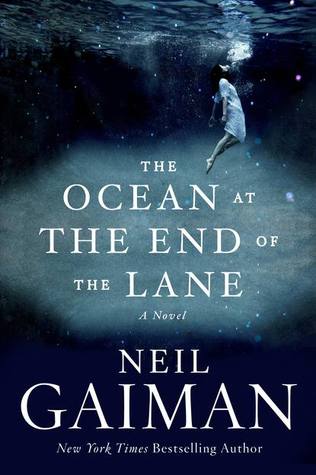 A middle-aged man returns to Sussex for a funeral and afterwards finds himself at the pond down the lane near the place where his childhood home once stood, the pond next to the farmhouse where the Hempstock women lived. It is a trip down memory lane as well, as he remembers his previous experience with the pond and the things that happened the summer when he was seven years old. That was the summer when he met 11-year-old Lettie Hempstock and her mother and grandmother, when the awful Ursula Monkton came to be governess for the boy and his sister, and when the South African opal miner who boarded with his family started everything by driving the family car to the end of the lane and committing suicide in it.
As with everything Gaiman writes, there is an element of the fantastic, but that is not the focus here. The main character is a seven-year-old boy, but it is not a book for children, either. This short novel is a book for adults. It is about memory and nostalgia, and about how key childhood events stick with us for the rest of our lives and shape us, and it is told simply but with Gaiman's typical knack for vivid description and his particular turn of phrase that just begs to be read aloud.
Maybe I noticed it more here because I have recently read Coraline as well, but I was struck especially by the way Gaiman writes from a child's perspective. He seems to really understand how children's minds work, and he writes them — their thoughts, emotions, reactions — in a way that comes across as incredibly authentic. Even though the central character is a child, however, Gaiman pulls no punches. The events that happen to this child, the events that the man is remembering, are dark and scary, reminding us that bad things can happen no matter how old you are.
I make no secret of the fact that I am a huge fan of Gaiman's work, and his newest contribution is no exception. I was almost disappointed that the story was over so soon as I reveled in his unique use of language that I enjoy so much. The story is absorbing and suspenseful and hard to put down. I definitely recommend this book, whether you're a fan of Gaiman or not.