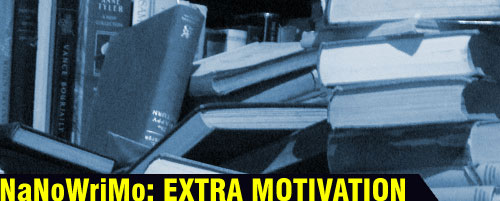 Whether you are writing this month for the challenge or if you are writing with the expectation of getting published, here's a little extra motivation for you.  The folks over at Create Space are offering for all winners of NaNoWriMo, or those writers who hit 50,000 words or more, a free proof copy of your trade paperback book.  This reminds me that I should really find some way of doing cover art for mine!  Even if you don't have ambitions of hitting up the major publishers, this would still be a fun and personal addition to any bookshelf.
Also, for those who are interested in being published one day but are thinking to themselves, "Is it really possible to turn a NaNoWriMo novel into something I'd see on bookshelves?"  Yes, and quite a few authors have done so.  Here's a list I found on the NaNoWriMo website of authors who have indeed gotten their NaNoWriMo books published. Maybe you'll be next!
Jon F. Merz – The Destructor (Pinnacle Books, 2003).
Lani Diane Rich – Time Off for Good Behavior (Warner Books, 2004) and Maybe Baby (Warner Books, 2005).
Sara Gruen – Flying Changes: A Novel (HarperCollins, 2005) and Water for Elephants: A Novel
(Algonquin, 2007).
Rebecca Agiewich – BreakupBabe: A Novel (Ballantine Books, 2006).
Francesca Segre – Daughter of the Bride (Berkeley Books, 2006).
David Niall Wilson – Vintage Soul (Five Star/Gale, 2007) and The Mote in Andrea's Eye (Five Star/Gale, 2006).
Gayle Brandeis – Self Storage: A Novel (Ballantine Books, 2007).
Kimberly Llewellyn – Cashmere Boulevard (Berkley Books, 2007).
Geonn Cannon – On the Air (P.D. Publishing, 2007).
Lisa Daily – The Dreamgirl Academy (Plume/Penguin Putnam, 2008).
Jacob and Diane Anderson-Minshall – Blind Curves: A Blind Eye Mystery (Bold Strokes Books, 2007)
James R. Strickland – Looking Glass (Flying Pen Press, 2007)
Kathy Cano-Murillo – Love Shine (Grand Central Publishing, 2007)
Ann Gonzalez – Running for My Life (WestSide Books, 2008)
Stephanie Stuve-Bodeen – The Compound (Feiwel and Friends, 2008)
Jessica Burkhart – High Jumps at Collins Academy (Simon & Schuster, 2007).
Jenna Bayley-Burke – Just One Spark (Mills & Boon, 2006).
Teryl Cartwright – A Sensible Match (Vintage Romance, 2007).
Dave Casler – The Story of the Great American Flying Broomstick, Book 1: Genesis (Mt. Sneffels Press, 2007).
Liz Hegarty – Salt River (Scholastic New Zealand, April 2009).
C.J. Lines – Filth Kiss (Hadesgate Publishing , 2007).
Moondancer Drake – Worlds Collide (PD Publishing).
Simon Haynes – Hal Spacejock: No Free Lunch (Fremantle Press, June 2008).
Farhan Devji – The Hockey Farmer (Cacoethes Publishing, June 2008).
Kalayna-Nicole Price – Once Bitten (Bell Bridge Books).
Katherine Bell – Amaranth: The Preterhumans, Book 1 (Cacoethes Publishing).
Angela Korra'ti – Faerie Blood (Drollerie Press).
Terie Gerrison – SpringFire and SummerDanse (Llewellyn Worldwide).
Kathleen Kaufman – The Tree Museum (Way Things Are Publications, March 2009).
Even if all you want it a pat on the back, 50,000 words is possible!  Keep writting and stay tuned for more NaNoWriMo updates!