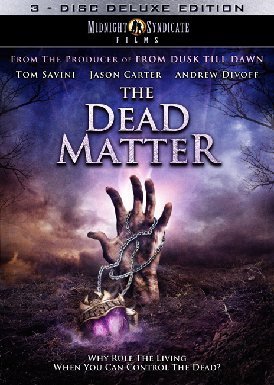 If you're like me, then you love the haunting sounds of Halloween. I try and collect as much Halloween music as I can all year round. Well, I found out about Midnight Syndicate a few years back and they ARE the official soundtrack of the Halloween season. From Universal Orlando's Halloween Horror Nights and Hugh Hefner's Halloween parties to Monday Night Football, Xbox games, the classic Dungeons & Dragons roleplaying game, and Barbara Walters specials, their CDs are designed to take listeners on a journey into the darkest corners of their imagination.
Well, now they are branching off into the indie film business with with Midnight Syndicate Films, lending their soundtracks out for fantastic film ideas. Their newest feature, The Dead Matter, will be hitting all Hot Topic stores July 30th with an added bonus!
Midnight Syndicate Films has announced plans to release a special edition of The Dead Matter DVD that will include two bonus CDs by gothic Halloween music artists Midnight Syndicate. It will be available at all Hot Topic stores nationwide on July 30th. The specially-priced set will include The Dead Matter DVD, the Original Motion Picture Soundtrack CD by Midnight Syndicate, and a new Midnight Syndicate 13th Anniversary greatest hits CD entitled Halloween Music Collection. Midnight Syndicate Films has also released a new official trailer for The Dead Matter movie which can be viewed at the film's revamped website, www.TheDeadMatter.com and YouTube.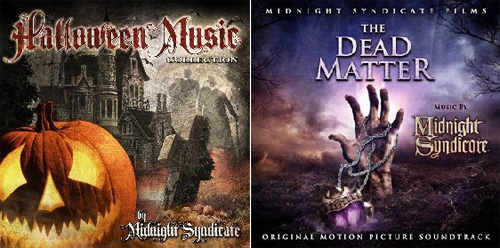 The Dead Matter: Original Motion Picture Soundtrack CD contains the score composed by the film's director, Edward Douglas of Midnight Syndicate, as well as several limited-edition remixes of Midnight Syndicate songs and other music that appears in the film from bands like Lazy Lane, HipNostic, and Eternal Legacy. Midnight Syndicate's Halloween Music Collection CD features over 60 minutes of songs hand-picked by Edward Douglas and Gavin Goszka to celebrate the band's first 13 years. Both new CDs will also be available at Halloween retailers nationwide in August.