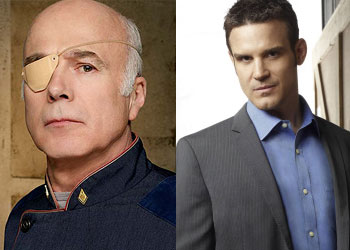 We hit a lot of conventions over the course of each year, but Dragon*Con continues to be our big annual event trip and meetup location. This year will be no exception, and we hope to see a lot of Fandomania readers and listeners in Atlanta the weekend of September 2-5, 2011. We'll be talking about our own specific Fandomania-related plans for the convention closer to the event, but the con itself already is rolling out the announcements.
Newly added to the guest roster are Michael Hogan (Saul Tigh from Battlestar Galactica) and Eddie McClintock (Pete Lattimer from Warehouse 13). To date, 66 guests have been confirmed for 2011, including the likes of William Shatner, Leonard Nimoy, James Marsters, Kate Mulgrew, and Richard Hatch. Dragon*Con traditionally has literally hundreds of attending guests, so we'll keep you updated as new ones are announced as the convention approaches.
Dragon*Con 2011 memberships currently are on sale for $80 a piece, but the price goes up to $90 on February 15. Get 'em while they're cheap at the official Dragon*Con website!