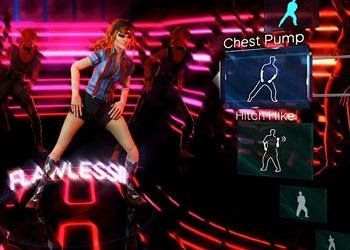 Harmonix's new game Dance Central is probably the most highly anticipated upcoming title to take advantage of Microsoft's new Xbox Kinect controller, and more of the on-disc music list was revealed this week at the German Gamescom convention. Dance Central evolves the sort of mechanics players have seen in games like Dance Dance Revolution into a full-blown dance simulator program that uses the Kinect hardware to track players' entire bodies as they move to the music.
The new tracks revealed today at the convention are:
Basement Jaxx – "Rendez-Vu"
Nelly Furtado – "Maneater"
Benny Benassi – "Satisfaction"
Nina Sky – "Move Ya Body"
Cascada – "Evacuate the Dancefloor"
Pitbull – "I Know You Want Me (Calle Ocho)
Fannypack – "Hey Mami"
Rihanna – "Pon de Replay"
Kool & The Gang – "Jungle Boogie"
Technotronic – "Pump Up the Jam"
Kylie Minogue – "Can't Get You Out of My Head"
These songs join the ones that already were announced at previous events:
Beastie Boys – "Body Movin' (Fatboy Slim Remix)"
No Doubt – "Hella Good"
Bell Biv DeVoe – "Poison"
Salt-N-Pepa – "Push It"
Lady Gaga – "Poker Face"
Snoop Dogg/Pharrell – "Drop It Like It's Hot"
Lipps Inc – "Funkytown"
Young MC – "Bust A Move"
M.I.A. – "Galang '05"
Dance Central is scheduled for a November 4, 2010, release in North America and November 10, 2010, release in Europe.