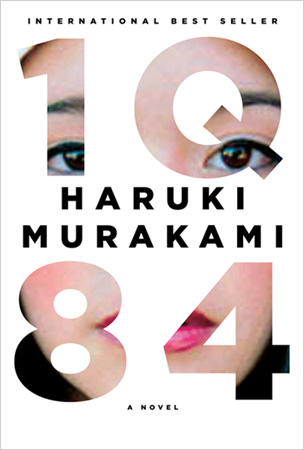 Title: 1Q84
Author: Haruki Murakami
Translated by: Jay Rubin and Philip Gabriel
Publisher: Knopf
Release Date (US): October 25, 2011
While 1Q84 has its flaws, it is a compelling read of strangeness of a variety that only Murakami can pull off convincingly. Two characters, Aomame (Which means "green peas" in Japanese) and Tengo, are dragged unwittingly into the world of 1Q84, a world of two moons and Little People, a world similar to their own, but with differences that can be deadly. Murakami's ability to weave the bizarre together with character development and portrayals is a hallmark of his fiction style à la Kafka on the Shore — you are forced, as the characters are, to accept the weirdness without additional explanation.
Of all of the Murakami I have read which, to be upfront, is most of his novels but very few of his short story collections, this was by far the most solid. I feel that he likes to show the reader the strange and unreal, but doesn't even attempt to explain it or justify its existence in "our world". Strange things happen, and his characters are usually undaunted by the weirdness and accept it as fact. Here Aomame and Tengo begin to realize something has gone wrong, and they do not accept it as their fate. In many of his other works the characters are unrealistic in their placidity, and perhaps in some of the stories that is the point, but Aomame (the efficient assassin) and Tengo (the writer who helps a young girl tell her story of a strange world and somehow brings it into being) do not accept that they may be stuck in a parallel world, but want to find each other and find a way out.
Murakami likes to play with words and worlds and mold them into his stories. He is a wordsmith in the truest way and I easily get sucked into his stories. He isn't for the faint of heart reader, and this story is certainly going to be an undertaking at over 900 pages. It is an epic read, but you won't feel at the end that time was wasted. That is not to say there aren't passages that are agonizingly slow; as always, you will read at the pace Murakami wants you to read. I would suggest that perhaps this shouldn't be your first foray into his prose, that he is an acquired taste. However, if you aren't turned off by visits to the cat town or a world with two moons or the mystery of the dangerous Little People and their air chrysalis, you will definitely enjoy this story.
With 1Q84, as with many of Murakami's novels, you must have patience and see the story through to the end. Sometimes this will seem agonizingly slow, but this is a story that will linger with you after you have finished reading. Haruki Murakami is a master. He tells a love story without being sappy or predictable. He tells a supernatural mystery without condescending. If you are looking for an interesting out-of-the-ordinary read, this would be what I would recommend. In fact, I cannot think of one of Murakami's novels I wouldn't recommend.