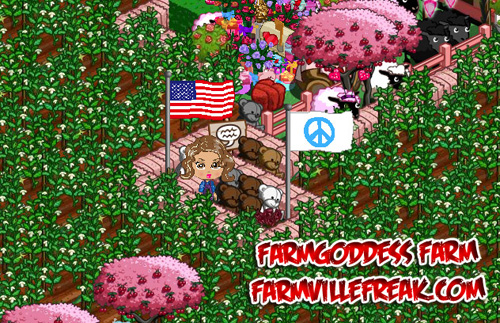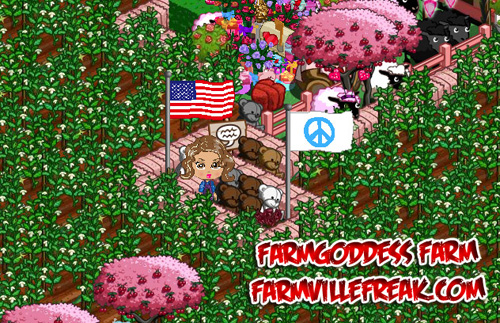 Whether you're the type of person who rolls your eyes at FarmVille posts as they defile your Facebook newsfeed or the type who sets alarms for harvesting and lives for XP points, the spread of FarmVille is undeniable. Hate it or love it, there's a good chance you at least know what it is, but if not, here's a quick intro…
FarmVille is a simple multi-player virtual farming game, created by casual game developer Zynga and played through a social networking site, like Facebook. The game runs in real time, and requires using your social network contacts as teammates to enhance your gameplay. Virtual friends become virtual neighbors and plant, fertilize, harvest and share the bounty of pixelated plots of good old-fashioned Americana farms.
FarmvilleFreak.com is the #1 fan site dedicated to FarmVille farmers with daily news and updates on gameplay, networking for neighbors, tips and hints, discussions, questions, and anything you can think of that has to do with FarmVille. The site is completely run by fans for fans and is not affiliated directly with Facebook or Zynga.
Angela Morales is known in the Houston area for owning a photography business, but to thousands of dedicated farmers she is better known as FarmGoddess, the site manager for FarmVille Freak. It was my pleasure and honor to interview FarmGoddess recently, and here she shares the inside scoop on FarmVille Freak and her expert opinion on why pixelated veggies and tractors make so many people happy. If you're not already a farmer, I think my chat with FarmGoddess just may entice you to give virtual farming a chance!
Rose Shapiro: I believe that the world has boiled down to two kinds of people: those obsessed with FarmVille, and then there are the kinds of people who unfriend us farmers and are nothing but annoyed with posts about mystery eggs and bonuses available. What do you think it is about FarmVille that grabs players and gets them so into it?
FarmGoddess: I can understand why a lot of people hate FarmVille or love it. In the beginning, I myself was strongly opposed to playing it and annoyed by all the clutter on my Facebook newsfeed. Then I finally gave in and accepted a FarmVille invitation from my Mom (who can say no to their Mom?) and have been playing ever since. I think that FarmVille is appealing to so many people because it is extremely universal. No matter what country you live in, or what age you are everyone understands the concepts of farming: plow, plant, grow. Its simple nature does not require you to have any kind of background information or expertise. You can play while multi-tasking phone calls, work, school, etc.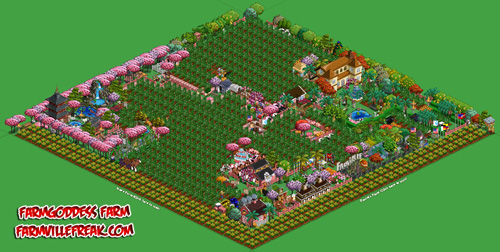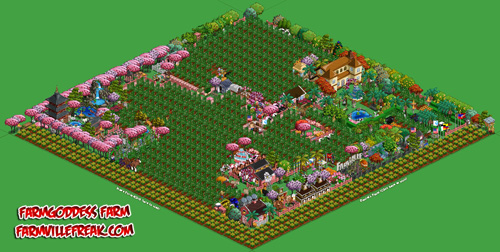 RS: What do you say about people who don't get it, or are constantly annoyed by FV updates on their news feed?
FG: I understand their frustration, as I was once one of them. But I also encourage them to try FarmVille for themselves and actually play before they conclude it's stupid. (Don't knock it 'till you try it.)
RS: Do you think there's a common ground between farmers? Is it the same qualities of the game that attracts us all to play?
FG: Yes, I think there is a common ground between farmers. The game is uniting people from all over the world to be virtual neighbors. Even if these FarmVille neighbors have language limitations it doesn't matter. I believe that people are attracted to FarmVille for different reasons, but the commonality is playing the game itself. For example, some people enjoy the competitive aspect of the game: they may be competing with co-workers or friends and family to see who is the highest level and XP. Others enjoy the artistic nature of decorating your farm or experimenting with hay bale art, stacking or so on. Then some people find that owning a virtual farm is therapeutic — maybe we all want to be farmers deep down inside?
RS: I love flowers, and I love to decorate my farm with them. I also like a really neat and tidy set-up. I see a lot of people now are into very creative stacking and making the illusion of topography (the fake hills look). What do you think is important in a "good" farm?
FG: Obviously if you are trying to level up you will need to have ample space on your farm to grow crops so that you can fund any decorative hobbies such as stacking or hay art. You should always try to maximize your crop space by buying the land expansions as soon as you can.
RS: What kind of farmer are you?
FG: I myself am a mixture between crops and decorations. I love collecting all the cute decorations and animals, but I also understand the importance of growing crops because without them there is nothing to fund the cute stuff. My favorite crop was limited edition Fire and Ice Roses (available for Valentines Day, now retired). I usually stick with crops that yield high XP and high coin return, but whose harvest time also fits with my schedule. I tend to grow one day crops because the hourly ones do not work for me.
RS: Do you think a layout of a farm says a lot about a person?
FG: Yes, being a part of the FarmVilleFreak.com team I get to see lots of people's farms as we have a FarmVille Freak Farm of the Week contest. There are so many wonderful farms out there, I am constantly amazed at people's creativity. Many people have used their farm as an outlet expression of themselves, and I think it definitely reflects their personality. For example, "neat freaks" tend to have very organized farms with little to no decorations or clutter.
RS: Christmas and the snow was very fun for me. I loved opening my "presents" and getting all of the animals and free fuel. In February I was pretty competitive with the Valentines. What "seasons" or special events do you really like?
FG: My favorite event this far in FarmVille would have to be Christmas! I love Christmas in real life and appreciate that FarmVille went all out in celebrating Christmas as well. There were so many Christmas themed decorations, and special features like the Holiday Tree and Presents was a lot of fun.
RS: Do you participate in all of the seasonal/special events on FV? Are there any special events that you didn't really like or get into to? I didn't do any of the Super Bowl stuff personally, I think it was boring!
FG: I try to participate in all of the events that happen, but that doesn't mean that I buy everything. I'm a sucker for all the new animals that come out, as I want to collect them all and have at least one animal of every kind represented as part of my farm. My least favorite event was Super Bowl.
RS: What's your favorite aspect of game play?
FG: My favorite aspect of FV game play is the interaction that occurs — neighbors helping neighbors all in an effort to have this perfect little virtual farm.
RS: If you could change anything about FV what would it be? Why? Personally, I would love to be able to rotate more, like buildings and vehicles. It would totally change my layout.
FG: I have a lot of suggestions for FV improvements! First, it would have to be to add more incentives for higher level farmers. The coveted level 70 (last level for now) is underwhelming once you finally reach it. There is no special prize or celebration and there really should be for all that clicking! Secondly, I would improve all the customizable features including avatar upgrades that would allow different clothes for your avatar, make all items rotatable and allow trading of items between neighbors. Even though the much awaited and anticipated FarmVille Dog is rumored to be released very soon, I would take it a step further and give players the option to choose their favorite breed of dog! A lot of dog lovers would appreciate that.
RS: Do you have any kind of goal with your farm, like reaching a certain level, or making a certain amount of coin? Or do you just like to maintain and see what the next new updates will bring?
FG: Of course I want to reach Level 70, but have hope that FV will continue to improve the game for higher level farmers and keep them interested. They've already announced that more levels will be added in the future. Updates have me hooked because there is always something new happening in FV and I can't wait to find out what will happen next.
RS: I've never used real money to buy coins or Farm Dollars. Do you see this as a more "altruistic" way of playing the game? Or is all fair in love and FV?
FG: I believe that all is fair in love and FV! Some players are just as happy playing for free with coins, while others actually use real money to purchase exclusive items. I don't mind that some items are available with farm cash only because Zynga is still a business and they have already provided us with this free game. They have every right to some financial gain. It's a player's choice to buy farm cash or not to buy farm cash. No one is forcing them to do either. All of the items that are farm cash only are not necessary or required to play the game. I don't believe that those who refuse to buy farm cash are any better or altruistic farmers; likewise, I don't think it is fair to scrutinize those who do buy farm cash. Why would you place personal judgments on other people who like to buy farm cash? Some people spend a lot of money gambling or shopping, so what's wrong with a little spending on virtual goods?
RS: If someone is new to Facebook, or doesn't have many friends with farms, how can they accumulate neighbors?
FG: There are many options for them to find other neighbors. FarmVilleFreak.com is a great place to meet other farmers and you can post your neighbor requests at our chat or forums. We also have a FarmVille Freak Facebook Fan Page where many people find other FV friends.
RS: Do you think it's fair that having certain amounts of neighbors make you eligible for various things, like receiving gifts (horse stable building material, for example) or upgrading the size of your farm?
FG: I think that it's fair that FV place neighbor requirements because it is built on neighbor interaction. However, I also understand that many people do not have a lot of friends that play FV and may not want to add "strangers" to their Facebook account. Those that have more neighbors definitely have an advantage over those with few neighbors and will find it easier to level up.
RS: How does the real-time multi-player aspect of FV compare to other computer games? Does the fact that you play with your neighbors make it more fun? more addicting?
FG: The real time aspect of FV contributes to its addicting nature! Everything is based on the crops you are growing. Since each crop has specific harvest times you need to plan accordingly! Of course playing with neighbors makes it more fun — the more, the merrier.
RS: I've texted friends my Facebook login and password in a panic when I've realized I can't get to a computer and my crops are about to wither. What kind of extremes have you or other players you know gone to in the name of FV?
FG: I always try to plan my crops around my schedule. I stick to growing one-day crops or more because I know that I will not have the time to check on short hour crops. I've gone to farming extremes for myself and for family and friends. My aunt was in the hospital and I tended to her farm for her so she wouldn't have to worry about it (as she was worried). I've also taken care of my Mom's farm when she had to go out of town and wouldn't have Internet access on several occasions!
RS: Do you have any advice for new farmers?
FG: If you want to level up fast, grow the most profitable crops that you can purchase at that time. Also, buy land expansions as soon as you can because you will maximize your crops and thus your profit.
RS: What kind of farmer reads and follows FarmVille Freak?
FG: Farmers that want to know the latest news and information about FV. FV Freaks are avid farmers who are FV enthusiasts. They feel it is important to be informed about all things FarmVille and know that they can rely on our website to provide them with the latest info, tips and tricks on FV updates and upgrades. We like to keep the website user-driven, meaning we feature content from FarmVille Freaks such as pictures, artwork, [and] videos, and all of the website banners used on FarmVille Freak have been designed by FarmVille Freaks themselves.
RS: Does your site communicate directly with Zynga, or do you just gather info from the Zynga boards and other enthusiastic players?
FG: We are not affiliated with Zynga, we just love the game they made. We do not communicate directly with Zynga unless we have specific questions that we don't have answers for. Most of the information on FarmVille Freak is gathered from reliable sources that includes official statements from Zynga on FarmVille as well as enthusiastic farmers — FarmVille Freaks!
RS: What kind of insight does FV Freak offer to players?
FG: FV Freak focuses on being a user-based website where FV players can come to find the latest information on FV and interact with one another. We offer insight from a player's perspective as we play the game ourselves which has contributed significantly to FarmVille Freak becoming a trusted source for FV info. We are dedicated to providing FarmVille Freaks with all things FarmVille!
RS: Do you and the others who run the site do so purely because of enthusiasm for the game?
FG: Yes, the FarmVille Freak team is very small and we all actively play FarmVille. We started the website because we saw that there was a need for a FV fan website that was dedicated to serving the FV community without being affiliated with the developers. We wanted to provide a unique experience based on a player's perspective that would be FarmVille Freak oriented.
---
On behalf of Fandomania, I'd like to give a huge thank you to FarmGoddess for her time and this interview. As a diehard farmer myself I thank her on a personal level, not only for her contributions to the FV community as a whole, but for helping to shape and influence my own game play. FarmGoddess, you rock!