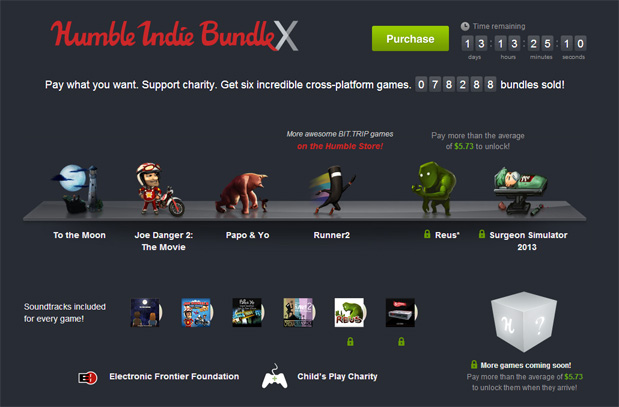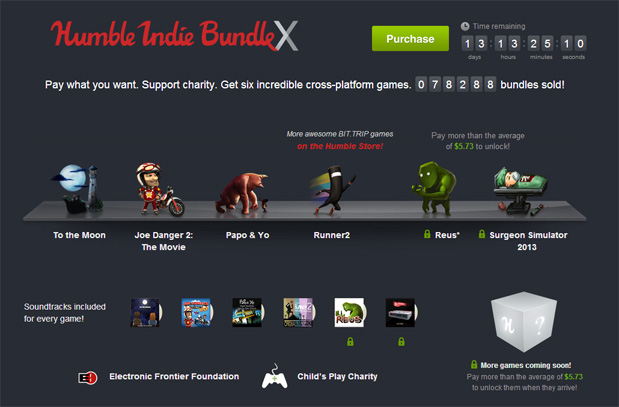 If you're a fan of video games and of saving money, chances are good that you already are acquainted with an awesome little thing called the Humble Indie Bundle. If not, you need to check it out pronto. The Humble folks put together bundles of great video games and then let you name your price for them. Even better, you can specify how much of what you pay should go to the Humble website, to the game developers, and to charity. You can check out the current bundle and place your order right now on the official website.
The newest Humble Indie Bundle is now online and available for purchase. Name your price to get a pack of these games:
To the Moon
Joe Danger 2: The Movie
Papo & Yo
Runner2
And if you beat the current average price being paid, you'll also get:
Reus
Surgeon Simulator 2013
The soundtracks for all the games are included in your purchase price, and more games will unlock and go into the lineups over time. If you buy into the pack and pay more than the average now, you'll automatically get the extra games as they're added. This bundle is set to run for two weeks, so get it before it's gone!