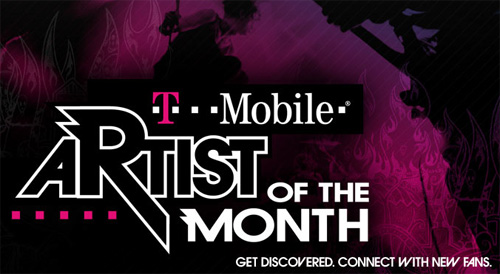 Just last week Harmonix Music Systems, MTV Games (part of Viacom's MTV Networks), and T-Mobile — the official mobile partner of the Rock Band Network — announced a new contest for emerging music artists to submit their tracks for a chance to become one of the featured bands in Rock Band Network's "T-Mobile Artist-of-the-Month" contest.
Interested artists can go to RockBand.com/T-Mobile until this Sunday, April 11th, 2010 and upload their song (in mp3 format), a band photo, and bio for consideration. Artists will be put in front of MTV Games music executives for the chance to have their song professionally authored into Rock Band gameplay, sold in the Rock Band Network Store, and to be named a Rock Band Network "T-Mobile Artist-of-the-Month." Each of the selected artists will be featured in promotions throughout the Rock Band Network Store and on the official Rock Band game website for one month.
Artists who submit songs for the Rock Band Network Music Store are able to choose from multiple pricing tiers for individual tracks and will receive a royalty of 30% of the retail selling price (excluding tax) for every track purchased through the RBN Store. Currently, there are more than 100 songs available for purchase in the RBN Store, including tracks from The Shins, The Hold Steady, The Main Drag, Band Camaro, of Montreal, Jonathan Coulton, Skeleton Witch, 3 Inches of Blood, Lacuna Coil, Stroke 9, and many more. In addition, more than 300 artists are in the RBN pipeline awaiting release in the RBN Store, including selections from Flight of the Conchords, The Smashing Pumpkins, Twin Atlantic, All That Remains, Clutch, Prong, and The Gaslight Anthem.
The Rock Band Network gives Rock Band fans and music lovers new ways to discover music and provides musicians and labels with the opportunity to produce and promote tracks for the Rock Band platform. The Rock Band Network's groundbreaking initiative allows musicians, publishers and record labels to author their own original recordings into gameplay files to promote and sell their music as playable Rock Band tracks through the RBN Store. With more than 1,100 tracks available to date in the original Rock Band platform, the Rock Band Network Music Store will immediately boost the number of available songs, further securing MTV Games and Harmonix's positions as the leading providers of downloadable content for music-based video games.
For more information and official "Artist-of-the-Month" contest rules, please visit T-Mobile Rock Band Network Connect. Artists interested in submitting their songs to Rock Band Network should go to Creators.RockBand.com for more instructions on how to get involved.