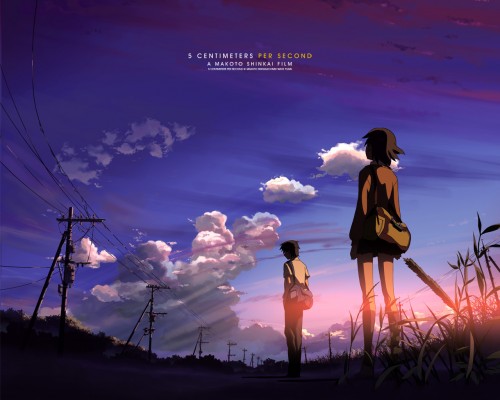 Hey there, fans! Welcome to another week's worth of Happy Fun Thursdays! This week, Crunchyroll, one of the Internet's leading places to stream various famous anime and Asian dramas online, has released 5 Centimeters Per Second, their first licensed DVD from the Bandai store, reports Mania.com:
The Bandai store has now listed the first Crunchyroll DVD release with the 5cm Per Second title making its debut on October 8th, 2010. The release is priced at 24.95 and they make it pretty clear that they want to offer something really good with this release and things that we haven't seen before. Of note is that they're being very clearly in breaking down the feature runtime and the extras runtime while also noting how long each extra is
Now, any ordinary anime DVD release wouldn't really faze me at all, were it not for two specific details about this particular event. Firstly, it's the fact that it's Makoto Shinkai, a director on par with the recently deceased Satoshi Kon and the highly successful Hayao Miyazaki, and that it's his best film, which also happens to be one of my favorite animated tearjerkers, that's being released. And secondly, it's Crunchyroll, one of the few companies in the US that have the rights and proper licenses to show the newest animes, straight from the source.
This first foray means that the other industry giants, like Funimation and Manga Entertainment, might soon have another competitor to deal with, who also happens to be armed with great new shows that most people have never heard of before. I'm probably extrapolating this a bit too far, but either the old dogs in the business would have to up their game and produce shows that have better quality, or Crunchyroll would be giving these old fogies in the business quality that they would have to match.
Either way, more anime for everyone! And that's never a bad thing. Tune in next week for another round of Happy Fun Thursdays!