The musical Hamilton has had a popularity explosion in the last year or so, and just as with many of the other fandoms covered here at Fandomania, the fans of the show have found myriad ways of expressing their love and appreciation of Lin-Manuel Miranda's work. Through my own journey as a somewhat-obsessed fan, I have come across so many interesting, unique, and funny sides of the fandom that I would like to share with you now. Happy Squee-ing! (If you have no idea what we're squeeing about here, check out my previous post about the musical itself.)
On YouTube:
YouTube is always a great place to start to see what the fans are up to — as long as you have a lot of time to spare. The following list is in no way a complete sample or even a collection of the best, but it does represent just a few of my favorites.
First of all, there are so many covers of songs from the cast album, from high school students like the group Musicality (my favorite is "Quiet Uptown" but check out their YouTube channel for several others) to celebrities like comedian Paul F. Tompkins (singing a unique version of "You'll Be Back") and the cast of the TV show Arrow (also breaking into "You'll Be Back" during a 2016 San Diego Comic-Con Panel).
If you really want to have your mind blown, do a search for "Hamilton in Sign Language". This collaboration between Hamilton cast members and the New York Deaf Theater is a Digital Ham4Ham video, so it's officially sanctioned, but there are many fan-made versions of the songs as well.
This is not exactly a cover, but what could be more fun than lip-syncing "Non-Stop" on a family road trip?
No time for the entire musical? Try RANGE a cappella's Hamilton in 7 Minutes.
Hamilton as background music for figure skating? Check.
Even actors in other Broadway shows are fans — see what happens when the cast of Les Mis makes an audition tape.
Let's not forget the parodies…whatever your SF fandom, there seems to be a parody version of a Hamilton song to go with it. Do you like your founding fathers in a galaxy far, far away? Try "Luke the Son of Anakin." Are you more of Bruce Wayne fan? Here's "Batlexander Manilton." Avengers and Harry Potter fans can hear parodies of "Your Obedient Servant" in "Your Fellow Avenger" and "Your Obedient House Elf," respectively. Finally, my current personal favorite parody: Hamildolph (An American Christmas Story) by a cappella group Eclipse 6.
Podcasts: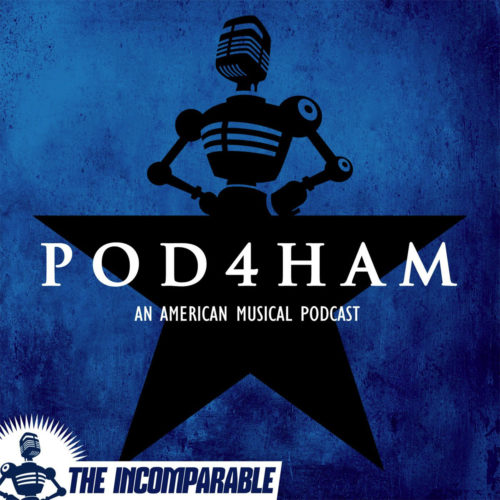 When I'm not listening to the Hamilton cast album, chances are better than average right now that I'm listening to a podcast about it. Since I'm already a regular listener of a number of shows on The Incomparable network, one of the first Hamilton podcasts I started listening to was their Pod4Ham podcast. Every week, I enjoy listening to a different group of Incomparable panelists discuss one track from the Original Broadway Cast album. At time of writing, they are only a few tracks from the end of the show, but hopefully they will include some bonus tracks to wrap everything up.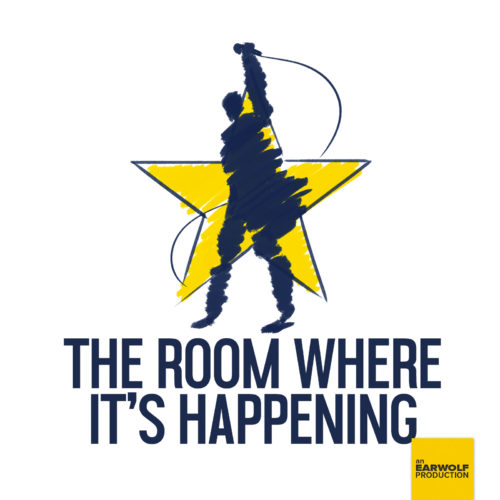 I came across this one very recently, after Lin-Manuel Miranda tweeted about the episode featuring Hamilton's Musical Director, Alex Lacamore. Like Pod4Ham, they focus on one song at a time, but their approach is very different. They're not going in any particular order, for one thing. And the hosts, Trevon Free and Mike Drucker, have connections. Each episode sees another celebrity guest joining them to discuss life, Hamilton, the universe, and everything else before they settle in to discuss the chosen song. They are not quite halfway through the cast album at this point, but you can already hear Mythbusters host Adam Savage and Broadway star Kristin Chenoweth geeking out about the show, Hamilton biographer Ron Chernow (the man who started it all) singing "my name is Angelica Schuyler," cast members Jasmine Cephas Jones and Anthony Ramos describing their first-hand experiences with the show, and Alex Lacamore revealing musical Easter eggs with the help of his trusty portable keyboard. I am very much looking forward to enjoying this one for the foreseeable future!
Tumblr and Twitter:
I am neither a Tumblr nor a Twitter user, but a quick search for Hamilton brings up a few gems:
I like the fan art from The Other 51.
This fan has some mad ASL skills.
If Alex had a smart phone, what would he text?
Even my favorite Doctor Who tumblr, David Tennant In Places He Shouldn't Be, has gotten in on the Hamilton action.
Hamilton As Dogs (@hamiltonasdogs) matches pictures of Hamilton cast members with their canine doppelgangers.
Two of my favorite things, combined: Hamilton meets Star Wars on twitter with #force4ham.
---
I could go on — every time I go to look something up I find six more awesome things! I wouldn't want to deprive you of your own journey of discovery through the fandom, however. If you find something super cool along the way, please share it with everyone in the comments!