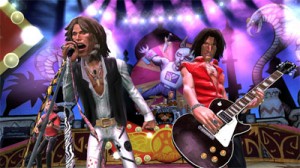 Guitar Hero: Aerosmith is the first band-specific disc release in the series, and the final list of included songs has hit the web. I still think it's odd that a big portion of the included tracks are not, in fact, by Aerosmith. That aside, here are some of the highlights in the release:
"All Day and All of the Night" by The Kinks
"Sweet Emotion" by Aerosmith
"Livin' on the Edge" by Aerosmith
"Love in an Elevator" by Aerosmith
"Rag Doll" by Aerosmith
"Walk This Way" by Run DMC featuring Aerosmith
"Dream On" by Aerosmith (previously released as a free download for Guitar Hero 3)
"Hard To Handle" by The Black Crowes (which is also one of the most fun downloadable tracks for Rock Band)
"Train Kept A Rollin" by Aerosmith (one of the standard included songs on Rock Band)
The track list reveals that there also will be a guitar battle with Joe Perry, likely similar to the game-halting sparring matches from Guitar Hero 3.
Notably missing from this game are Aerosmith's cover of "Come Together," "Dude (Looks Like a Lady)," "Janie's Got a Gun," Cryin'," "Amazing," "Crazy," and quite a few other songs that should have been no-brainer inclusions.
The full track list is available on Joystiq.