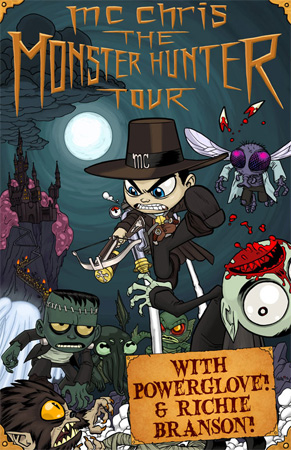 The Monster Hunter Tour recently made its way to the High Dive (formerly Double Down Live, which my ticket still says) in downtown Gainesville, FL. The tour features mc chris as the headliner with Richie Branson and Power Glove as openers, with Random (aka MegaRan) joining up after Nerdapalooza. Readers of Fandomania will be at least somewhat familiar with the controversy surrounding mc chris's recent actions at the Philly show. He did make reference to it several times, and plenty of audience members tried to get themselves kicked out by excessively requesting songs. Chris was ready, though, with promises of Macaroni Grill gift certificates for all of them. See, he's not so bad after all!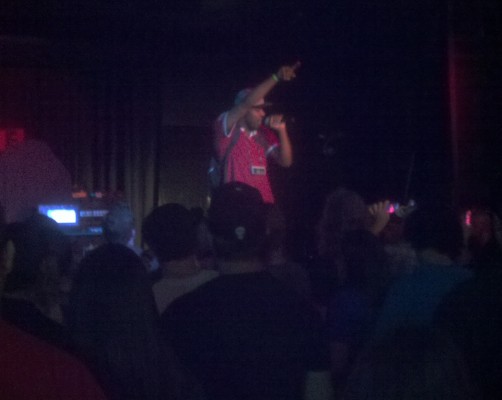 First up was Richie Branson. I saw no pandering at all; I have no idea what the heck the problem was in Philly. Richie even told me that the audience seemed to love it. The Gainesville audience certainly did; it's rare to see so many people at the concert when the opening acts begin. Anyway, he's just as good live as he is on his studio stuff. I was surprised to learn that this was his first tour; he seemed so confident and professional on stage. Highlights for me had to be "Cloud City Problems" (with audience participation on the chorus, of course) and "Cosplay Girls." But of course his trademarked anime raps made an appearance as well, with "Tofu Delivery" (Initial D) and "The Real G-Unit" (Gundam Wing) as well as his most well known track, "Bring Back Toonami." It was a short set, as expected for an opener, but highly enjoyable.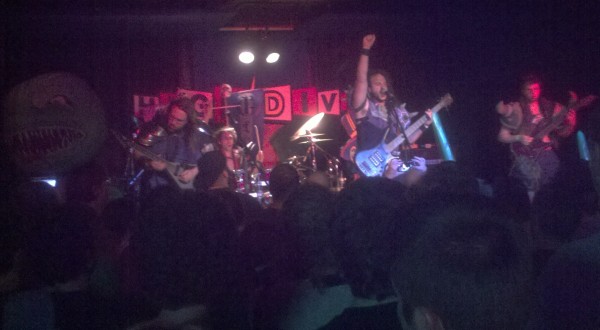 I was unfamiliar with Powerglove before the show; I just knew that they performed heavy metal versions of video game and Saturday morning cartoon themes. I wasn't exactly excited about the idea, but my mind was changed almost before they started to perform. When they walked about wearing Gwar-like armor, I have to admit that I was intrigued. Then they launched into a blistering version of the Mario theme ("Mario Minor" — after the music in the video at that link there is some cursing), and I was hooked. I've heard plenty of bands cover video game themes, but Powerglove doesn't just cover them; they make them their own. They're more like a heavy metal band that happens to do video game music than the other way around. Their front man reminded me of Scott Ian from Anthrax, but with way more hair. Highlights from their set included Final Fantasy 7 based "Omnishred (We're Gonna Need a Bigger Sword)," the Pokémon theme song (with the audience singing the whole thing), and the theme from Tetris as a heavy metal Russian dance as their closer. This is a band I'd love to see again sometime.
And of course mc chris was awesome as expected. I'm not nearly as familiar with his music as I am with other nerdcore artists, but I recognized nearly everything he performed. He also had a pretty good rapport with the audience, not only referencing his recent actions in Philly, but also acknowledging the recent tragedy in Aurora, CO with a moment of silence (which some idiots in the audience didn't seem to understand meant being silent). Interestingly, he later performed the Batman-themed "Part One" from Race Wars as well as "Geek" (which includes lyrics about packing heat and blowing people away for making fun of being a geek). A bit of a mixed message, perhaps?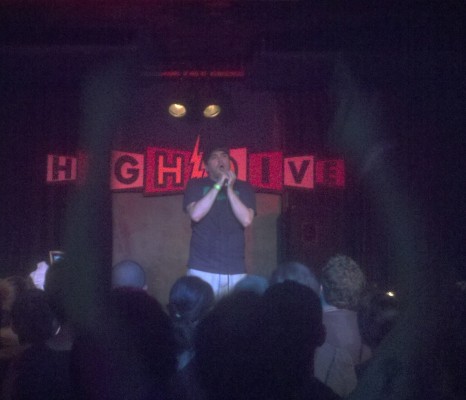 I was pleasantly surprised that mc chris performed all of the songs that I had hoped he would: "Nrrrd Grrrl," "Fett's Vette," "IG-88's '57 Chevy," and "Hoodie Ninja." Other crowd favorites included "Pizza Butt," "Tasty Face" (a parody of "Call Me Maybe" about the "bath salt zombie" in Miami), and "The 'Tussin;" actually I'm pretty sure the entire hour and a half show consisted of crowd favorites. I saw lots of people singing along with nearly all of the songs. Clearly there are some big mc chris fans in Gainesville.
On a non-music related note, mc chris did announce that his cartoon will be going forward. It won't be on [adult swim], and he wouldn't tell us which network was involved, but it will be a reality at some point. I've never actually seen any of the shows he's done voices for, but I do have to say that I'm looking forward to his show. Hopefully whatever network it's on is actually available on the cable package that I have!
There are still some dates coming up in the next couple of weeks, so if you're anywhere near the cities the tour is coming to, I'd definitely recommend you go. You won't regret it!