For part two this month, we get to hear from some familiar artists in a slightly different form along with a repeat artist. What the heck am I talking about? Read on to find out!
Kraken Not Stirred – Mixtape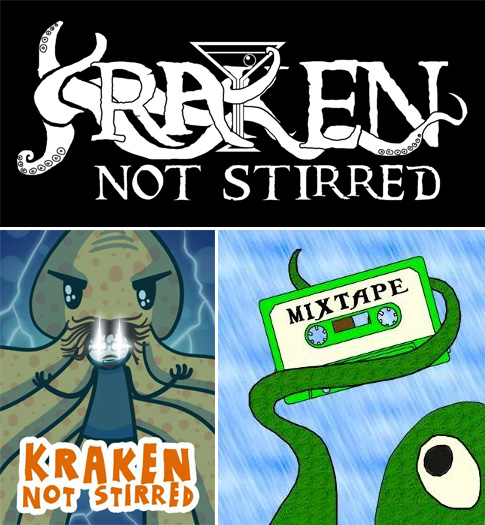 Over the course of the last few months, Kraken Not Stirred has been releasing songs and videos that he's now collected into one place along with a couple of new tracks. A mixtape, if you will. Oh, and it's even being released on cassette (with two bonus tracks not on the digital version) as well if you're into that sort of thing.
I've mentioned a few of the tracks in the column before: "Neo-Otyugh" (both the synth-pop and rock versions), "A Reptile Dysfunction," a full on heavy metal track about Gojira (aka Godzilla), "Pogo Zombie Is a Jerk," a song about Plants vs. Zombies, and "Oh, the Places I've Been," a track about how great reading is. I particularly love the track "If You Post Spoilers I Will Kill You" which features Kari Maaren. I'm not as scrupulous about avoiding spoilers as some, but I've been known to install keyword blockers on my browser for certain movies. People can, unfortunately, be real jerks. But if you've had a bad day, Kraken Not Stirred has a solution, too: "Today Sucked, Show Me Cats." That will work for sure!
The song "Shell Beach Party" is another great one. I'm a huge fan of Black Flag, so a semi-parody of "TV Party" is right up my alley. Now, I hadn't actually seen the movie it's based on, Dark City, when I first heard the song, but I have since watched it and have an even better appreciation for the song. Plus it's a pretty cool movie, actually.
This album will be released on May 7 at a cassette release party up in Toronto and will also be available digitally on that date. You should definitely grab it once it's released!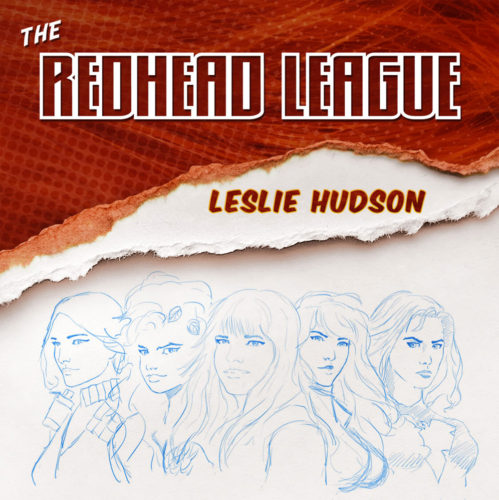 As one half of Copy Red Leader, Leslie Hudson wowed us back in 2014 with one of my favorite albums of the year, Crossing the Streams. Now that Copy Red Leader has been retired (and apparently vanished from the Internet, too! I couldn't find their music on Bandcamp anymore, so I hope you grabbed it when it was around!), she continues her solo work with a new album about comic book redheads, appropriately titled The Redhead League. And what an amazing league this would make if they were to join forces: Red Sonja, Medusa, Teela, Jean Grey, Mary Jane Watson, Scarlett, Poison Ivy, April O'Neil, and Black Widow.
The album is bookended by tracks about the fictional league itself, while each of the others is about one of the members. Part of the fun of this album is discovering which character is described in each song since the titles don't typically give them away immediately. For that reason, I'll only "give away" two of them. I've always loved the character Scarlett from G.I. Joe; the red hair and crossbow were just irresistible to me when I was a kid (and, let's be honest, they still are today). So I'm actually surprised that I didn't immediately get that "Black Belt" was about her. I mean, the crossbow even gets mentioned quite directly. In my defense, I didn't look at the list of characters before listening the first time. I think maybe I need to go read some G.I. Joe comics come to think of it. It's clearly been too long.
One of my favorite tracks, "I Have a Name," is actually about a character I'm only vaguely familiar with, Red Sonja. And it's also the easiest one to figure out who it's about since the chorus invokes her name directly. Leslie's powerful voice and pounding piano really shine through on this track, making me want to go and check out the comics. And play the track on repeat while reading them.
I love it when geeky music can cross over to appeal to everyone, and The Redhead League can do that quite handily. You don't have to know any of the characters at all in order to appreciate this album. If you enjoy great rock music, especially if you're a fan of any of the characters represented, then you really ought to check this out! Oh, and there's a fantastic live performance (with the incomparable Debs harmonizing on most tracks, too) of many of the tracks from the album at FilKONtario 2016 that you should also check out.
Megathruster – 20 Sided Vice (final track is Explicit)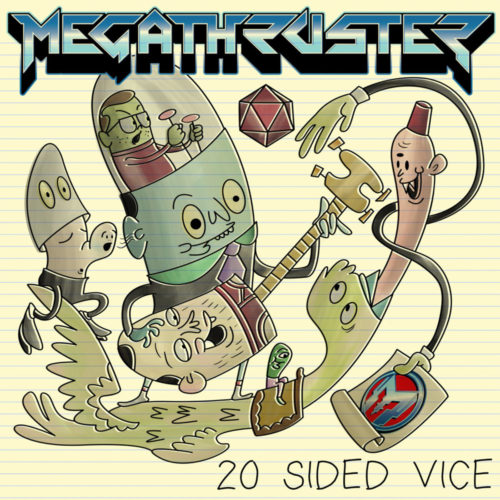 Our second familiar-but-different artist is the newly christened Megathruster, formerly known as Going Viral. Part of the reason for the change is simply SEO: try Googling "Going Viral band" and see what comes up. Yeah, it's not Chris Waffle. Another reason is that the other member simply moved, making it difficult to have a band. For the new album, Chris was joined by Christian Lipski of the awesome PDX Broadsides.
Thus, most, if not all, of the songs will be familiar to anyone who listened to Going Viral. Take one of my favorite tracks, "It's Not Out Yet." I think we've all felt that urge to judge a movie or TV show or whatever harshly and negatively before it's even been released ("It's not out yet, but I know that I hate it!"). I'm not sure it's technically always a terrible thing, either, when it's based on past experience, but it can get out of hand for sure. Another carry over track with a rather noticeable change is "Slave Leia," which has become "Chewbacca." I find the joke much funnier this way (especially if you picture a full Wookiee costume instead of the "sexy" version), and it makes the point less about the costume than about the story of loving and losing that it's intended to be.
A couple of other stand-out tracks (that may or may not be carry overs; I don't remember hearing them before) are "Netflix and Chill" and "It's Rough to Be a Hufflepuff." I find it interesting that two different geeky artists (the other being Rock, Paper, Cynic) picked up on the Netflix and chill meme and sort of "took it back" to what it looks like it should mean: lounging around and bingeing on Netflix. Maybe it says something about geeks that we'd rather do that than the slang meaning. Nah, that couldn't possibly be the case…
I may consider myself to be a Ravenclaw, but as I've said before, I have a lot of respect for the Hufflepuffs. They get a bad rap for sure, making it rough if you're sorted into that house, as noted on "It's Rough to Be a Hufflepuff." I particularly love the line about getting a B+ on the test, as if being a Hufflepuff is not quite good enough (to be in Gryffindor, one would assume), but just so close.
If you enjoy funny songs about geeky things (and I assume you do if you're reading this), you should definitely check out Megathruster's debut album. You're gonna love it!