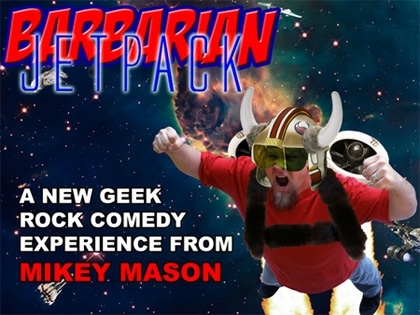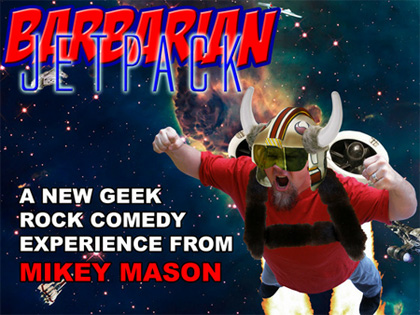 When I reviewed Mikey Mason's Impotent Nerd Rage, I pointed out that it likely would have been on my best of 2011 list had I known about it in advance. If the new album is anything like the last one, I have a feeling this one will end up on my best of 2012. At the moment, however, it is in desperate need of funding, which is one of the reasons I wanted to be sure to promote it here.
What I'm Getting
I've decided to go with the $50 level this time, mainly because I'd love to see this funded (when I submitted this article, the funding was only at $1011 of $2500). This gets me the digital version, the physical version, a signed print of the cover, a t-shirt, my name in the album credits, and a personalized video of Mikey Mason drinking a craft beer. I have no idea how serious he is about the latter, but I'm tickled by the idea regardless.
What Else Is Available
Lower levels let you get the digital ($10) or physical ($20) album. You can even get the aforementioned personalized video at the $35 level. At the upper levels are some really interesting ones: $100 gets you a DVD of a rare live performance of Impotent Nerd Rage, $250 gets you a personalized song that could get on the album, and $1000 (or more, depending on how far Mason would have to travel) gets you a house concert. But for $10,000 (which is four times what he's trying to earn for the entire Kickstarter), you get the following: "All of the above except that I will travel anywhere within the continental US to do the show, watch the movie, and run the game OR I will legally change my name to Captain Tightpants, the Dread Pirate Roberts, or Boba Fett: your choice. AND I will take you out to dinner (probably to a dive, but definitely somewhere I can procure a craft beverage to my liking) AND the song that I write based on the Concept or Title you provide (see the $250 reward tier) WILL be included on the album. Period." So perhaps the next album will actually be credited as by "Captain Tightpants."
What Else Is Cool
I admit that I don't always watch the videos for Kickstarters that I support. I'm so glad I watched this one. Mason created an entire song to encourage you to support his new album. It's well worth a listen. Also, buried in the descriptions of the various reward levels (the $500 level) is a hint that there will be a video for "Me and Alan Moore's Beard," which is pretty awesome!
---
There's still some time left on this one (July 10), but you should really consider helping to fund what will very likely be some great funny music.