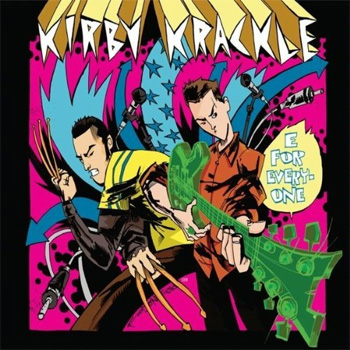 Artist: Kirby Krackle
Album: E for Everyone
Label: Kirby Krackle Music
Release Date: March 9, 2010
Okay, last column related to Nerdapalooza, I promise! Needless to say, I discovered Kirby Krackle since they were at Nerdapalooza. Unfortunately, I missed their set since I was starving and had to eat (darn those uncontrollable human urges! When will the Singularity get here? Er, uh, right, music review…). It's one of my biggest regrets of the concert, especially since they are Seattle based and their music is so darn good. Oh, well, at least I have the music to listen to.
E for Everyone is Kirby Krackle's second album. Their sound is very different from any of the other bands I've reviewed. They have an indie / alternative sound with definite pop rock influence as well. On only the second listen of the album I found myself singing along with several of the songs. It's catchy. From the name of the band (a reference to Kirby krackle, a comic book art term named after Jack Kirby) as well as the album (which could be the rating for the album itself since there is no cursing and the only mildly adult song, "Roll Over," could easily just be about a bunch of Saturday morning cartoons if you miss the subtext) it's clear these guys are comic book and video game geeks. And the entire album bears out that assumption.
On the comic book side, there are two of my favorites: "On and On" and "Ring Capacity." The former is written from the perspective of Marvel Comics's Wolverine. It describes his ongoing battles against his enemies as well as his feelings about his past ("I always heal, but I never stop hurting"). What's really cool is that it can be enjoyed even if you didn't know that the song was about Wolverine; the music is just that good. That's one of the best parts of Kirby Krackle, in my opinion: you could listen to it around your non-geek friends and they could dig it, too. In fact, I recently played it during one of my classes and one student requested that I play it again the next day (they did, however, roll their eyes when I told them it was nerd rock).
Another comic book song is the Green Lantern-inspired "Ring Capacity." This one is from the perspective of Hal Jordan and describes a battle against Sinestro ("A purple man obsessed with me"). It even manages to work in the Green Lantern Oath. Kirby Krackle is working to get the song on the Green Lantern movie soundtrack by using a Facebook group. One of the members of the band is the organizer of Emerald City Comic Con and owner of a chain of comic book shops so he has some contacts in the industry. I sure hope they succeed because the song is great!
The album also features some comic book songs about more generic characters. "Secret Identity" is about a hero who has, well, a secret identity. It somewhat reminds me of Spider-Man, but since this hero has a wife and kid and only goes out on weekends, I'm pretty sure that's not who it's about. It's clearly a guy who works in a job he hates during the week but going out with his secret identity keeps him going. On the other side of the moral compass is the song "Henchman." Interestingly, however, the henchman (who is applying for a job with an unnamed super villain) seems to have some of the same concerns as the hero with his secret identity. Both songs offer interesting perspectives on the "normal" life of different types of characters.
The video game side comes out in two of the tracks, "Vault 101," about Fallout 3, and "Take it from Me," about Mega Man. Since I don't know either game well, I can't really comment on the lyrics, but I can say that I very much enjoy both songs. As I mentioned previously, the music on the album is catchy and these tracks are no exception to that. It also illustrates my point about listening to the album with non-geeks: I'm not a video game player, but I enjoy these two tracks.
There's one more track that I want to mention, the last one on the album, "Going Home." It's a song about a road trip to a con. I can identify completely with the feeling of excitement of heading out to that "Mecca for geeks" that is a con. It also features what could possibly be my favorite invented verb, Tetris, as in "Not enough room so we Tetris the bags." It creates a definite visual and makes perfect sense for a google of geeks gathering for a con.
If you are curious about the album, you can listen to it in its entirety completely free on the Kirby Krackle web site (along with their first, self-titled, album, which features probably my favorite of all of their songs, "Up Up Down Down" about a cheat code to unlock a girl's heart). The site also features music videos posted on YouTube for several songs, including an amazing live action video for "On and On" (above; there's also a live video of the band playing the song with Marvel editor-in-chief, Joe Quesada!). E for Everyone is also available on eMusic which is where I picked it up as well as iTunes, Amazon, and on actual CD from the Kirby Krackle site. Go get it now and start nerd rocking today!
Track Listing
Vault 101 (3:13)
On and On (3:46)
Secret Identity (3:27)
Roll Over [feat. GMK the Great] (3:16)
Henchman (3:34)
Ring Capacity (3:20)
Can I Watch You? (3:23)
Take it From Me [Mega Man Song] (3:04)
Great Lakes Avengers (2:46)
Dusty Cartridges and Long Boxes (2:55)
Going Home (4:02)
Rating: 4.5 / 5 Stars