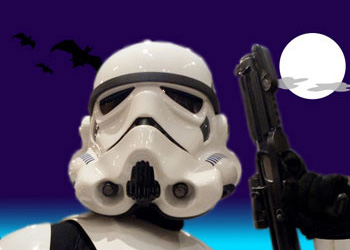 Last year, I featured thirteen geeky tracks for Halloween. This year I continue the tradition with thirteen more tracks to add to your playlist. Happy Halloween!
1. "Bad Juju" – Navi
I suspect that Lulu could totally defeat Madame Rue in a battle of witchcraft. And this song certainly beats the one about her.
2. "Zombie Killa" – ZeaLouS1
The title pretty much speaks for itself on this one. Z and the crew from Scrub Club performed this crowd favorite at Nerdapalooza in 2010.
3. "Bloody Sunrise" – Claudia Gonson / Neil Gaiman
Neil Gaiman wrote a song about a vampire, attempting to imitate the style of a 1960s love song. Add in Claudia Gonson's vocals (more from her later), and I'd say he's succeeded.
4. "Furry Happy Monsters" – REM (with some help from a few muppets)
REM may have called it quits, but they leave behind some great music. I'm not sure this is an example of that, but it's certainly fun!
5. "A Stormtrooper for Halloween" – John Anealio
We've all wanted to be something for Halloween but not been able to afford a great costume. And yet we still treasure those memories (in fact, there are an awful lot of people at cons who perhaps treasure them a bit too much).
6. "I Love Brains" – ALL CAPS
Philosophical Zombies FTW!
7. "I'm a Vampire" – Future Bible Heroes
Here's Claudia Gonson again with her and Stephin Merrit's band. "I am a bitch goddess from beyond your grave." Yeah, she's a pretty bad ass vampire.
8. "Lame Monster Party" – Paul and Storm
Ah, Paul and Storm. How did I miss so much of your music? Unlike the party in the "Monster Mash," this party is quite boring.
9. "Wolfman's Brother" – Phish
Yeah, OK, freaks and geeks aren't supposed to get along. But my wife's more of a freak than a geek so blame her for getting me into Phish (and the Grateful Dead, too). Besides, I bet you didn't even know the wolfman had a brother, did you?
10. "Zombie Girl" – Illbotz
I love the Illbotz. And they have a song about a zombie girl. Of course it had to make the list.
11. "Remember Your Ghost" – UNCROWNED
Scott Sigler used this one for Nocturnal. It's not my typical fare for these types of lists, but I think it fits pretty nicely.
12. "Dig My Grave" – They Might Be Giants
I'll just quote the video description for another (unembeddable) video of this song: "In 2003, two 6th graders set out to make a music video to a They Might Be Giants song. And they did." 'Nuff sed!
13. "Night of the Living Christ" – Schäffer the Darklord
In response to the ridiculous Jesusween (I promise I'm not kidding about that), here's a song about the return of Jesus. As a zombie.