Welcome back to Flashbang, where this week we return to the good ol' Internet and find a great little game called Factory Balls 2 from Bart Bonte. As with many of these Flash developers, Bonte is European (Belgian, to be exact) and his website has a large variety of games that I'm still working my way through, but Factory Balls 2 was the first I found and is a great time.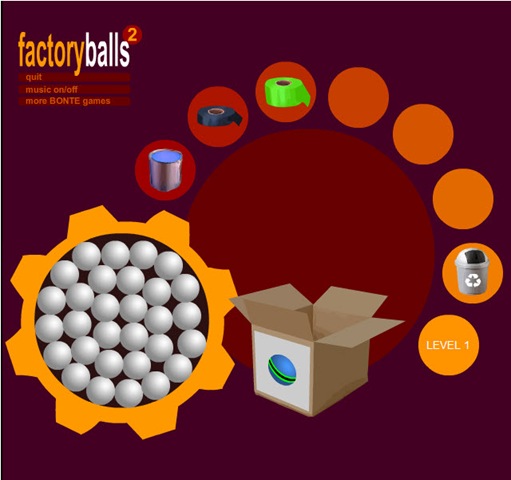 The basic layout of the game is this screen. The goal is to take one of the white balls on the lower left and drag it to the different processes at the top of the screen in an attempt to make a ball that looks like the one on the side of the box. Sounds easy, right? Well, it starts out pretty easy, but a lot of the fun is in trying to figure out some of the more obscure processes, like the blowtorch. Some levels require a bit of just trying things until you understand which steps will result in the proper outcome.
Once you begin to understand, the game becomes one of those funny IQ or frustration puzzles that you have probably seen before. You have to visualize the steps before you take them so that you can see where to start. There are 30 levels, and they really go by quickly once you understand what each process is going to do.
The graphics are exactly what you see here. This is the only screen, the only difference is that there are different processes that show up, but all are pretty self explanatory and even if you mess up once, you tend to see what needs to be done to fix the problem. There were only two levels where I actually had to throw away my ball and start over. Controls are simple drag and drop; if you can make your way to the game, you can play it.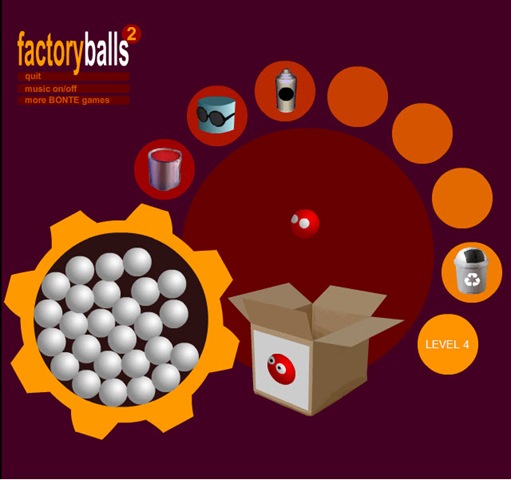 I enjoyed this game, but I also love working to understand how things are put together. I can certainly see this game frustrating some people. But if you enjoy working your way through logic puzzles, chances are good that you will like Factory Balls 2.
Grade: 8.5. A solid game that takes a little work to get right but is extremely rewarding once you do get it.