It's not every day that you get to exchange words with a guy who has an Olympic medal sitting in his home — and not because he's a millionaire who got it at auction, but because he earned it fair and square. Pretty cool, huh? Well, this month isn't about sports, although that's a thought for the future. Nope, we're talking to Raj Bhavsar because, on top of being an Olympian and Cirque du Soleil performer, he's an actor on a web series and plays a hero many of you love — Gambit.
Last year I talked to Hisonni Johnson about his Nightwing series, Grayson: Earth One, and through him is how I came into contact with Raj. See, Johnson is behind The Gambit as well — so now that I've given you our origin story, we can move on.
Like most kids growing up, Raj had a favorite superhero. He admits that he was into all that a bit and that it was his older brother that got him hooked on Batman. He also isn't afraid to admit that he still daydreams about grappling between rooftops. Just give him a cape and he's ready to go. But while he waits for the day he's Batman, he'll have to enjoy his time as Gambit.
So now we'll get to all that Raj is about from his acting, to his athleticism to his air bound skills.
Kendra: Have you always had a passion for acting?
Raj Bhavsar: I wouldn't say always but ever since I was younger, I would always watch movies and imagine myself in the scenes of movies and imagine what types of things I would be doing and saying. I still day dream like that to this day. My passion for it grew upon joining Cirque and when I moved to LA and took acting classes.
Kendra: Who were some of your acting role models when you were younger and now?
Raj: I would always watch actors like Al Pacino and Tom Hanks and be mesmerized by their performances. I like actors with their own personal style, actors who feel like they don't need to be like everyone else. I always enjoy watching the authentic self on screen. My role models are still the same and I would have to add Leonardo D to the list. I loved him in Wolf of Wall Street.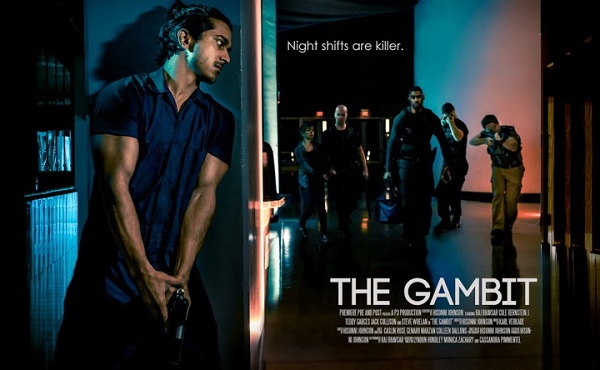 Kendra: LA is the obvious place to head to get into that field, but did you ever think staying local in Texas would suffice?
Raj: I do sometimes think about it because family is there. That's the main thing I miss about Texas. I do know some productions are now taking place all over the country, so maybe some work will bring me back there. I always love and support Texas and I'm glad to hear that Texas supports the film and television industry so heavily.
Kendra: How was competing in the Olympics?
Raj: Competing in the Olympics was the greatest reminder of being alive as a human being. It was a roller coaster of emotions. It is nerve-wracking but at the same time exhilarating. There were moments when I would look around and just say, "It is so incredible to be here." My greatest memory is while we were competing in Team Finals. After our fourth event, high bar, the entire arena was chanting "U.S.A… U.S.A!!" even the Chinese people! It was one of the greatest competitions in US gymnastics history because we were total underdogs who weren't even expected to qualify into finals. But we competed with the spirit of red, white and blue in our hearts and remained a team against all adversity. We brought home a bronze medal!
Kendra: How do the gymnastics and acting worlds compare and contrast?
Raj: I see many similarities between acting and gymnastics, or even athletics in general. I'm sure many actors who were once athletes can relate. In both crafts you have to perform under pressure. Both actually require an immense amount of precision under pressure. Understanding of yourself is paramount in both ventures. In both, we really dive deep into ourselves and explore the areas that might remain guarded. In terms of the discipline and practice, there are many similarities. Both take a sincere dedication to training and preparatory work. Just as in athletics, where it takes going the extra mile to succeed, acting pushes me to look beyond what is bare minimum and actually inspires me to work hard. Both definitely require an immense amount of vulnerability.
In terms of contrast, one thing I have realized is that before a competition, a good amount of adrenaline or "amp" can help my athletic performances. In acting, I actually try to be as relaxed as possible so the authentic self can be revealed. Amping myself up too much on set can cause me to tighten up and lead to watching myself act. My best scenes didn't even feel like acting. I was living truthfully under imaginary circumstances.

Kendra: Were you a comic fan before got landed this role?
Raj: I was a bit of a comic fan. I grew up watching Batman: The Animated Series after school and I remember buying my first comic book, the one where Superman dies…
Kendra: How was it embodying a character like Gambit?
Raj: Moses, or "Mo," was a character I could relate to. In life I naturally have a very protective instinct. The drive for the character was not to actually be the hero, but rather make sure my friends and I don't die. It's definitely the stronger choice and I was more naturally inclined with that route. My imagination would run wild while I was preparing for The Gambit. I would day dream about several scenarios in which my life depended on the smallest choices. I loved it because it involved quick thinking under pressure. Maybe my gymnastics career helped with that.
Kendra: Do you prepare for that role the same way you would for, say, Cirque du Soleil?
Raj: Cirque was live performance and theater based, which I love. I love any kind of live performance, be it musicians or plays. Acting for film actually relaxes me more. In Cirque, we not only developed a character, but we had to do stunts in which our lives were on the line, while remaining in character. The combination of those two elements was like living on the edge. To contrast the two, performing on stage meant we had to project to the back of the house. Our movements were bigger. Acting for film has more subtlety and I actually like it because you can look into a character's eyes and know what they are thinking. It's a great way to connect to an audience. The feeling can be very intimate.