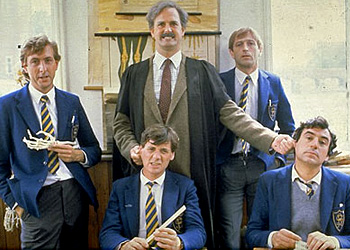 Due to the temporary insanity of our staff member John, and the sudden security breaches, we were forced to put a halt to our list of the top 20 most memorable sketches from Monty Python's Flying Circus. After an obscenely rigorous amount of therapy (at great expense to Fandomania) and considerable enhancement of our security (also at great expense to Fandomania), we are now able to conclude our list of the top twenty sketches of Monty Python's Flying Circus.
10. Nudge, Nudge
Here is a sketch which perfectly portrays some of the more awkward characteristics of male interaction. Guys always seem to feel squeamish about the subject of sex when they are talking about it in a candid fashion. So when a timid virgin approaches a stuffy gent he tries to lead towards a personal question with hamfisted attempts of keeping light-hearted. It's just plain impossible to inquire about the sensations of sex without coming off as extremely creepy. So when the man reveals that he is a virgin the mood of the scene instantly become downright uncomfortable, and we are laughing that are not in the gent's position.
9. International Philosophy
Evidently this is Python's attempt to make a relatively boring practice entertaining, so they combine philosophy with football. The final result is a tragic disaster as we begin to realize that philosophy really makes anything boring. As it appears, philosophers on opposing teams compete to make their views dominant, and they are forbidden to even touch the ball until a member of the team has an epiphany. So don't expect there to be burly, shirtless dudes to gather at this game with letters painted on their chests which spell S-C-H-O-P-E-N-H-A-U-E-R.
8. The World's Deadliest Joke
A demented portrayal of the horrors caused by the simplest of actions. By simply writing a combination of words, one hapless moron has indirectly slaughtered thousands of people. Then there's the horrifying result when the military get involved. If it kills effectively they will find a way to weaponize it.
7. How Not To Be Seen
For those of you who are hell-bent on being seen — the people who desire to no longer be a non-entity — Monty Python gives you a demonstration as to what you risk by standing out in a crowd and, in turn, what will happen to those around you. Then, in true Python style, they take the demonstration to the most manic of extremes, illustrating the despicable domino effect that comes from trying to be seen.
6. The Spanish Inquisition
It is a time honored comedic tradition to make total asses out of notorious historical dictators and murderers. Then there's the Python's approach to the topic. Naturally, they heckle the stupidity inherent in the Inquisition's actions regarding testing people's loyalty to the Church. Python then pushes it a step further by insisting that no one expects the Spanish Inquisition, so they turn up in the most ridiculous of settings. Regardless of time or place, they will turn up when you least expect them.
5. Blackmail
It's the reality game show that we all want to see, and that most of Hollywood hopes will never happen. Python gives us the first game show where the contestants pay the host. It's guaranteed they will pay, especially if said contestants want to avoid letting humiliating secrets get released on nationwide television.
4. Falling Bodies
To put it simply, this is a pretty accurate portrayal of the callousness of human beings. For many people, if this situation occurs, they will probably acknowledge it and brush it off like it is no big deal. Some filthy buggers would even make light of it laughing that it isn't them who did it.
3. The Upper Class Twit of the Year
It's a perfect system when you think about it. There does tend to be this obscene amount of inbreeding in the upper class, and the result tends to lead to family members who are off their nut in more ways than one. So it behooves the few sane family member to devise a way to let those upper class twits dispose of themselves in a manner that will make them feel like winners. To that end, Monty Python devised "The Upper Class Twit of the Year" contest where the best twits have to perform irritating tasks in order to win the title, all the while totally unaware that the final event will be their final finish.
2. The Argument Clinic
When I think about all the nincompoops on the forums who argue to the point of sounding like gibberish, it is very much akin to what we see in this sketch about a man who actually pays to argue about absolutely nothing, and achieves exactly that. There really is no halfway about it; we will never stop arguing because we're all too self-righteous to listen to other people and I like llamas.
1. The Dead Parrot Sketch… Hmmm, Llamas
They are magnificent animals, infinitely gentle and cuddly. We used to have a llama; my mother said that it was an alpaca, but I knew the truth: it was Kuzco, and I knew. He was a stylish llama with poise and sophistication, armed with a fantastic sense of fun. I used to have many happy days running the fields with the llama until that %$#@ hit me with a taser and shaved my llama. I sought vengeance, so I snuck into his house later on, chloroformed him and his family while asleep, and shaved all of them including their family dog. Shows them not to mess with me and my llama…
…I think I need to take my meds.