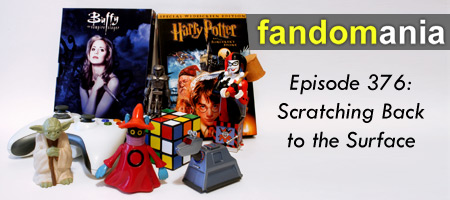 [audio:http://traffic.libsyn.com/fandomania/Episode_0376_-_Scratching_Back_to_the_Surface.mp3]
On this week's episode we talk about some new TV and movie announcements, Lego Dimensions, Rock Band 4, and the season premieres of The Flash, Arrow, and iZombie.
00:00:29 – Episode Opening
00:00:45 – There's a new Doctor Who spinoff on the horizon, called Class.
00:03:11 – ABC is developing a Damage Control series in the Marvel Cinematic Universe.
00:07:33 – Disney announced four more upcoming Marvel movies!
00:17:56 – We've been playing some Lego Dimensions this week.
00:23:18 – We also got the band back together for Rock Band 4!
00:32:27 – Jason has been playing a little bit of the Star Wars Battlefront beta.
00:33:22 – We talk about the season premiere of The Flash. (spoilers!)
00:35:55 – Arrow also had its premiere this week.  (spoilers!)
00:44:55 – We discuss the second season premiere of iZombie.  (spoilers!)
00:50:19 – Episode Closing
You can send email to us at podcast@fandomania.com, and you can subscribe to the Fandomania Podcast at iTunes.