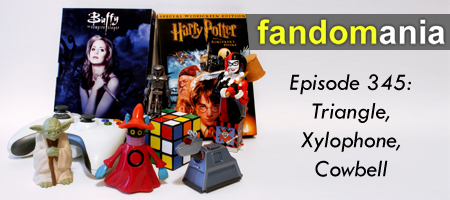 [audio:http://traffic.libsyn.com/fandomania/Episode_0345_-_Triangle_Xylophone_Cowbell.mp3]
This week we talk about Star Wars Rebels, The Blacklist, Dig, Rock Band 4, and a whole lot more!
00:00:29 – Episode Opening
00:00:33 – AMC wants to overload you with Marvel movies.
00:03:22 – We talk about the overall first season of Star Wars: Rebels.
00:05:50 – We also talk about the ongoing second season of The Blacklist.
00:12:34 – This week we watched the first episode of Dig on USA.
00:15:54 – Harmonix has announced that Rock Band 4 is indeed on the way!
00:19:12 – Rayman Legends is free on Xbox One for Xbox Gold members.
00:22:05 – Jason has been playing Hand of Fate.
00:26:57 – We close out our conversation about Dying Light.
00:30:21 – Episode Closing
You can send email to us at podcast@fandomania.com, and you can subscribe to the Fandomania Podcast at iTunes.