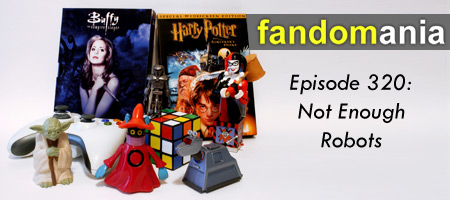 This week we talk about the Maker Faire in Orlando, this season's Doctor Who, the release of Destiny, and more!
[audio:http://traffic.libsyn.com/fandomania/Episode_0320_-_Not_Enough_Robots.mp3]
00:00:29 – Episode Opening
00:01:12 – Another new podcast series is heading your way from Fandomania!
00:03:09 – We went to Maker Faire Orlando this weekend.
00:11:05 – Jason finished watching the first season of Helix.
00:13:13 – We discuss the Robin Hood episode of this season's Doctor Who.
00:23:06 – Jason completed playing the indie game Thomas Was Alone.
00:25:26 – We talk about Bungie's blockbuster new game, Destiny.
00:28:35 – Episode Closing