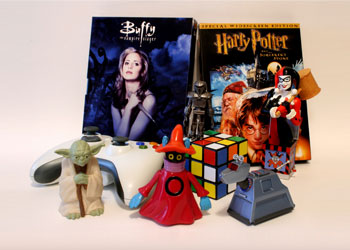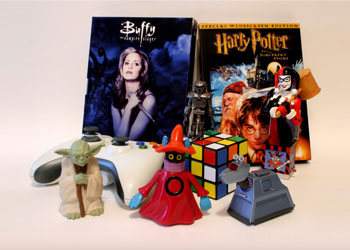 The first episode of the Fandomania Podcast went online nearly two years ago, on August 4, 2008. Since then, Celeste and I have produced a brand new show every Sunday night to post on Monday morning and never have missed a week. Next Monday the show turns 100, and we're celebrating this week with a few articles looking back at the podcast and where we've been.
During the show's 99 episodes we've talked with actors from Farscape, Buffy, Battlestar Galactica, and Babylon 5, to name a few. We've also chatted with comic artists, writers, and more. Tomorrow we're posting a retrospective that takes a look at all the famous folks who have helped make the show what it has become.
Thursday we're featuring a list of the ten most popular episodes from the past two years. It's likely that this will dig deeply into the archive, so you might find some episodes you haven't heard before if you're a newcomer to the show.
On Saturday we'll be recording our centennial episode to post at the usual time late Sunday night / early Monday morning. We want to include our listeners in this one, so please feel free to send us questions, comments, or anything you'd like for us to discuss. You can reach us at podcast@fandomania.com, and we look forward to hearing from you.
If you've never listened to the podcast before, give us a try! We cover all the geeky things we've done throughout the past week, including TV and movies we've seen, games we've played, comics we've read, and more. You can find the show through iTunes, or you can subscribe through the links in the left sidebar on this site. If you already listen through iTunes, please consider leaving us a review and rating over there. Getting good ratings helps get us more exposure, and that's always a good thing.
And finally, we're going to be celebrating our 100th episode, as well as the beginning of our second year, at conventions throughout the summer. E-mail us if you'd like to get in on Fandomania meetups at this year's San Diego Comic Con, Star Wars Celebration V, or Dragon*Con.
Thanks for visiting, and thanks for listening!