I posted the very first article on Fandomania one year ago today, on March 24, 2008. Since then the site has grown and changed quite a bit. Here's a look back at Fandomania's first year.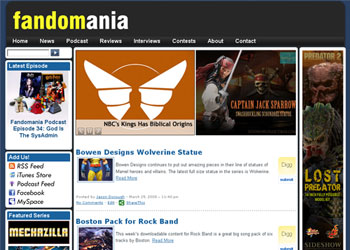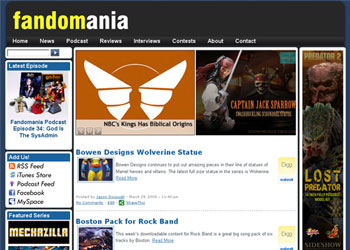 How It Started
I make no secret of the fact that I'm an unabashed geek and am into all sorts of nerdy fandoms, from Star Wars to Marvel Comics to Xbox and beyond. I had been posting my fandom-related musings on LiveJournal for a long time but felt constrained by relying on LJ when I could be writing the same things on my own site. That was the birth of the idea to start a blog.
How It Evolved
Initially, Fandomania was going to be a single-writer blog where I would post my thoughts and reviews of any TV shows, movies, comics, and games that I was into. Back then, I was a bit naïve about how much work would go into maintaining a site like this, much less being the sole writer. To further complicate matters, I also started out by trying to make Fandomania into a news source as well. I was a veritable posting machine when the site began. It didn't take long to realize that my goals were a bit out of reach, given the way I wanted the site to work. I started tapering off the news posts (which really were largely links and reposts to first-source blogs), and I started focusing more on opinion posts and reviews.
Before long, I decided I also wanted a place where I could post reviews and info about one of my primary hobbies, toy collecting. That's when I started Mechazilla.com, a sister site to Fandomania. Again I bit off more than I could chew, initially intending to post a collectible review a day and intending to run both blogs entirely on my own. I eventually came to my senses, set up a more manageable schedule, and merged Mechazilla into Fandomania.
It was around that time that I started adding writers to the staff. First was John Reid Adams, who drew my attention with the movie reviews and lists he was posting on his LiveJournal. Next came Kelly Melcher, who asked to be a part of the site so that she could share her love for books. Celeste Monsour joined next to write feature series like Fandomestic. She and I worked together to create the Fandomania Podcast. Next up was Ginny McQueen, costuming and anime expert extraordinaire. Lyn Cherowbrier was the newest addition after Ginny, bringing fresh feature post ideas. I knew Paige MacGregor from working with her at another site, and I invited her to join the staff to write reviews and editorials. The newest addition is Adam Sweeney, who recently became a part of the Fandomania family.
How It Works
That brings us up to date on the evolution of Fandomania, currently 880 posts strong after a year online. We released episode 34 of the weekly podcast yesterday, and we've never missed a week. I couldn't be prouder of the way my original vision for the site has evolved over time, as the site has grown into a manifestation of all the awesomeness and geekery the staff finds interesting.
Fandomania is a little different from other blogs in that it is not and does not claim to be a first source for news. Occasionally we get breaking stories and are able to share interesting news, but that's not really what the site is about. Instead, we're about being fans of the things we love to watch, read, and play, and we're about sharing that fandom with our readers and listeners. That's why the bulk of the posts you see here will be reviews, editorials, interviews, and creative pieces.
How It's Going To Be Even Better
We have the first year behind us, and it's upwards and onwards from here. In our second year we'll be continuing our commitment to provide the sorts of posts and content we've been releasing, and we're going to introduce even more new, creative, and informative features to keep you geeking out with us. The podcast will continue to be released every Monday morning, and we have a ton of great interviews on the horizon. I also hope to introduce some video features to the site. We've gotten the hang of this audio thing, so it's about time we started putting some moving pictures together as well. I'm also recommitting myself to Mechazilla articles on Fandomania in year two. I'll have more collectible news and reviews on the way, beginning immediately.
In closing, I want to thank everyone who has visited Fandomania and helped it grow to where it is today. Also thank you to all the loyal podcast listeners, the hardworking staff, and newcomers just hitting the site for the first time. It's been a great and crazy first year, and I'm looking forward to many more!