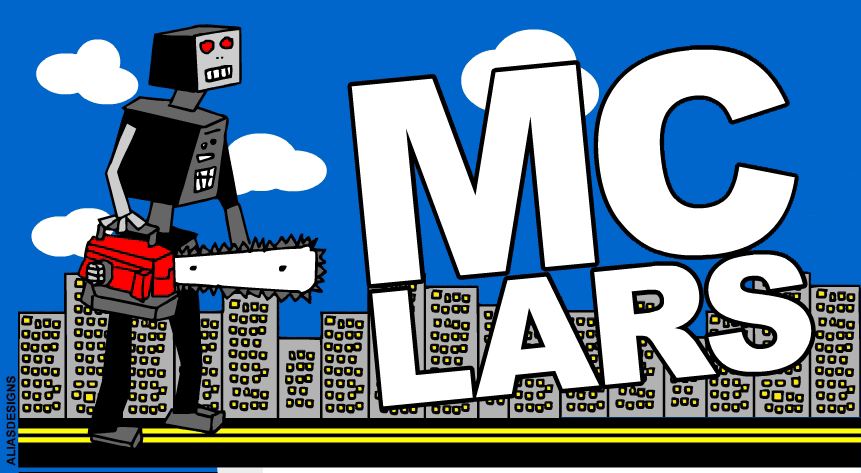 MC Lars originated what he calls "post-punk laptop rap," and it's the kind of rap that appeals to the nerd in all of us. I got hooked on his work when he was included in a mix that someone was playing while I was in listening distance and suddenly I had to know who this guy was. I'm glad for that discovery!
Lars started his professional career under the name MC Lars Horris, but dropped the last name in 2004 after starting a record label with the same name. He has utilized social commentary and nerd appeal to create raps on everything from giving advice to a rapper-in-training ("Rapgirl") to dissing on those Hot Topic posers ("Hot Topic Is Not Punk Rock"). Perhaps one of his most famous commentary raps is "iGeneration," which is credited for coining the phrase to describe the generation of kids born from 1982-2000.
I'm particularly fond of "Roommate from Hell." Yes, I'm sure we all have horror stories from college about the roommate that we just couldn't get along with, but how about if your roommate was actually Satan? That's the premise for this song and it's fun through and through. And one of my other favorite songs by MC Lars is "Ahab." It tells of the search for Moby Dick. Yes, the big white whale. You've gotta love a rapper who can make a classic novel hip again.
Check out his site for tour dates, lyrics, free music, and more from MC Lars.
Albums
Nothing to Fear (1999)
Insectivorous (2000)
Radio Pet Fencing (2003)
The Laptop EP (2004 / 2009)
The Graduate (2006)
21 Concepts (But a Hit Ain't One) (2007)
The Digital Gangster LP (with YTCracker) (2008)
The Green Christmas EP (2008)
This Gigantic Robot Kills (2009)
Single and Famous (with K.Flay) (2009)