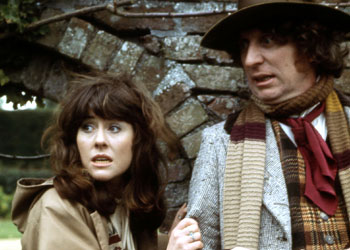 Two more classic Doctor Who adventures join BBC's DVD library this month with "The Ark," an early story featuring the First Doctor, and "The Seeds of Doom," spotlighting the Fourth Doctor.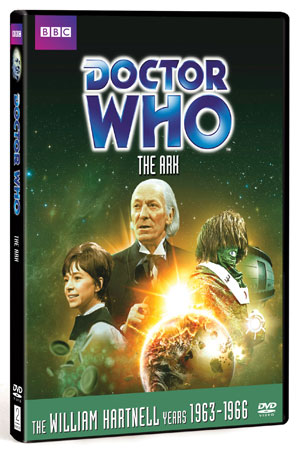 The Doctor, accompanied by companions Steven and Dodo, find themselves transported ten million years into the future, when the Earth is about to succumb to the expanding sun. Humanity has abandoned the planet on an enormous spaceship that is bound for their new home, a journey that will last seven hundred years. Living alongside the humans are the alien Monoids, a mute race whose own planet was lost as well. After arriving aboard the ship, Dodo's ordinary common cold begins to spread, proving fatal to these future people who have no natural immunity. Accused of sabotage, the Doctor must figure out how to save not only his companions and himself but also the last remnants of humanity.
"The Ark" originally aired as a four part serial in March 1966 and made its way to VHS in 1998. This is its first DVD release, and the episodes are significant as much for their classic First Doctor story as they are for the crazily costumed Monoids. All the Monoids are played by actors in rubber suits with Beatles wigs on their head and ping pong ball "eyes" in their mouths. In addition to the full serial, this DVD release also includes a number of special features:
Audio commentary by Peter Purves (Steven), director Michael Imison, and comedian Toby Hadoke
All's Well That Ends Wells – featurette about H. G. Wells' influence on Doctor Who
One Hit Wonder – featurette about monsters' varying popularity
Riverside Story – featurette in which actor Peter Purves returns to Riverside Studios, where many '60s era Doctor Who episodes were produced
Photo Gallery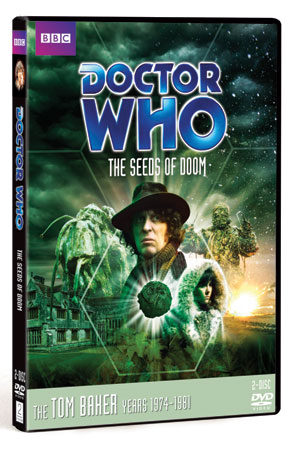 The Fourth Doctor and Sarah Jane go to investigate some mysterious seed pods that have been discovered in the Antarctic permafrost. The Doctor soon deduces that the pods contain Krynoids, parasitic and malevolent plant aliens. His discovery comes too, late, though, as a Krynoid already has infected one of the researchers, transforming him and sending him on a crazed attack. Wicked botanist Harrison Crane makes off with a second pod, planning to unleash its contents upon the world.
A six part serial, "The Seeds of Doom" aired from January through March of 1976 and comprised the second season finale for Tom Baker's Doctor. All six episodes are collected here, along with a big assortment of bonus features:
Audio commentary with Tom Baker (The Doctor), John Challis (Scorby), Kenneth Gilbert (Dunbar), Michael McStay (Moberley), producer Philip Hinchcliffe, writer Robert Banks Stewart, designer Roger Murray-Leach, and Joggs Camfield, the son of the director
Podshock – a making-of featurette
Playing in the Green Cathedral – featurette about the musical score
Stripped for Action – featurette about the Fourth Doctor's comic strip stories
Now and Then – featurette about the filming locations
So What Do You Do Exactly? – interview with Graeme Harper about the roles of the production assistant and production unit manager
Trailers and Continuity
Photo Gallery