When Joey Fatone and Chris Kirkpatrick of *NSYNC were first announced as guests for Dragon Con 2016, some were confused. '90s-'00s boy band members? At a sci-fi/fantasy convention? But not me. I was surprised — very pleasantly so — that my favorite vocal group and my favorite convention could (at least partially) coexist in the same timespace, but like any longtime fan of *NSYNC as well as Joey and Chris individually, I know those guys have serious geek cred. This past Labor Day weekend, thousands of Dragon Con attendees were given the opportunity to see that for themselves as the "SY" in *NSYNC appeared in the famous Dragon Con Parade, hosted the Masquerade Costume Contest, and spent time meeting and greeting fans in the Walk of Fame. They also had a hilarious panel Sunday morning, which Jason and I attended. Here, I'll try to recount some of the great stuff they shared about themselves, their time in *NSYNC, what it was like starring in a Syfy Original Movie with fellow boy banders, their geeky influences, and more.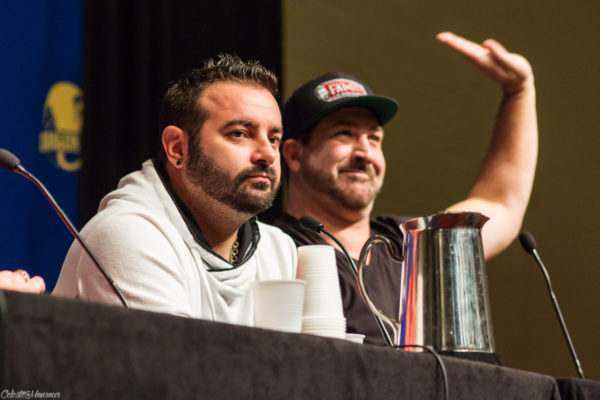 First, though, I'll give a few extra bits of geeky background that non-*NSYNC fans might not know about. The boys' fandom showed through here and there on most of their concert tours, including a video segment from the 2000 No Strings Attached Tour where the guys go backstage to their "Quick Change Room" (featuring circus performers and animals, 'cause why not?) and sit down to watch a movie, MST3K-style (Tom Servo even stands in for Lance, whose absence made a lot more sense on the actual tour than in this HBO special, but that's another story).
Oh yeah, and Chris is reading The Gear Station #1.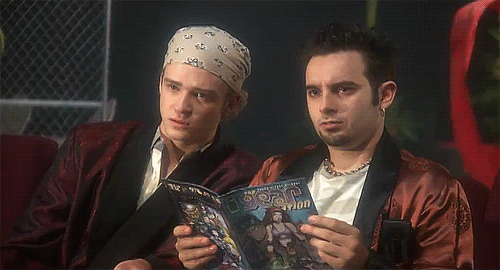 Speaking of Justin, Chris, and comics illustrated by Dan Fraga (a friend of Chris's), the two also appeared in Wolverine #167 the following year.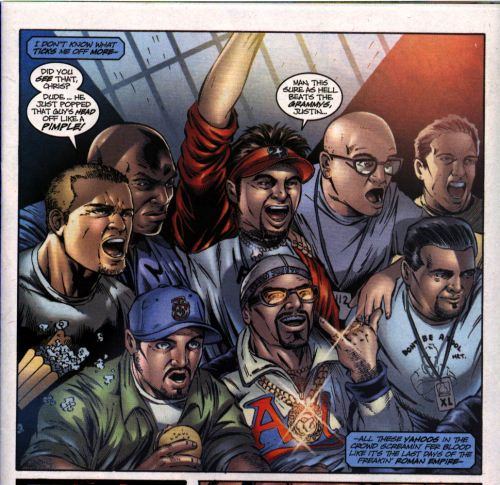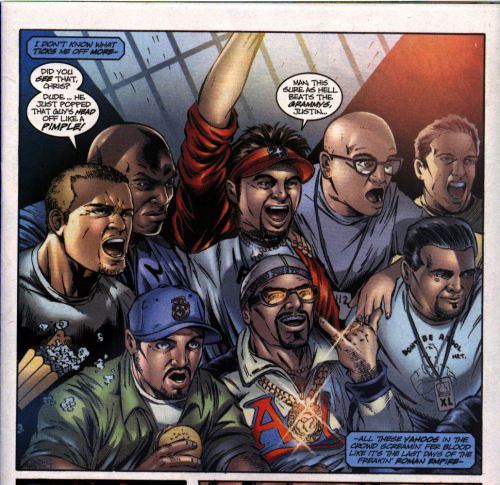 Also in 2001, *NSYNC's PopOdyssey Tour took nerdiness even further with their performance of the song "The Game Is Over" (which samples the theme and sounds from Pac-Man). It centers around them getting sucked into a video game à la Nick Arcade (remember that show? Here's another fun fact: Joey actually competed on it back in the pre-*NSYNC days!) and then fighting their way through the evil "Digigirls" before engaging in an epic Boss Battle (via dance moves and lots of pyro) against "supervillain" EDM artist Mobius 8. Was it absolutely ridiculous? YES. Was it probably exactly what every nerd reading this would do if they got to design their own high-budget stadium tour? YES.
OK, but while I could go on and on about *NSYNC-and-geeky-things-colliding stuff like Robot Chicken, the time Lance literally almost went to space, and that whole Attack of the Clones extras debacle, enough of that. Let's get back to the things Joey and Chris did talk about at Dragon Con — like the time they spent in Butte, Montana filming Dead 7 with Nick Carter, AJ McLean, and Howie Dorough of The Backstreet Boys; Jacob Underwood, Trevor Penick, Erik-Michael Estrada, and Dan Miller of O-Town; and Jeff Timmons of 98 Degrees. Come to think of it, this could pretty much be described the same way as "The Game Is Over" — kinda ridiculous, but can you blame them for wanting to basically LARP a zombie Western with their friends? They had some funny stories to share about Butte (they don't recommend it as a travel destination) and what it was like to reminisce with guys who had had such uniquely similar experiences to theirs.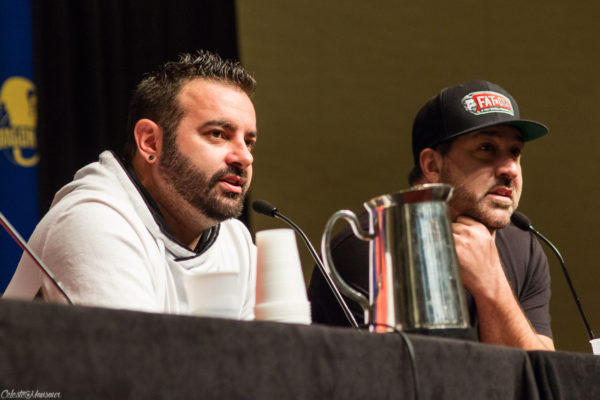 In terms of other things they've been up to lately, Chris just moved to Nashville to continue producing music, while Joey was about to open his own hot dog kiosk in Orlando called Fat One's (he did, and we went to the opening, but more on that later). Of course, there were many hot dog and "fat one" jokes, and it became kind of a running gag throughout the panel. They also talked about how often they see the other members of the band — not too often with all five of them, because JC is usually off somewhere being Zen, but when they do get the chance it's like no time has passed.
Chris's stint voice acting as pop star Chip Skylark on The Fairly OddParents came up, and while he was answering the question, Joey sneakily (and suspiciously quickly) pulled up one of Chip's songs from the show — "My Shiny Teeth And Me" — on his phone, and of course Chris lip-synced along to himself.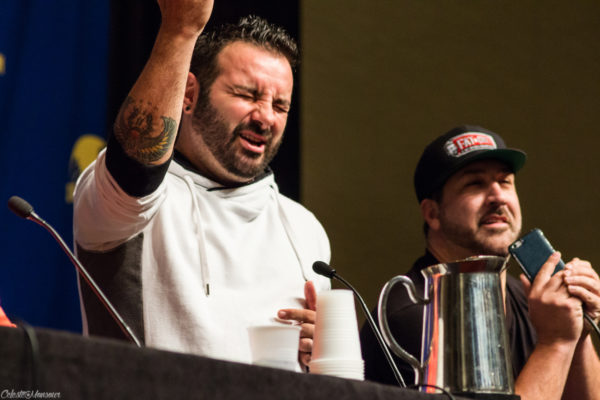 Here's the full song as heard on the show (warning: it's REALLY CATCHY):
Jason asked what kinds of geeky things they're into. Joey, of course, mentioned his Superman obsession (well-known in the *NSYNC fandom). Here's a clip of him on MTV Cribs showing off some of his collection (plus some Star Wars figures to the left there at the beginning):
He did also mention Star Wars, including that time he did a did the tango to the Star Wars theme on Dancing With The Stars, as well as the fact that he owns a replica of K.I.T.T. from Knight Rider.
Meanwhile, Chris was really excited to see someone cosplaying Ultraman, and he also "fangirled" (his word) over Tracy Hickman since he's a huge Dragonlance fan (good taste, bro). Someone asked who his favorite character is and he said Tasslehoff (again, good taste). He also likes Caramon a lot, but definitely not Raistlin. (Before I recently reread the books I'd have said "Them's fightin' words, mister" but, okay, I see your point, Chris.)
Speaking of fangirling, Chris also talked about the time they recorded with Phil Collins for the Tarzan soundtrack and how exciting it was just to be in the same room as him. Being that "Trashin' the Camp" is also one of my favorite things *NSYNC did, let's all take a moment to enjoy that fantastic doo-wop harmonizing:
A few hours after the panel, Jason and I also stopped by the Walk of Fame to meet Joey and Chris — although we mostly spent time with Chris since we knew we'd be seeing Joey the following week at the Fat One's opening. They were both extremely warm and personable, spending plenty of time with each fan and, rather than hang out behind their own table, stood out to the side of it so that when you met them it felt like a very informal and comfortable interaction. I mentioned to Chris some teddy bears my friend and I made and gave to *NSYNC once upon a time because, as there was a bear for each, their outfits were essentially mini-cosplay and were definitely one thing I credit with being good practice for replicating a costume as exactly as possible. Apparently, when he was packing for his move a few months ago, he found a teddy bear that we concluded was probably one of the ones I gave him, which I think he was as excited about as I was (which is kind of like a distilled example of what makes Dragon Con so awesome and such a great experience for the guests as well as attendees). He also gave me a t-shirt from his old clothing line, which was incredibly awesome and generous of him. Meanwhile, Joey complimented my Auryn necklace (twice!) and forgave us for not taking a selfie with him since we knew we were going to see him the next week. We did get a selfie with Chris, though: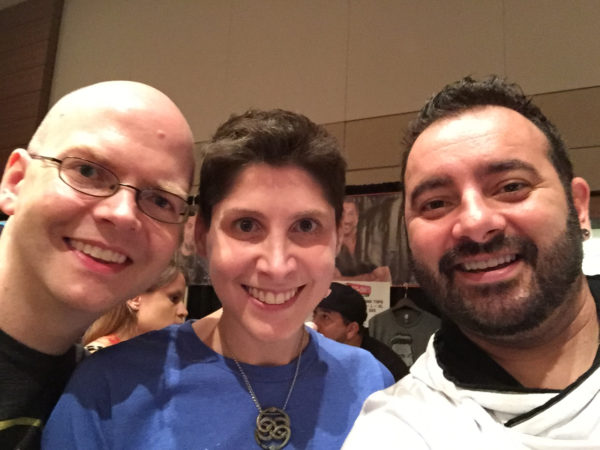 I've had a whole lot of fantastic Walk of Fame experiences at Dragon Con over the years, but this was definitely one of the best. It's really hard to go wrong when combining Joey, Chris, and geekery.
We did get to attend the opening of Fat One's last weekend in Orlando and see Joey once again, and he recognized us right away. I was taking lots of pictures while waiting in line (as I usually am) so hopefully I didn't come across all stalkery, haha, but he was (of course) once again being great with the hundreds of fans who showed up to try his hot dogs (or, in our case, fries and Italian ice — which were both delicious). It was all a bit chaotic for him, but he kept his cool and took pictures with everyone, including us: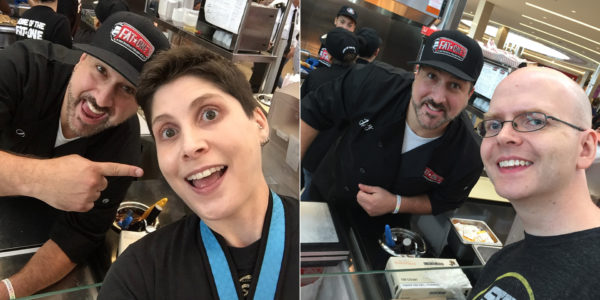 Even though the Fat One's opening wasn't at all affiliated with Dragon Con, the fact that he remembered us on sight (after meeting probably a zillion people) was a really perfect epilogue to my Dragon Con 2016 memories.
So, whether you're a total dork like me who already knew Dragon Con was a perfect fit for Joey and Chris or you came to realize it over the course of the weekend (a popular conclusion, by all accounts), I think we can all agree that they should be welcome back any time!