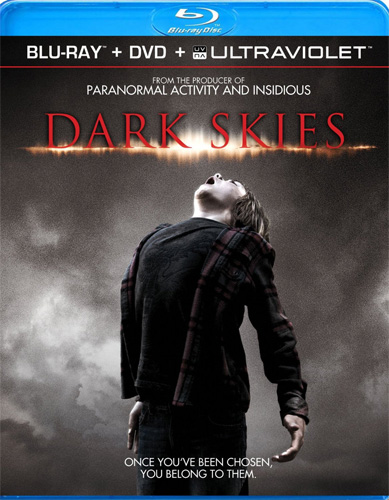 I distinctly remember my reaction to the first preview I saw for Dark Skies, the 2013 horror / sci-fi thriller (not to be confused with the 1996 X-Files lookalike TV series of the same name). First there was an enthusiastic, "Oh, hey, it's Keri Russell. I like her in The Americans." And then there was a disappointed, "Oh, it's one of those," when the trailer seemed to be getting its Paranormal Activity freak on. My interest in the movie plummeted until that moment when I realized this wasn't a ghost-haunts-family flick. It was an aliens-abduct-family flick. Somehow that made all the difference for me, and Dark Skies landed squarely on my radar. Anchor Bay and Dimension brought their unique take on this subgenre to Blu-ray and DVD on May 28, and I finally got a chance to check out the extra-terrestrial spookery.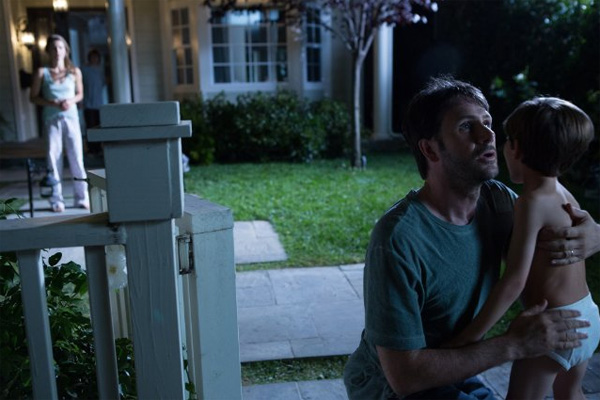 Dark Skies does a really good job of masquerading as any of the ghostly or demonic haunting features that have flooded theaters in the aftermath of 2007's Paranormal Activity. Even though the spooky interlopers this time come from space instead of from the afterlife or an alternate dimension, there's a lot of shared DNA between Dark Skies and all the rest of these sorts of movies. That's because they aren't really about ghosts, demons, or aliens. They're really home invasion movies. The horror these moves present so well is somewhat independent of the nature of the actual threat. The scariness comes from the notion of hostile and unknown or unknowable entities invading your personal and private spaces to threaten you and your family. Whether they come in the form of horned monsters, spectral ghouls, bug eyed greys, or even ordinary human burglars, they address a common fear, and they do it all too easily.
So why, then, does a story about aliens harassing a family interest me more than another ghost story would? It's most likely just because I've seen so many ghost and demon movies in the past five years that my brain craved something different. The Paranormal Activity people already have made the same movie four times, for crying out loud. Dark Skies is a refreshing twist on the theme, even though it does use many of the same tropes and even the same scenes and scares that its predecessors have used. This one climbs above the rest of its pack with an excellent cast and great pacing, presenting some really enjoyable performances backed up by a successfully always increasing dreadful foreboding.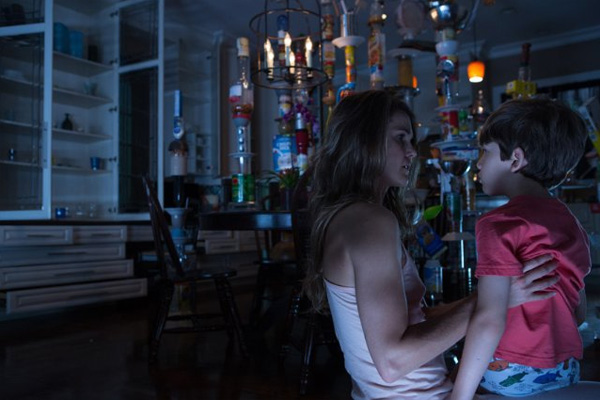 Keri Russell and Josh Hamilton play Lacy and Daniel Barrett, an ordinary couple living ordinary lives in the ordinary suburbs. Their kids are Jesse (Dakota Goyo, who previously played the kid in Real Steel) and Sam (Kadan Rockett, who hasn't had any huge roles in the past but has an awesome name). The family's lives seem pretty mundane until the usual spooky movie weird stuff starts happening around the house. Photos disappear from their frames, things literally go "bump" in the night, and canned goods make their way into strange kitchentop sculptures. Daniel reacts as all husbands and boyfriends in these movies do: He rigs up cameras all over the house. This whole first part of the movie plays out predictably, but it manages to ratchet up tension in a very effective way.
Horror and sci-fi movies of bygone eras commonly have the protagonists immediately believing in the supernatural and running full-tilt to the authorities, who immediately write them off as nutjobs. The Barretts approach their ordeal in a far more modern way. They do call the cops, but then they actually consider the plausibly inane explanations the worlds' least competent police offer them, and they try to explain away these clearly insane things that are happening to them. The family's reluctance to accept the incredible actually stretches credibility for a little while. If I were in that house, you'd better believe I'd be Googling "scary supernatural stuff HALP" after the first night, but these folks hang in there until the involvement of otherworldly presences is undeniable.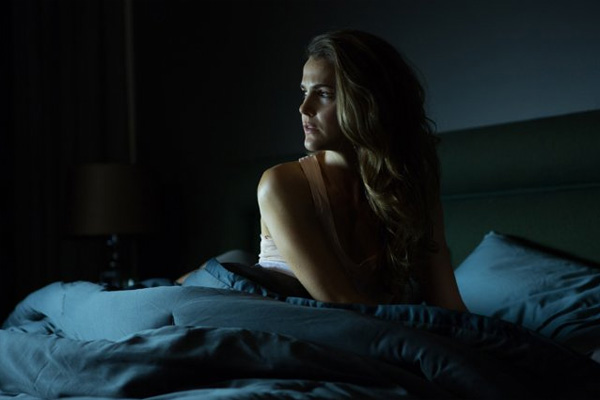 Once the family does begin addressing the bizarre events and encounters, they do so in a believable way, and Keri Russell really sells her character's predicament well. A less commonly explored theme that accompanies the home invasion angle is that of how a close knit group of people can work together to deal with the emotional ramifications. Dark Skies makes those ramifications a centerpiece as we watch the Barrett family slowly unravel. This is one of the best alien abduction films I've seen in a very long time, and it far exceeds any expectations its Paranormal Activity-esque previews may have set.
The Blu-ray comes as a combo pack that also includes the movie on DVD, and it packs a couple of intriguing bonus features onto the disc. The first is a feature length audio commentary from writer / director Scott Stewart, producer Jason Blum, executive producer Brian Kavanaugh-Jones, and editor Peter Gvozdas. One of the most interesting discussion points in the commentary is about the decision to change Dark Skies from a found footage movie to a standard production, a very fortunate choice. The other big feature is the inclusion of eight deleted scenes, plus an alternate ending. Stewart and Gvozdas provide optional commentary for these scenes.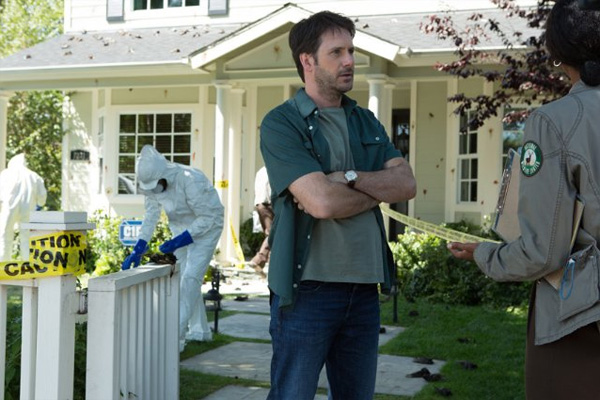 If you're looking for an alien abduction movie that is low on high flying sci-fi concepts but heavy on disturbing dread, you can't go wrong with Dark Skies. It's very possible that this movie bypassed you when it came to theaters in February. If so, grab it up now that it's on Blu-ray, and join me in thinking aliens are way creepier than they used to seem.