My love for this character knows no bounds. He is my top favorite male character in literature. Jacqueline Carey knows what she is doing when she creates characters. I could read the second Kushiel's Legacy Trilogy over and over again and it always feels new. Her second hero in the series knew how to capture hearts. I know he still has mine.
Stats:
Full Name: Imriel de la Courcel nó Montrève
Age: 13 1/2 at the beginning of his series
Occupation: Prince, saver of realms
Who is He?
Imriel was the lost prince during Phèdre's adventures in the first three Kushiel Legacy books by Jacqueline Carey. He becomes the hero of his own books in Kushiel's Scion. The other two books are Kushiel's Justice and Kushiel's Mercy. He is the son of two traitors and this shadows him during all three books. He wants to be a good person but it's never easy for him. He is the adopted son of Phèdre nó Delaunay and Joscelin Verreuil. He's saved a few kingdoms and gotten into lots of misadventures.
Fun Facts:
Imriel was never on the covers of the American book versions. First Phèdre and then Sidonie were on the covers.
Imriel named his horse the Bastard.
The one time he had an affair with a male he was under a spell and thought he was someone else.
Imriel cut off all his hair when he was drunk.
Imriel has survived assassination attempts, near drowning, a bear attack, a ship wreck — the list is rather long.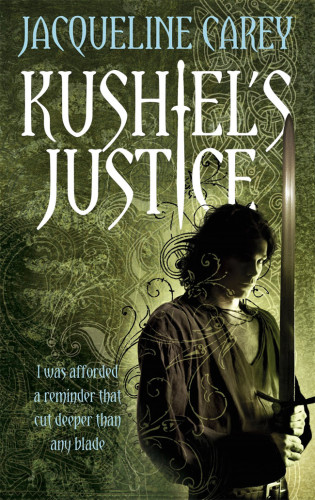 Why So Crushworthy?
Imriel was a stud and he didn't want to be. He just wanted to be a nice guy. Almost everyone, except for his adopted parents and cousins, was convinced he was going to turn out a horrible traitor like his mother. He was named a villain even as a kid. It was hard growing up with this way. Luckily, he had good role models like Phèdre and Joscelin. Yet, growing up this way made him have a brooding yet reckless attitude. I admit Imriel started out as a self-absorbed jerk. He really needed to get over himself. The best thing is that he changed and grew out of it. He learned to seek happiness and endure his scars with pride. He became a swoonworthy figure of terrible romance.
Imriel's worst challenge was not dealing with the sins of his mother, but falling in the love with most risky lady possible. He was a new man, then. He knew what it was like to really love someone else. Also, it's good to make sure the person you do fall in love with is not the heir to the kingdom your evil mother tried to usurp a few years back. That can cause some issues. But Imriel was willing to fight for that love. It was something he never thought he would do. I love Imriel's loyalty to the people he cared about. He was faithful friend, a great son, and a devoted lover. Imriel was fierce. He never did anything halfway. He saved kingdoms and defeated bad guys with attitude. Imriel's story gave me so many feels. This article would be way too long if I listed every single amazing thing Imriel did. I will say this these three things: Read the books so you know what I am talking about. Imriel is the best. And, François Arnaud would make a perfect Imriel.