This week's loathing came like a lightning bolt. I was sitting around, my mind blank, when it suddenly popped into my head. The new Sailor Moon will be premiering in July. I am looking forward to it in all ways but one. I am not eager to see Chibiusa again. She is in my top list of most annoying anime characters ever. I didn't like her in the manga either. I could not stand her all those years ago and I am pretty sure her new incarnation, if the show gets that far, will be just as annoying.
Who is She?
Chibiusa is the daughter of Tsukino Usagi (Sailor Moon) and Chiba Mamoru in Takeuchi Naoko's hit series Bishoujo Senshi Sailor Moon. She is the pink haired brat who travels back into the past to save the future. In this future, Usagi and Mamoru are the king and queen of Neo Tokyo. She hangs around generally getting into trouble. She even manages to turn evil once. It was the most interesting thing she did.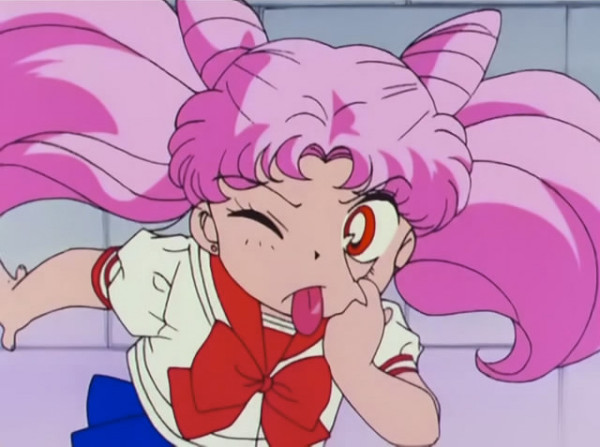 Why So Cringeworthy?
"Brat" doesn't even begin to describe her. Her goal in life seemed to be act as annoying as possible. Chibiusa didn't like Usagi's past self claiming because she thought her to be immature, clumsy, and a glutton. The fact is Chibiusa was seeing a reflection of her own self. Chibiusa felt like everyone owed her something for her suffering. She treated everyone except Mamoru pretty badly. Her main goal appeared to be to annoy Usagi and get as much attention as possible. Even after her future was saved she still continued to be obnoxious. I don't think future Mamoru grounded her enough.
Now let's get to her slightly unhealthy Mamoru obsession. I get that she was probably the apple of his eye in the future. I guess he was something familiar in a strange time; yet, she was way too obsessed with him. She went as far as to tell Usagi to stay away from him. Hello? You won't get born unless those two get together. I don't think she realized that. When she got turned into Wicked Lady she wanted him in the lover like way. She was a woman now! I remember yelling at the TV, "That's your dad!" The manga and show kept bringing her back. Her purpose was finished. She could have easily trained with the future scouts even with their diminished powers. She was a hanger-on character that never got any better with time.