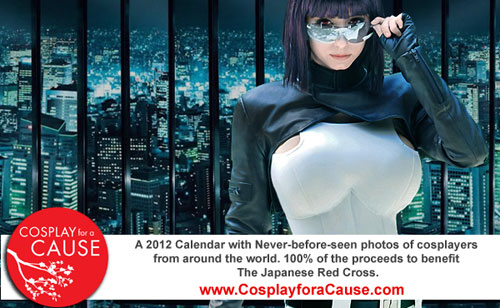 Last week, Ubisoft let us know about their Project Hope, a new initiative they've launched to help Japan in conjunction with the release of their highly rated Kinect game, Child of Eden. This week we're spotlighting another awesome and geeky way to support Japan, this one assembled entirely by fans and costumers. It's called Cosplay for a Cause, and I had a chance to talk with a few of the ladies involved. Riddle (Hime Arts) took some time to answer my questions, so I'll let her explain the project to you.
Fandomania: For folks who haven't heard about what you're doing, what is Cosplay for a Cause?
Riddle: CfaC is a 2012 costume charity calendar with female cosplayers from all over the world, as well as illustrations by professional comic book artists. 100% of the profits from the calendar sales will be donated to the Japanese Red Cross to help benefit disaster relief.
FM: Cosplay obviously has very strong ties to Japan. Can you talk a bit about your desire to help the country after the recent tragedies?
Riddle: When I heard about the terrible tragedy that struck Japan, my heart went out to the people and culture that has inspired me since I was young. Everything from anime and video games to music and clothing. It is such a huge part of me, and I wanted to help out in some way. It seemed only to make sense to use the hobby that had been inspired by Japanese pop culture to help Japan.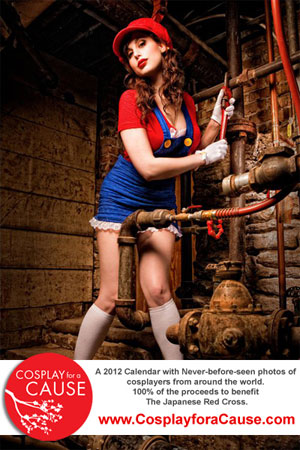 Fandomania: There are a lot of very talented and well known cosplayers involved with the project. How did you all come together?
Riddle: Invitations were sent to cosplayers around the world. I was fortunate that the girls who responded and appear in the calendar were willing to donate their time to take a brand new image specifically for the calendar, as well as to help promote it. I really couldn't be happier with the cosplayers in the calendar. We (cosplayers) have a reputation of not getting along, but everyone has been so supportive since the beginning. There are no egos; we are all united for this one cause.
Fandomania: In addition to the cosplayers, you've also included some awesome comic artists. How did they get involved, and what are they doing for the project?
Riddle: I reached out to several comic book artists and asked if they would be willing to participate in this calendar. Despite their hectic schedules, Mark Brooks, Eric Canete, Cully Hamner, and Brian Stelfreeze were eager to participate. The Chibi art of the characters the girls are cosplaying is so much fun. It's included in the calendar area before the cosplayers' photos.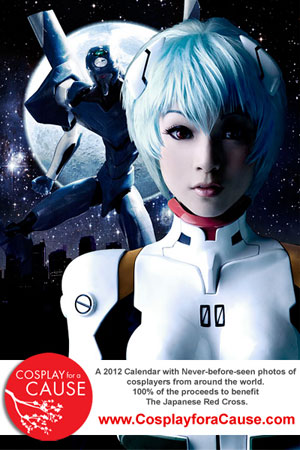 Fandomania: Do you have plans or ideas for other projects or efforts to support with Cosplay for a Cause after the calendar releases?
Riddle: I've been asked this question numerous times and it's a bit of a delicate subject. I would love for their never to be a need for a Cosplay for a Cause calendar, but I know natural disasters are always going to happen. Right now I'm just focused on this 2012 calendar, to help the people of Japan. Who knows were it'll go after that?
Fandomania: When will the Cosplay for a Cause calendar be available, and how can our readers order them?
Riddle: Cosplay for a Cause Calendar is available for pre-order now at www.CosplayforaCause.com. The calendars will be in our hands ready to ship to everyone in July! We hope to have it available at select conventions this year, but we do have a limited supply, so order yours before it runs out.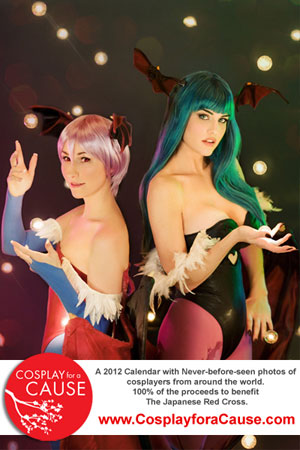 I also spoke with Lindze (Facebook gallery), a well known cosplayer who is featured in the calendar. She shared her thoughts about the project:
Cosplay for a Cause is a great project because it's a bunch of people raising money in a fun, unexpected way: by way of their hobby. I feel really lucky to be included in the calendar, both because it's using our creative outlets in a way to help people, and because it helps a country that most of us feel a connection with, since it's where cosplay originated and so many of the games, shows, and toys that we love to reenact come from there. All of the girls came together with a lot of enthusiasm, wanting to help. None of us is getting paid or receiving compensation for the project; we just want it all to go to the Red Cross. I hope lots of people dig into their pockets to help us achieve this goal and enjoy their awesome cosplay calendar too!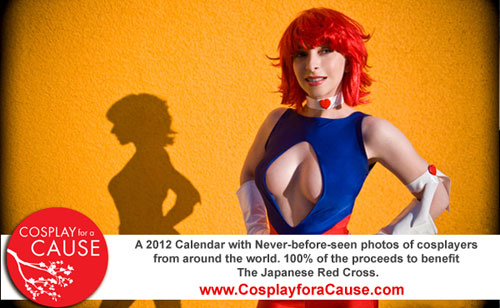 Longtime Fandomania staff member and cosplayer extraordinaire Ginny McQueen (GinnyMcQueen.com) also is a part of the project and had this to say:
There are so many charities out there, so many causes that need our help. So when presented with the opportunity to use my own silly hobby to do some good, I didn't need to be asked twice. More and more people try to find ways to exploit this hobby and take the joy out of it. It's refreshing to use cosplay in such a positive way, especially for a country that has given us so much in the way of fandom.
You can follow Cosplay for a Cause on Facebook and on Twitter, and you can check out the calendar project and place your order on the official website.