It is the dream of many fans to have a sanctuary, a place where they can take refuge and revel in the joys of their respective passions. Of course it's lonely to enjoy said passions on one's own. That's why the fandom gods gave us the convention, a place where fans can gather to socialize with their fellow fans, to enhance the love of their fandoms by purchasing rare items which put their passions on display and, most importantly, to meet and interact with the people who helped to bring out the love one has for their fandom. For myself, and Fandomania colleagues Lyn Cherowbrier and Ginny McQueen, Valentine's Day weekend belonged to The Doctor.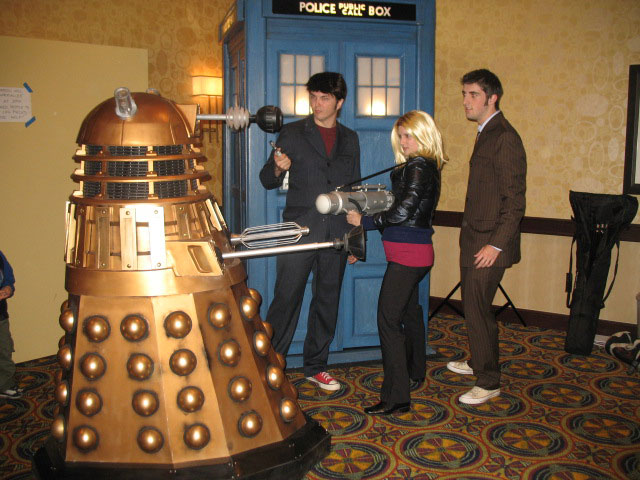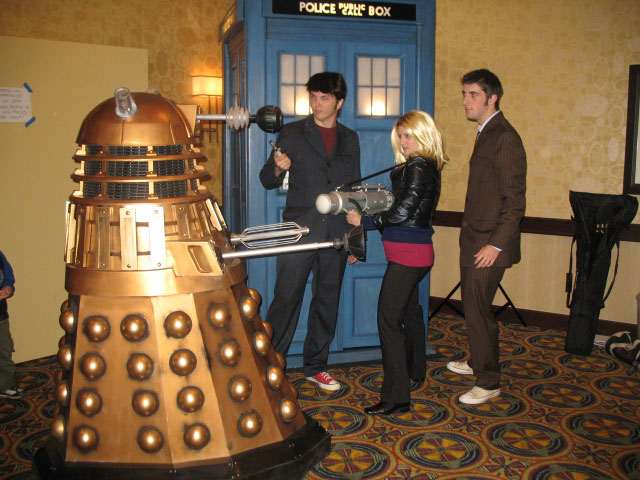 Feb 13th through the 15th marked Gallifrey One: 20 To Life — the twentieth year for the premier Doctor Who convention in America. Since its meager beginnings in 1989, Gallifrey One has become the epicenter of Doctor Who fandom in the United States from its position in Los Angeles's LAX Marriott. It is here that Doctor Who, and its spin-offs Torchwood and The Sarah Jane Adventures, are celebrated through a stellar smorgasbord of guests, an outstanding dealer room filled to the brim with Doctor Who merchandise old and new, and an endless variety of activities that could rival even the biggest of cons. However, the single thing that most sets Gallifrey apart from other conventions is the fans. Immediately upon our arrival at the Marriott on the night before the con, Lyn and I were greeted by friends we had met last year, immediately followed by the formation of new friendships. The most surprising thing about the fans at Gallifrey is what an easygoing lot they are. Instead of heated debates about the quality of the fandom, they instead speak about everything they love about it. This leads to the conclusion that even when Doctor Who is not at its best, you just can't hate it.
Learning from a most serendipitous placement of self in the previous year, Lyn and I, with many friends in tow, stood near the entrance to the dealer's room. Obnoxious? Maybe. Clever? Most definitely. You see, the merchandise you will find in the Gallifrey One dealer's room are extremely rare and, for the most part, don't even appear in America, except at this convention. So when the doors open at noon, be ready to run like hell. If you know what you're hunting for, that is definitely in your favor. If you're randomly browsing, your time will be spent looking for things to make you go "Oooooh" without realizing that most of those items will be whisked away in a heartbeat. Our planning indeed led to a glorious bounty of exclusive items.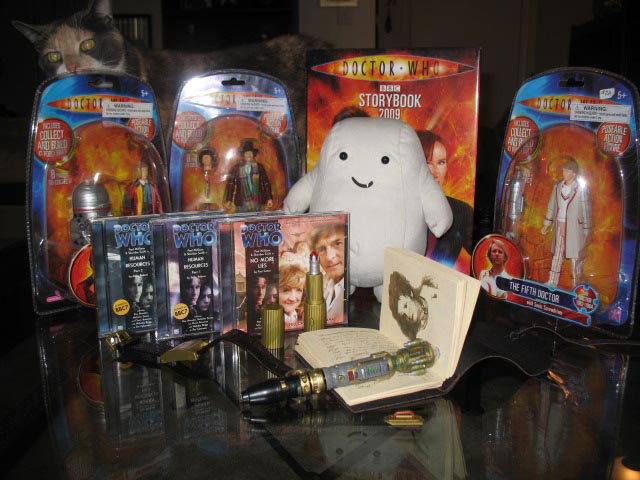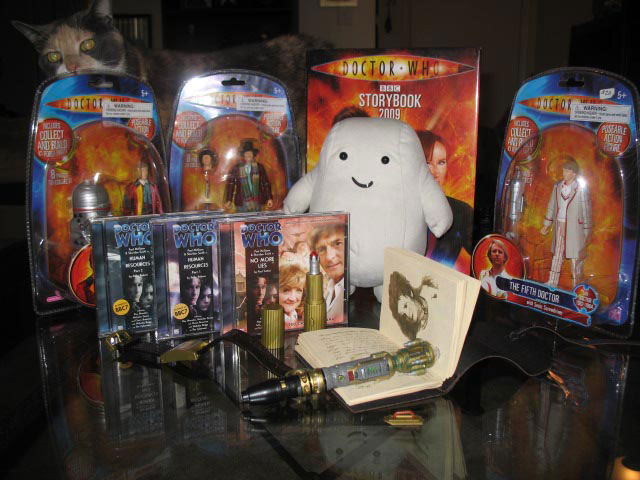 Such as:
River Song's Sonic Screwdriver from "Silence in the Library"/"Forest of the Dead," which comes complete with red or blue settings and a secret opening where you can watch River Song die over and over with the built in green life bar
Sarah Jane Smith's Sonic Lipstick and Wristwatch Scanner
Replica of The Journal of Impossible Things from "Human Nature"/"Family of Blood"
Finely sculpted action figures of The Fourth, Fifth, and Sixth Doctors
Another excellent figure of Astrid Peth from "Voyage of the Damned"
Plushy Adipose… come on, you know you wanna hug 'em!
Doctor Who 2009 Storybook containing stories written by many of the current series writers
Shining Darkness, a Doctor Who novel featuring The Doctor and Donna
Three Big Finish audio adventures featuring Paul McGann
Mini chibi-style figurines of The Tenth Doctor and a Vashta Nerada
Once we had plundered our bounty, we proceeded to the business of obtaining autographs from many of the guests. The guest list was a brilliant mix of actors, writers, and creative artists from the classic series, the new series, and beyond. What's more, most of the autographs you can get at the con are free. Basically, if you have a particular item (be it a DVD cover, comic, or photo) which you want to get signed, the guest will happily oblige. However, if you don't have an item for them to sign, the helpers at Gallifrey One provide a variety of purchasable photographs of the actors. In my pursuits, I obtained free autographs from new series producer Phil Collinson, Nicola Bryant (Sixth Doctor companion Peri), Wendy Padbury (Second Doctor companion Zoe), Frazer Hines (beloved by fans as Jamie McCrimmon, the 18th Century highlander who traveled with the Second Doctor), "Dalek" writer Rob Shearman, Sarah Jane Adventures head writer Phil Ford, "Planet of the Ood" writer Keith Temple and, of course, our friend James Moran.
I proceeded to obtain a very significant autograph from The Sixth Doctor himself, Mr. Colin Baker. Since he was brought to the con by one of the backers, Baker's autograph is one of the few for which a payment is required. Nevertheless, to get a chance to meet this utterly witty individual is worth every penny.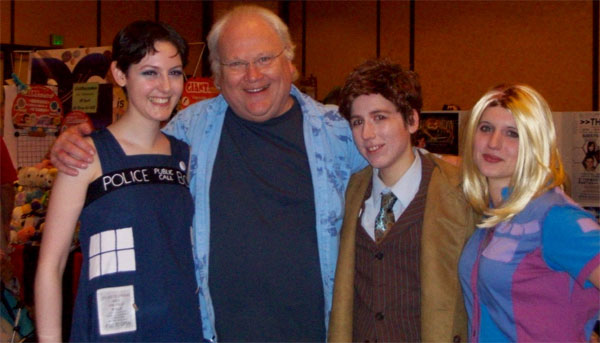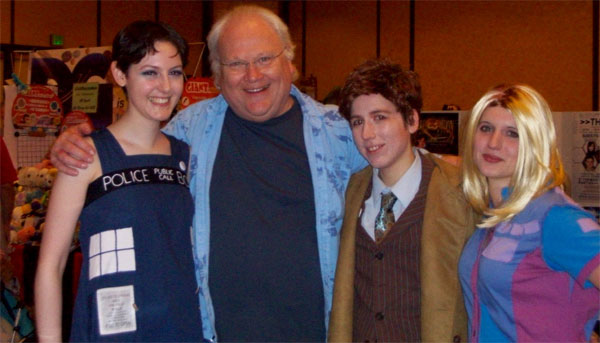 The staggering thing about the fans at Gallifrey One is the children barely older than eight approaching Who actors, whose tenures on the shows predate their birth by decades, or the pre-teens dressed up as classic series Doctors and companions. There is a sense of warmth that comes from seeing parents and kids finding this common bond. You see the massive gap of generations, effectively bridged by the mutual enjoyment of Doctor Who.
For those of you who are used to going to conventions where the guests are corralled away from the attendees, you will be shocked when you witness many of the guests standing in the middle of the halls, spending their off time socializing with many of the paying guests. While I was standing in an autograph line I was holding in my delight as I suddenly struck up a lengthy conversation with Phil Ford (though it had me kicking myself in the aftermath because I should've asked if I could record it). Point is, only at Gallifrey One can you have social encounters such as this.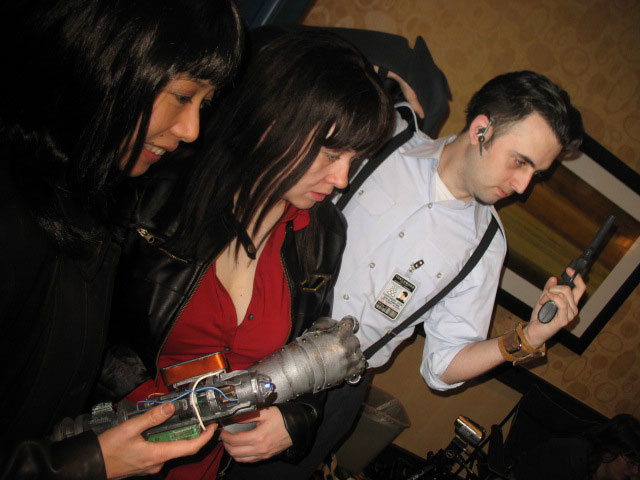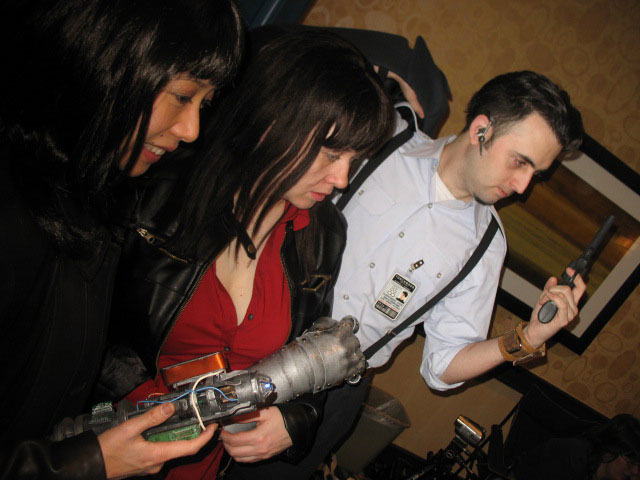 The adventures don't stop at the dealer room and the celebrities. No, no, no — not by a longshot. There are more adventures to be had if you don a costume of your favorite character (or, in some cases, a different Doctor). Because the minute you decide to walk the floor dressed up as a Doctor you join a growing fraternity of cosplayers. Regular convention-goers love seeing people decked out as their favorite time travelers. Fandomania writer Lyn Cherowbrier, with friends in tow, donned two variations of Rose Tyler, Astrid Peth, Lucy Saxon, and Joanna Lumley's 13th Doctor from the famous Doctor Who spoof The Curse of Fatal Death. Meanwhile, yours truly graced the halls as "my Doctor," Paul McGann, and on Sunday dressed a Doctor #10.5 (aka Handy Doctor, aka The Human Doctor from "Journey's End"). The cosplay community at Gallifrey One has indeed grown since the previous year with loads more participants than the year before, many of whom proceeded to participate in the Masquerade, a spectacular show in which all the cosplayers show off their costumes while performing a series of skits. The skits are various, ranging from comedic monologues to full blown scenes. Many of the costumes presented are of exceptional variety. Standouts included a Thomas Kincaid Brannigan (from "Gridlock") with his children in a basket, as well as Doctors One through Nine celebrating the The Tenth Doctor's retirement, presented by Bob Mitch.
Along with the Ten Doctors skit, attendees were delighted with a Doctor Who-sical complete with a dancing TARDIS, a public service announcement featuring Sarah Jane, Rose, Donna, and Ace warning future female companions about traveling in the TARDIS, and an audio sound bite played over a pantomime skit involving two archaeologists who get eaten alive by the Vashta Nerada (the latter of which were brilliant costume creations by the cosplay duo Bryan and Mette, who won "Best In Show" again). Lyn and I joined in on the fun with our own respective skits, and were met with much enthusiasm by the masses. The participants of the masquerade were managed by Johanna Mead and Radar, who themselves have gained notoriety for their exceptional Doctor Who and Torchwood costumes.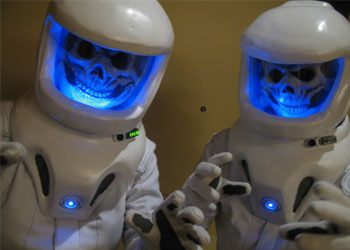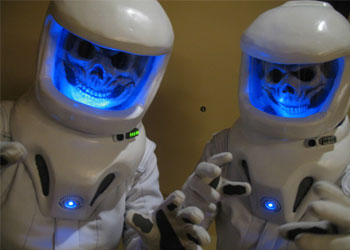 After the winners were announced, the festivities continued with the first American performance of Moths Ate My Doctor Who Scarf, a comedic one-man show written and produced by Toby Hadoke. Toby shared with us his story of how his love of Doctor Who has made his life special in so many ways. Prior to his performance, Toby Hadoke triumphed when he participated in a hysterical game of "Just A Minute" along with producer Phil Collinson and former companions Frazer Hines and Wendy Padbury. Hosted by new series writer Paul Cornell, "Just a Minute" is a madcap romp where the contestants attempt to discuss topics without hesitation, deviation, or repetition (which is easier said than done).
Sunday was indeed a bittersweet day. The knowledge of the convention's impending closure was a constant bummer, but spirits were high as it was announced that Peter Davison has been confirmed for Gallifrey One 2010. I have already pre-registered, and so should the rest of you. Before closing ceremonies, I was able to catch one more guest to interview — and what a guest to interview! Rob Shearman, writer on the Ninth Doctor adventure "Dalek" along with many Big Finish Doctor Who adventures, was kind enough to speak with me.
The closing ceremonies were a heart-wrenching, tear-jerking affair. They began with a live commentary of "Journey's End" featuring Phil Collinson. There was something different about watching this episode in a full theatre. You could feel the emotion radiate from the screen, and you could sense eyes watering and shedding tears from the back of the room. Of course it also helped that Phil Collinson really knew how to make us feel every beautiful moment in the episode. Afterward, a year-in-review montage of the Doctor Who related events in 2008, including David Tennant's announcement of his plan to leave the series and Matt Smith's first interview after being cast as The Eleventh Doctor, was displayed.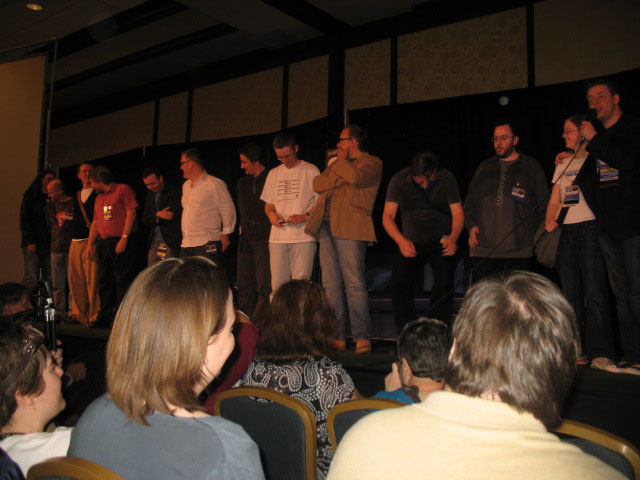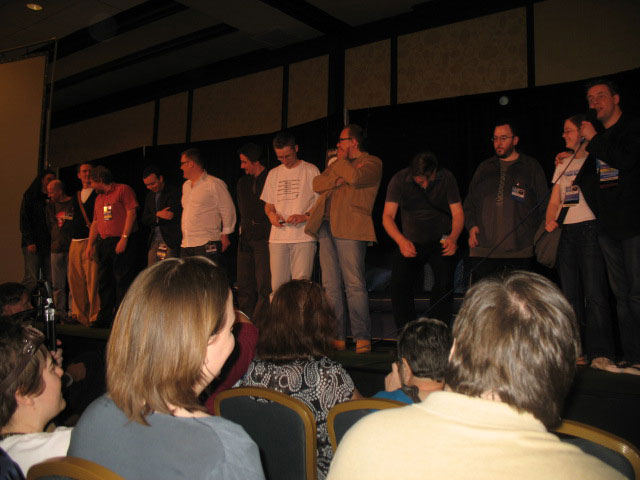 In the end, newcomers became new friends, and new friends from the previous year have now become old friends we hope to see next year, and many years to come. All of this, because of our love of a TV show about an eccentric traveler.
Keep your eyes on GallifreyOne.com for early pre-registration for Gallifrey One 2010, and check back here at Fandomania for the audio of the interviews conducted at this year's Gallifrey convention!