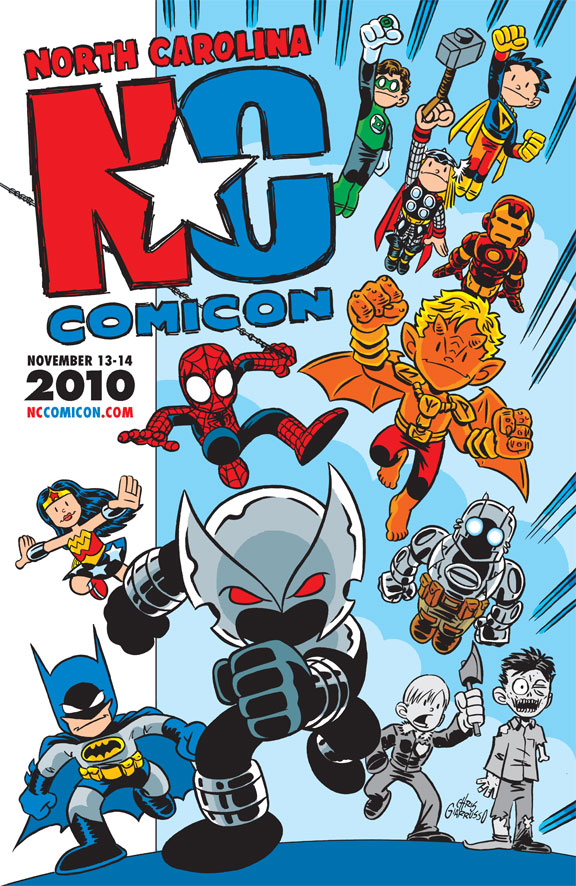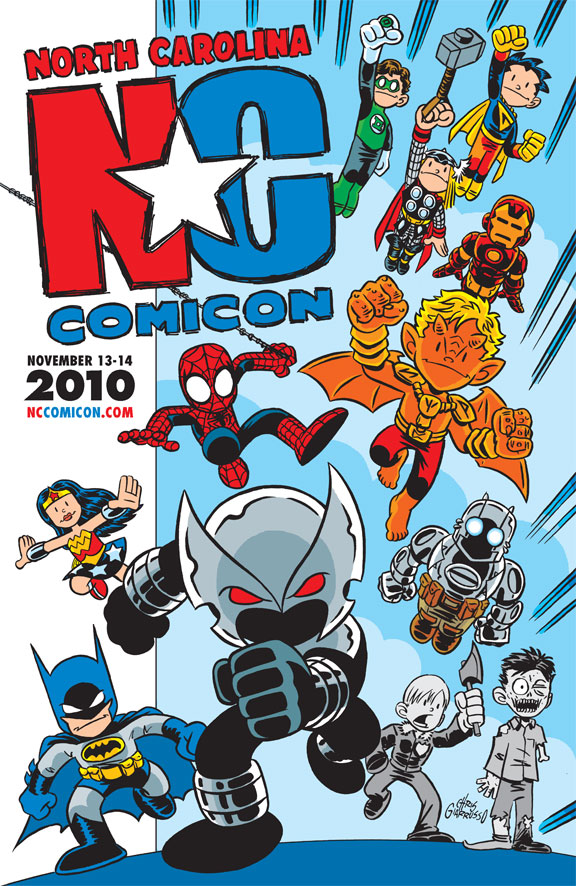 On Saturday, I attended the NC Comicon. This was a nice, intimate convention held at a quite unusual location: the Morrisville Outlet Mall. Going in, I was wary of how the layout of the convention would mesh with regular shoppers going in and out of their favorite stores, but there was nothing to worry about! The organizers made sure that the fun of comics was the theme of the day.
I got to the con about thirty minutes before the panels were set to start for the day. It was pretty easy to find registration; just follow the other comic book fans. Oh, you know who we are. We can recognize each other from afar. There was a bit of a search and find to track down my own badge, but soon I was set and headed right for the Artist's Alley. There were plenty of talented artists from all kinds of genres and it was nice to see the varying styles.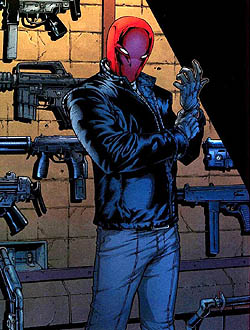 I wanted to specifically mention two parody artists that I met up with while there. First is Alpha-Sketch by Brad Parton, wherein he does parody sketches using just letters of the alphabet, all 26 in each picture. It was quite intriguing! Plus, he had a My Bloody Valentine sketch and that made me very happy to see. Next shout-out goes to Two Four Flinching by artist Sean Kernick. He does pop culture parodies, such as "Jon Stewart Crossing the Delaware" and "The Villainous." Definitely an artist to keep an eye on.
On a personal note, every single convention I go to has a distinct lack of Jason Todd love. Sure, Superman and Batman might be more popular for the mainstream crowds, but doesn't Red Hood deserve some love, too? And, no, teasing me with a sketch of Deadpool is not the same. But I persevered and didn't let Jason Todd's absence ruin the day.
I also had a ton of fun in the dealer's room. Anyone willing to sort through boxes upon boxes of comic books would have a ton of fun here. Figurines, posters, trades, and much more were seen amongst the overflowing room. I apparently fail at the whole concept of buying things at a comic book convention, since all my purchases were Supernatural-related, but now I have a necklace from Alternative Xchange that I didn't have before, so there you go. I definitely had fun visiting the dealer's room time and time again, just to revel in all the goodies to be found.
And I managed to catch five of the seven panels of the day, so I was well-informed about a number of topics. One of the things I enjoy most about conventions is my exposure to new presses or new-to-me comics. The first panel, New Talent Showcase, is a prime example of that since I got a chance to hear from Chrissie Zullo, Jeremy Bastian, Thomas Boatwright on their work. Bastian's methods are centered old tactics such as tea-staining and baking the paper, which creates a definite antiquated feel. His "Little Nemo in Slumberland" piece on tea-stained paper has to be seen to be believed. So much detail!
After taking an hour off from panels, I headed back for Jim Valentino's talk, where I got more information about Image Comics. The concept of the press is very refreshing, compared to the big players in the industry. Creators owning their own work, controlling the fate of the characters they create, is quite a change from what we may be used to. Also, I was introduced to the unknown-to-me vigilante ShadowHawk. Yes, I definitely need to read more about this character because the vigilante anti-heroes are a favorite of mine. And when he is described as the better version of Batman, since the Dark Knight keeps letting the bad guys go, that's definitely one way to win me over.
F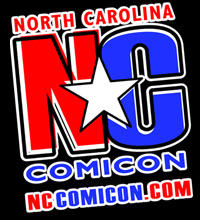 or the end of the day, I decided to do the last three panels continuously. My back didn't thank me for that, but my mind definitely did. I kicked it off with the Atomic Robo panel, which has an enormous bit of canon attached to it in terms of timeline. And since it isn't sequential, it opens the doors for a ton of exploration. There was a hint that at some point Neil deGrasse Tyson would be featured as one of the "famous person cameos" and I would be all for my favorite astrophysicist showing up in a comic book.
The next panel was on web comics, specifically Capes and Babes, with Chris Flick, and SubCulture with Kevin Freeman. Both of these strips focus on the geek culture and are updates two to three times a week. It was an interesting hour that delved into how to create a web following and planning out a schedule that is both realistic and able to be followed. The discussion was enlightening to say the least.
And to end the day at con, I attended the Horror Comics panel which was led by Bill Mulligan, who is actually the husband of one of my friends, so that was an unexpected surprise! Mulligan took us through the evolution of horror comics, from the early pulp ventures, through the EC Comics era and Marvel's ventures into the genre, and leading up to The Walking Dead. I got introduced to the name Fletcher Hanks, described as a "Lunatic of Genius" for good reason, as well as Bernie Wrightson's amazing rendition of Frankenstein that I definitely want to check out.
All in all, the NC Comicon was a wonderful weekend event and I look forward to seeing what fun activities they have planned for next year! If you're a comic book fan, come out to the Triangle to participate in this convention.